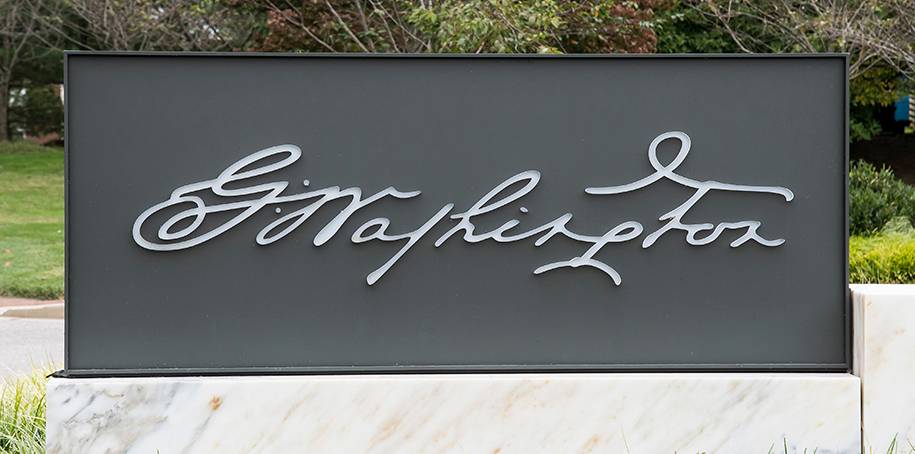 Campus CommunityAsterisk Initiative

George Washington Signature
George Washington Signature
As a founding patron, former College trustee, and model of citizen-leadership, George Washington is part of the institution's DNA. In fact, the College has adopted his signature as the institution's primary branding element.
Washington's Imprint on the College at Chester
Over the past several decades, Washington College has emphasized its historic ties to George Washington and the American revolutionary period as a point of distinction among its peers. Many colleges and universities have adopted the name of Washington, but Maryland's oldest chartered college—the first established in the newly independent United States—is the only college to have received George Washington's express permission to use his name. At the request of College founder William Smith, George Washington not only became one of its early patrons, but served on its Board of Visitors and Governors and made at least one visit to campus. At the conclusion of his Board service in 1789, Smith and a small delegation from Chestertown traveled to New York to present to the newly installed President of the United States the College's first honorary degree.
Washington left his imprint on the College more than two centuries ago. The challenge in the early twenty-first century became how to make George Washington relevant for today's audiences. A series of programmatic initiatives evolved that touched on every aspect of campus operations, from donor relations to leadership training, scholarships, academic and co-curricular programming, and student recruitment.

Washington College adopted George Washington's signature as a branding element in 2010, with the redesign of the Washington College Magazine. The signature logo became part of the website launched in 2012, and was integrated throughout the College's marketing communications. Coinciding with the opening of the Visitors' Center in 2016, this illuminated sign was installed at the entrance of the Casey Academic Center.
While recognizing his cachet as one of America's greatest presidents, we also acknowledge that George Washington was a flawed leader and a cruel slaveholder himself whose vision for a free and just society applied only to white, male property holders. As our institution moves forward, the History Project seeks to nuance the College's branding strategy to reflect the core tensions inherent in our nation's founder and founding.