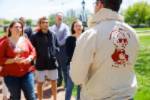 We now offer all of our on-campus visit options virtually.
At Washington College, we know there's nobody else in the world who's quite like you. That's why we aim to tailor your virtual visit as much as we tailor our education for students. Whether it's your first or your fifth time connecting with a counselor, and whether you're interested in athletics programs or antique letter presses, we'll help you plan a virtual visit that's just your style.
SCHEDULE A VIRTUAL DAILY VISIT
Design your virtual visit online, and call 410-778-7700 if you need any assistance. Virtual visitors have the following options:
Virtual Campus Tour
2:00 pm (50 Minutes)
Get a feel for the WC student experience with one of our George's Generals. Take a live virtual tour of campus that covers our dorms, academic buildings, and dining hall.
Virtual Information Session
3:00 pm (50 minutes)
Get in-depth information on our programs, learn about alumni outcomes, and discover what a Washington College education looks like.
Virtual Counselor Interview
10:00 am, 11:00 am, 1:00 pm, 2:00 pm (30 minutes)
Share your personal story and experience with one of our Admissions counselors during a virtual one-on-one interview. Get to know your guide to the Washington College admissions process.
Virtual Special Meeting
Our Visitor Services Manager will be in touch with you to confirm your appointment.
Want to learn more about a certain program or resource at WC? We've got you covered. Sit down for a one-on-one with an on-campus office to discuss the ins and outs of the services and educational opportunities they provide. Here is a sampling of the add-ons you can choose from:
• Study Abroad • Clubs and Organizations • Diversity and Inclusion • Career Development Programs • Tutoring (Academic Resources) • Disability Services (Office of Academic Skills) • Center for Environment and Society • Starr Center for the Study of the American Experience • Rose O'Neill Literary House
Chestertown Tour
At your convenience
Head to downtown Chestertown to scope out your future hangouts and learn the history of the place we call home.
SCHEDULE A VIRTUAL DAILY VISIT
Please continue to monitor this page for more information regarding on-campus visits.