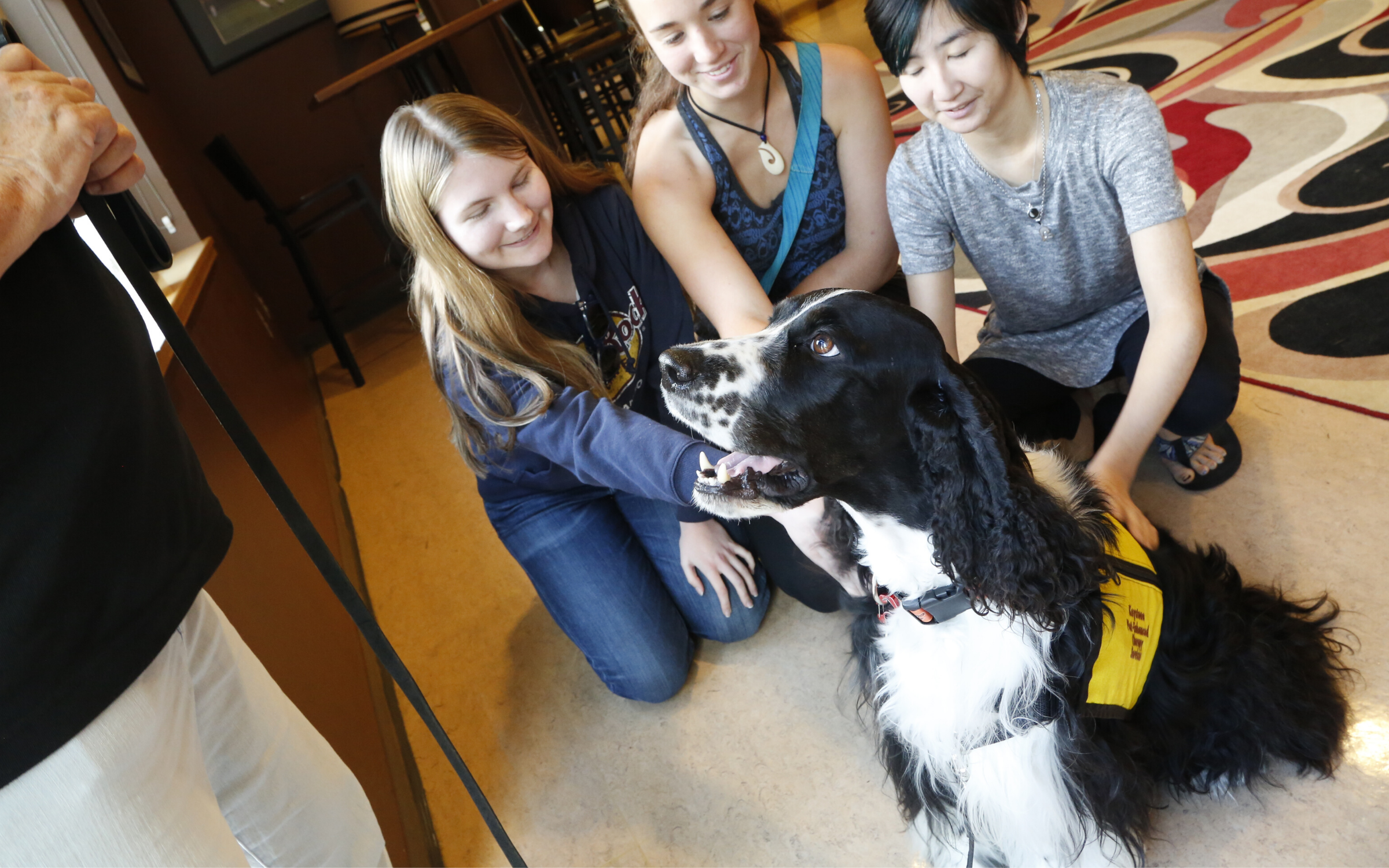 Welcome
If you have difficulty accessing any portions of this web page with adaptive technology,

please contact Liz Shirk, Disability Access Specialist, at lshirk2@washcoll.edu.
Health Center Counseling Center
Make an Appointment

The College Student Health Services provides care for full-time students during the regular academic year. Students need to call to schedule an appointment. During the summer, we are open for administrative purposes with limited clinical availability.

Dial ext. 7261 on campus or 410-778-7261

Monday-Friday 8:30 a.m. - Noon & 1:00 - 4:00 p.m.

*closed from noon-1pm, if it is an emergency please contact public safety or 911*

From: Lisa Marx, CRNP, Director Health Services

Sporadic cases of meningococcal disease are not unusual on residential campuses. Although anyone can get meningococcal disease, adolescents and college students who live in dormitories are at an increased risk. The bacteria that cause meningococcal disease are less infectious than the viruses that cause the flu. To prevent the spread of any respiratory disease, it is always recommended that you practice good hygiene habits: Cover your cough to prevent the spread of infection to others, disinfect hands often with soap and water or hand sanitizer (especially before eating), and avoid sharing items like utensils and water bottles that are contaminated with saliva.

There is no recommendation to take antibiotics before attending events or activities atuniversitites with outbreaks. Only people who have been in close contact with a suspected or confirmed case of meningococcal need to be considered for preventive treatment. The infectious period for meningococcal disease is considered to be from 10 days before the person becomes ill to 1 day after he or she starts on antibiotics. This means that people who were in close contact with the sick person during this time are at higher than average risk to get meningococcal disease. Close contact includes activities such as:
living in the same household or sleeping in the same dwelling
kissing
sharing eating utensils or food
sharing drinks
sharing cigarettes
uncovered face-to-face sneezing or coughing
The bacteria are not spread by casual contact activities like being in the same work or schoolroom as the sick person, or handling books or other items that the sick person has touched. Likewise, being around a person who was in contact with the sick person does not put you at risk for catching meningococcal disease. The bacteria cannot live outside the body for very long, so the disease is not as easily transmitted.
Symptoms of Meningococcal Meningitis can include sudden onset of fever, headache, and stiff neck, often accompanied by nausea, vomiting, increased sensitivity to light, and mental confusion. These symptoms can appear quickly or over several days. Typically they develop within 3 to 7 days after exposure. Meningococcal meningitis is very serious and can be fatal, with death occurring in as little as a few hours. In non-fatal cases, permanent disabilities can include hearing loss and brain damage.
Meningococcal Septicemia (aka Meningococcemia)
Another severe outcome of meningococcal infection can be bloodstream infection, either septicemia or bacteremia. The more serious of the two is septicemia. In a victim of meningococcal septicemia, the Neisseria meningitidis bacteria enter the bloodstream and multiply, damaging the walls of the blood vessels and causing bleeding into the skin and organs. Symptoms may include fatigue, vomiting, cold hands and feet, cold chills, severe aches or pain in the muscles, joints, chest or abdomen, rapid breathing, diarrhea and, in the later stages, a dark purple rash.
If you think you or your infant or child has any of these symptoms, call the doctor right away. Meningococcal septicemia is very serious. In fatal cases, deaths can occur in as little as a few hours. In non-fatal cases, permanent disabilities can include amputation of toes, fingers, or limbs or severe scarring as a result of skin grafts.
Please refer to the CDC website for the most up to date information regarding meningitis including who is at risk, causes and symptoms, treatment, and surveillance.
We encourage all students to get an annual Flu shot. Please ask your primary care provider or pharmacist to vaccinate you early in the Fall.
Walgreen's and Chester River Pharmacy in Chestertown provide the flu vaccine and in most cases, can bill your insurance company.
In addition, the local Health Department in Kent County offers many Flu clinics. Check the Kent County Health Department site for upcoming dates at kenthd.org
Take everyday steps to protect your health
Wash your hands frequently with soap and water especially after you cough or sneeze or use hand sanitizer available in highly trafficked areas of buildings throughout campus.
Avoid touching your eyes, nose, or mouth. Germs spread this way.
Cover your nose and mouth with a tissue when you cough or sneeze and then throw the tissue away and wash your hands. If you do not have a tissue, cough or sneeze into your upper arm. Do not cough or sneeze into your hands.
Wipe down frequently touched surfaces such as door knobs, phones, key boards, etc. at least daily.
Maintain a distance of 3-6 feet from others especially if they appear ill or are coughing or sneezing.
Get enough sleep and eat a well-balanced diet. If you are run down you will be more susceptible to illness.
Monitor yourself for signs and symptoms of flu.
Signs and Symptoms of the flu
Fever of 100 or greater and at least one other symptom listed below
Cough
Sore Throat
Stuffy or runny nose
Body Aches
Headache
Chills
Fatigue
Vomiting
Diarrhea
If you have these symptoms
Do not go to class, the dining hall or campus events. It is important that you notify Health Services at ext 7261 or 410-778-7261 as soon as possible for further instructions. If Health Services is not open please self isolate in your room and follow the instructions at the following web sites.
Students, faculty and staff with flu like illness will be advised to go home if possible to be cared for by family and to minimize the risk of spreading flu to others. Students, faculty, and staff should not return to campus until fever free for a minimum of 48 hours without the use of fever reducing medications. Arrangements will be made to assist students who are unable to return home.
Warning Signs and Symptoms for Adults with Flu
If you have any of the following symptoms or you are at high risk for complications contact your health care provider immediately.
Difficulty breathing
Blue or discoloration of the lips
Pain or pressure in the chest or abdomen
Sudden dizziness
Confusion
Severe or persistent vomiting/ signs of dehydration such as absence of urination
Flu symptoms improve and then return with fever and worse cough
High risk conditions include pregnancy, asthma, heart disease, diabetes or any chronic medical condition that compromises the immune system.
In an emergency please call 911.
All students are required to complete a health questionnaire, have a physical exam, and meet immunization requirements before their enrollment at Washington College. Physical exams must be completed within the 6 month period prior to the due date. Required immunizations are listed on the Health Form.
Clinic Information
Health & Counseling Services sets up and hosts a variety of clinics and events through out the year. Some clinics are free while others are at low cost.
Here are some upcoming clinics!
Student Flu Shot Clinics
Due to online classes this semester we do not have any Flu Shot Clinics scheduled. Please check with your Primary Care Provider, Walk in Clinic or Pharmacy to obtain a flu shot this Fall.
Free STI Testing
The Kent County Health Department offers free STI testing to Washington College Students during the year.
More information will be provided when testing dates for the Spring semster are decided.
Emotional Support Dogs
Counseling services are bringing some fluffy snuggles to help take the stress off! These handlers and their therapy dogs volunteer their time in our our community! We have two dogs who are part of our WAC family:
Puck: He visits downstairs of Hodson every 2nd & 4th Tuesday of the month for 12pm-1pm
Gryff: Our newest member, visits the downstairs of Hodson the 1st & 3rd Tuesday of the month from 12:30-1:30
Both pups will be joining us for other events on campus as well, be on the look at for emails with "Puck" or "Gryff" in the subject line!