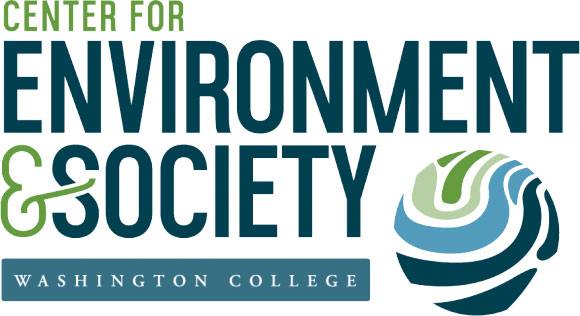 River and Field Campus A living laboratory.
Semans-Griswold Hall Study on the waterfront.
Chesapeake Semester Interdisciplinary watershed study.
Bird Observatory Foreman's Branch Bird Observatory.
Natural Lands Project Restoring natural habitats.
Watershed Innovation Lab Dive deep.
Public Archaeology Lab Can you dig it?
Geospatial Lab Map your future.
Student Opportunities Internships and experiences.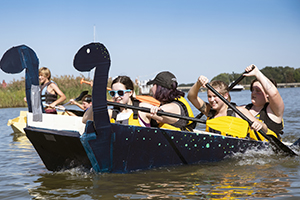 News & Events Follow the action.
Publications Stay up to date.
Make a Gift Support our work.
Mission
We live in a world with increasing environmental and related social problems, rapidly reaching crisis levels. As we work toward resolution, we especially need to cultivate a new generation of creative, solution-oriented leaders for the future. Everything we do prepares our undergraduates – the next generation of leaders – to help solve the most pressing environmental problems of the 21st Century, through innovative curriculum, real-world experiences, training in cutting edge technologies, and new ways of thinking.
Everything we do prepares our undergraduates – the next generation of leaders – to help solve the most pressing environmental problems of the 21st Century through innovative curriculum, real-world experiences, training in cutting edge technologies, and new ways of thinking.
Vision
Our vision is a Chesapeake Bay and watershed that is healthy and thriving; one in which natural systems and human communities are in balance. Strong interdisciplinary academic programs promote the integration of environmental and social values; through applied, real-world work, we prepare our graduates to be balanced and productive citizens, skilled and agile professionals, and champions and stewards of our natural and cultural resources.
The Center manages the college's two research vessels, the Callinectes and Lookdown. The vessels can be reserved for your classes or department usage.
Learn more about these vessels and find out how to reserve them.
Callinectes
At 46 feet long, Callinectes is fully equipped with an array of the latest electronics and environmental instrumentation including trawls, sonar, acoustic seabed classification systems, magnetometers and positioning systems used in mapping and evaluating geological features of the Bay and its tidewaters. On the Chester River, sampling gear is used to collect water and sediment samples that are analyzed to measure nutrients, dissolved oxygen, algal abundance, toxic contaminants and other factors that tell us about the ecological health of the region.
Lookdown
In April 2013 CES acquired Lookdown from NOAA with the intent to provide additional research opportunities for Washington College students. Lookdown, created for the Coast Guard, will be primarily used for mapping the river with sonar, but will also be available for special trips for water sampling and testing.
Lookdown is considerably smaller than Callinectes, which works to her advantage. She will be able to access shallower areas of the Chester and coastal areas that are inaccessible to Callinectes.
Meet Our Team
The Advisory Board of the Center for Environment & Society is integral to planning and furthering the mission of the Center.
Members constitute an active and dynamic group, working to:
advise and recommend programming and Center direction
provide knowledge, expertise, encouragement, and support to the Center
serve as a conduit for supplies, speakers, and events
facilitate the work of the Center by ensuring open and honest representation, creating a climate of consensus
promote good will and trust within the community of interest and the community at large
act as a liaison between politicians, organizational staff, members of the public, and other stakeholders
provide and/or help solicit financial support for the Center, commensurate with individual means and circumstances
assist the Center in securing the other resources needed to enhance the Center's capabilities and programs
assist the College leadership to ensure the Center's stability.
Members
Dr. Henry Sears, Chair
Mr. Ted Bauer
Mr. Clinton Daly
Mrs. Louisa Duemling
Ms. Caroline Gabel
Dr. Thomas Gale
Mr. Alan Griffith
Mr. Jay Griswold
Ms. Ann Horner
Dr. Karl Kehm
Mr. Matthew Mullin
Center Associates include:
Wayne Bell, PhD
Chuck Fithian, MA
Kate Livie, MA
Doug Gill, PhD
Joe Smith, PhD
Norman Greenhawk, MA

Michael Chiarappa, PhD
The Center for Environment & Society at Washington College was created in 1999 to promote interdisciplinary learning, research and exemplary stewardship of natural and cultural resources. Recognizing that scientific solutions cannot be successful in a social vacuum, its primary objective is to support the integration of ecological and social values.
Under its inaugural director, Dr. Wayne Bell, the Center focused primarily upon issues of sustainable agriculture on Maryland's Eastern Shore, along with educational programs to enhance the College's environmental studies curriculum. Critical new data management and analytical technologies such as Geographic Information Systems were brought to campus.
The Center's current director, Dr. John L. Seidel, served as interim director in 2006 and after a national search was named director in 2007. While the mission of CES has remained the same since its inception, its capabilities have expanded significantly. Recognizing that the Center acts as a portal to one of the world's greatest estuaries - the Chesapeake Bay - the Center acquired research vessels and remote sensing equipment, including a side-scan sonar, marine magnetometers, acoustic seabed classification systems and hydrographic survey software, allowing the Center's focus to expand from the land into the water. As a result, programs have grown from regional agricultural sustainability and environmental education to include estuarine studies and marine habitat assessment. An incorporation of archaeology into the Center allows a vision of the future that profits from lessons of the past.
Augmented significantly through the grant-supported internship and research associate programs, the Center's modest endowment has allowed staffing to expand and solidify. In 2011, the Center took over management of the Chester River Field Research Station, including the Foreman's Branch Bird Observatory and access to the 5,000 acres of Grasslands Plantation (Chino Farms), on the Chester River in Queen Anne's County. That property is now being transferred to the College, forming the incomparable River & Field Campus. This greatly expands the opportunities for teaching, research, and outreach related to sustainable agriculture, habitat restoration, and conservation biology.
The Center continues to give Washington College students the opportunity to understand fully the relationship between human and natural environments and provide them with the technical knowledge, practical experience, and aesthetic perspective needed to advance that relationship for the benefit of future generations.