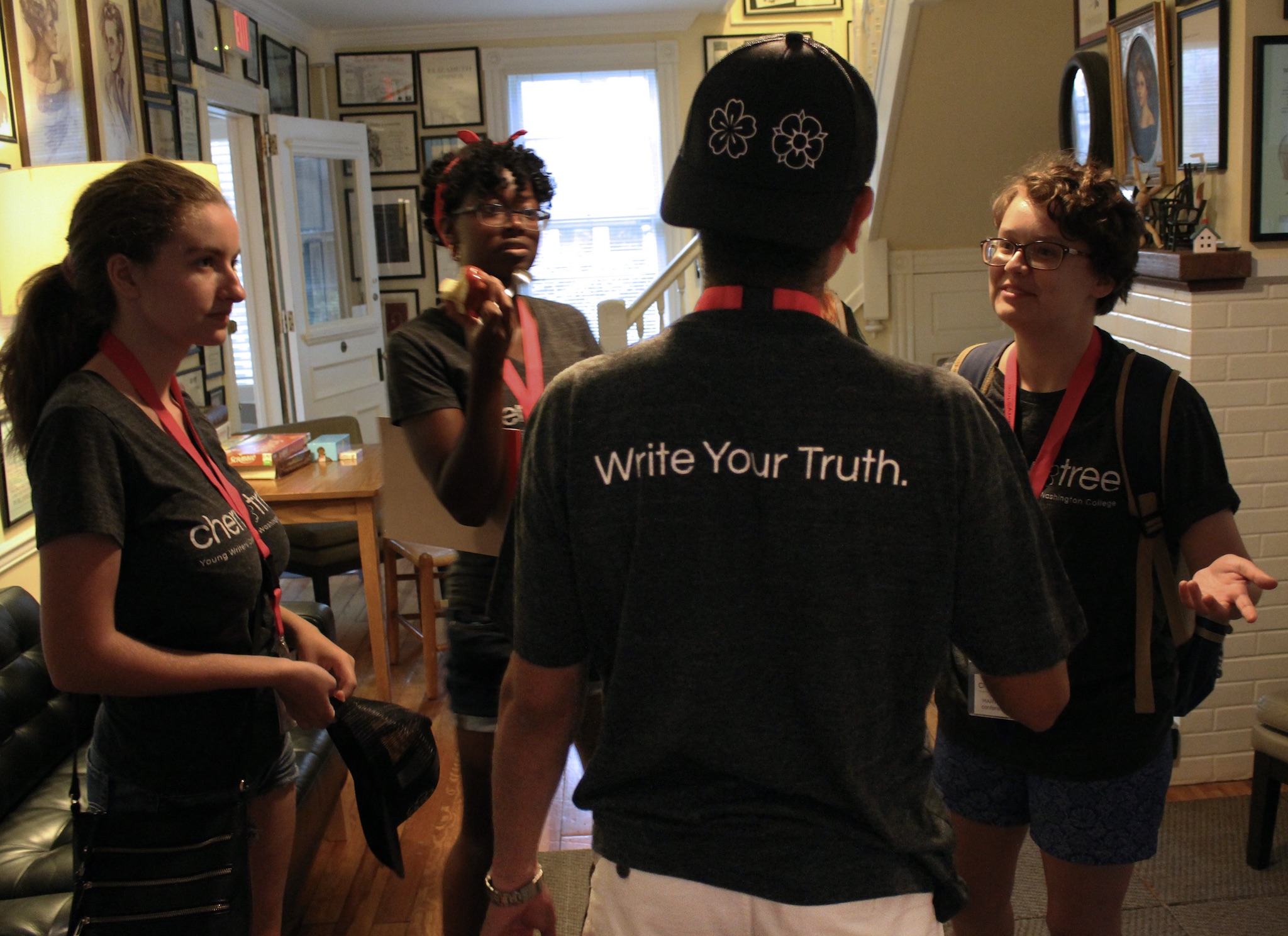 About the conference:
Our motto is "Write Your Truth." Creative writing workshops at the Cherry Tree Young Writers' Conference are designed to help you discover answers to questions like: What is your truth? What voice will you use to tell it? The Cherry Tree Young Writers' Conference is a vibrant literary gathering that helps rising high school sophomores, juniors, and seniors build both their skills and their identity as writers.
The world has never been in more urgent need of young people who are willing and able to bear witness. Washington College—home to the famous Sophie Kerr Prize, the world's largest undergraduate writing award, worth nearly $70,000—is a thriving community where aspiring poets, novelists, and journalists study with prize-winning authors to hone their craft. Writing is often a solitary art, but it needn't be a lonely one.
Who's it for? We welcome rising high school sophomores, juniors, and seniors—as well as those who graduated in summer 2024—to join us at the conference.
At the Young Writers' Conference, students take intensive creative writing workshops with nationally renowned authors in one of 3 genres (poetry, fiction, or journalism), discuss literature with English faculty, and attend professional readings and craft panels. They explore the world of literary internships and grants in publishing, writing, and editing. And they learn what it's like to work at college publications such as Cherry Tree, Washington College's national literary journal. We introduce students to the literary life.
This summer, our 9th annual literary extravaganza takes place July 16-19. The cost is $795 per participant, which covers all costs—including our "Writing a Successful College Admissions Essay" workshop and letterpress printing demonstration. We have a limited number of full-ride merit and regional scholarships available that cover the full cost of tuition. Learn more at https://www.washcoll.edu/cherrytree
For further questions, don't hesitate to contact our Conference Coordinator, Amber Taliancich. And to order Conference t-shirts, hats, and other swag, visit our online store here.
All tuition proceeds are used solely to benefit the operation of the Cherry Tree Young Writers' Conference and associated programs.
Videos from Intern/Staff Readings