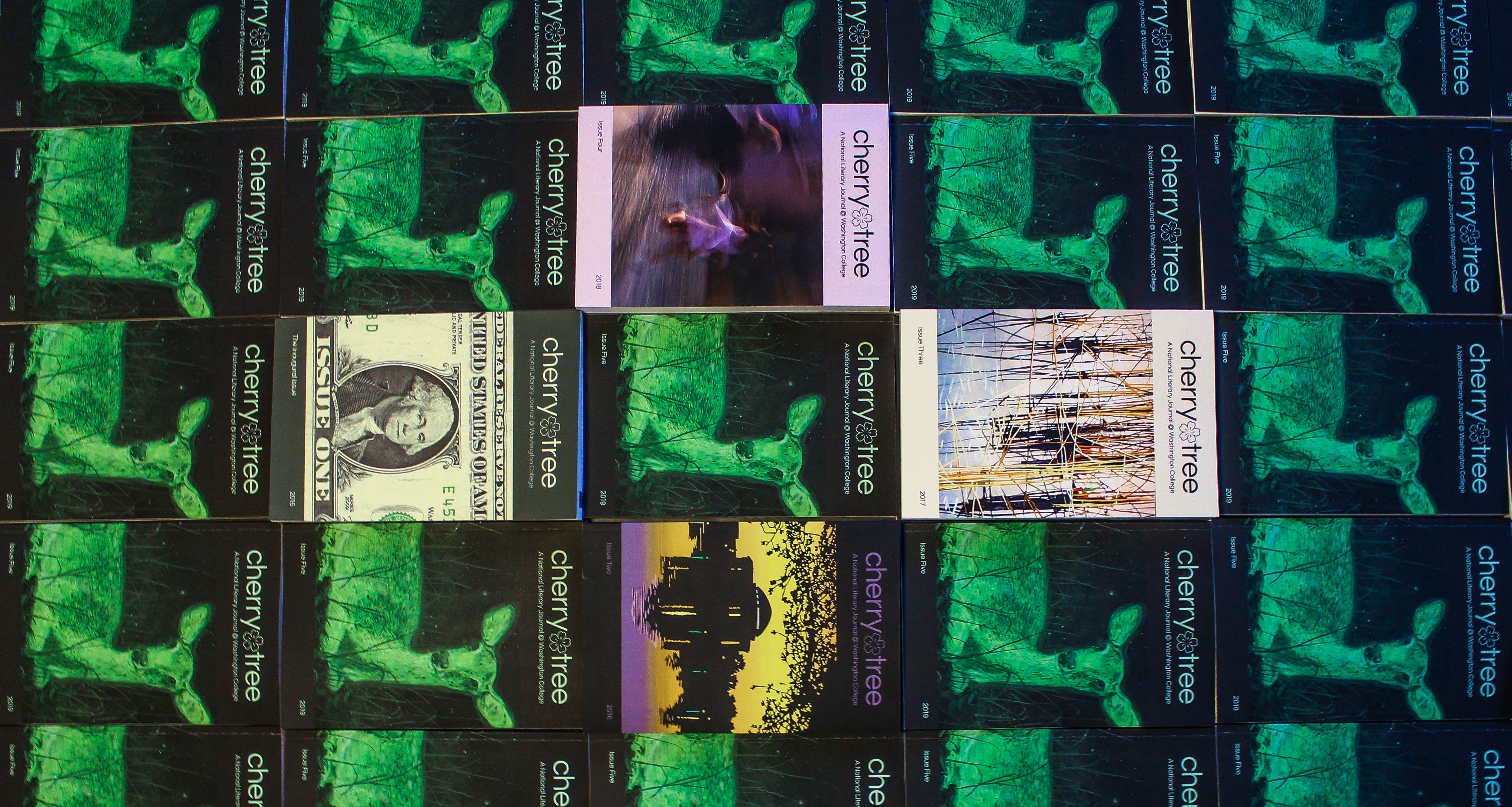 Founded in 2014, with its debut issue released on February 15, 2015, Cherry Tree: A National Literary Journal @ Washington College is an annual literary magazine featuring poetry, fiction, creative nonfiction, and literary shade by emerging and established writers from across the United States and all over the world.
The name and ethos of Cherry Tree rest on the story of George Washington and his ax: the founding myth of the American national character. That self-serving story is artful in its way, and because it is so transparently apocryphal, it is uniquely open to critiques that might lead to useful truths.
Cherry Tree appears under the imprint of the Literary House Press, the publishing arm of the Rose O'Neill Literary House, a cultural center with an almost 50-year-history of promoting the arts. Washington College undergraduates participate in all facets of the production of this print journal, though professional writers serve as genre editors and fill most senior reader positions. Although the journal is still growing, Cherry Tree has already received national recognition. Poems from three of its six issues have been selected for inclusion in The Best American Poetry (2016, 2017, and 2020). Poems have been reprinted on Poetry Daily and Verse Daily and have appeared in the Orison Anthology. Prose has been listed as "notable" in Best American Essays and appeared in Best Microfictions (2020).
We are now closed for Issue 7 and will reopen for Issue 8 on August 1, 2021. Check out the masthead here & our readers here.
---
ABOUT ISSUE 6:
Our sixth issue features work by Diannely Antigua, Destiny O. Birdsong, Mirande Bissell, Jennifer Bullis, Lauren Camp, Hannah Cohen, Bailey Cohen-Vera, Jason B. Crawford, Raymond Deej, Dante Di Stefano, Jen Stewart Fueston, Jeannine Hall Gailey, David Groff, Christian Gullette, Steve Henn, Korey Hurni, Ashley M. Jones, Kasey Jueds, Toshiya Kamei, Genevieve Kaplan, Christen Noel Kauffman, Olivia Kingery, Mingpei Li, Alice Liang, Sarah Lyons-Lin, Angie Macri, Ann Stewart McBee, Megan Neville, Afopefoluwa Ojo, JJ Peña, Robert L. Penick, Emilia Phillips, Caroline Plasket, Alec Prevett, Sara Quinn Rivara, Sara Ryan, F. Daniel Rzicznek, Martha Silano, DeAnna Stephens, Anne Dyer Stuart, Yerra Sugarman, Ojo Taiye, Adam Tavel, Alex Thomas, Yasumi Tsuhara, Elsa Valmidiano, Hannah VanderHart, April Wang, and Art Zilleruelo!
RECENT REVIEWS AND PRESS:
"The Wildness" by Jeannine Hall Gailey (from Issue 6) feautred on Verse Daily.
"A Turn of the Plow, A Furrow, a Line of Writing" by Angie Macri (from Issue 6) featured on Verse Daily.
"The Lives of My Childhood" by Hannah VanderHart (from Issue 6) featured on Verse Daily.
"Memorial for a Tractor Left Idling" by F. Daniel Rzicznek (from Issue 6) featured on Verse Daily.
"Diaspora Sonnet 34," by Oliver de la Paz (from Issue 5) featured on Verse Daily!
"Car Prayer of the Child Bride," by Alison Stine (from Issue 5) featured on Verse Daily!
"Archaeology," by Kevin Prufer (from Issue 5) featured on Verse Daily!
Review of Issue 4 at NewPages (Anne Graue).
Review of Issue 3 at NewPages (Valerie Wieland).