Finalists Announced for 2022 Sophie Kerr Prize, the Largest Undergraduate Literary Prize in the Country
The 2022 prize is worth $68,292; winner to be announced on Friday 5/20 at 7:30 p.m.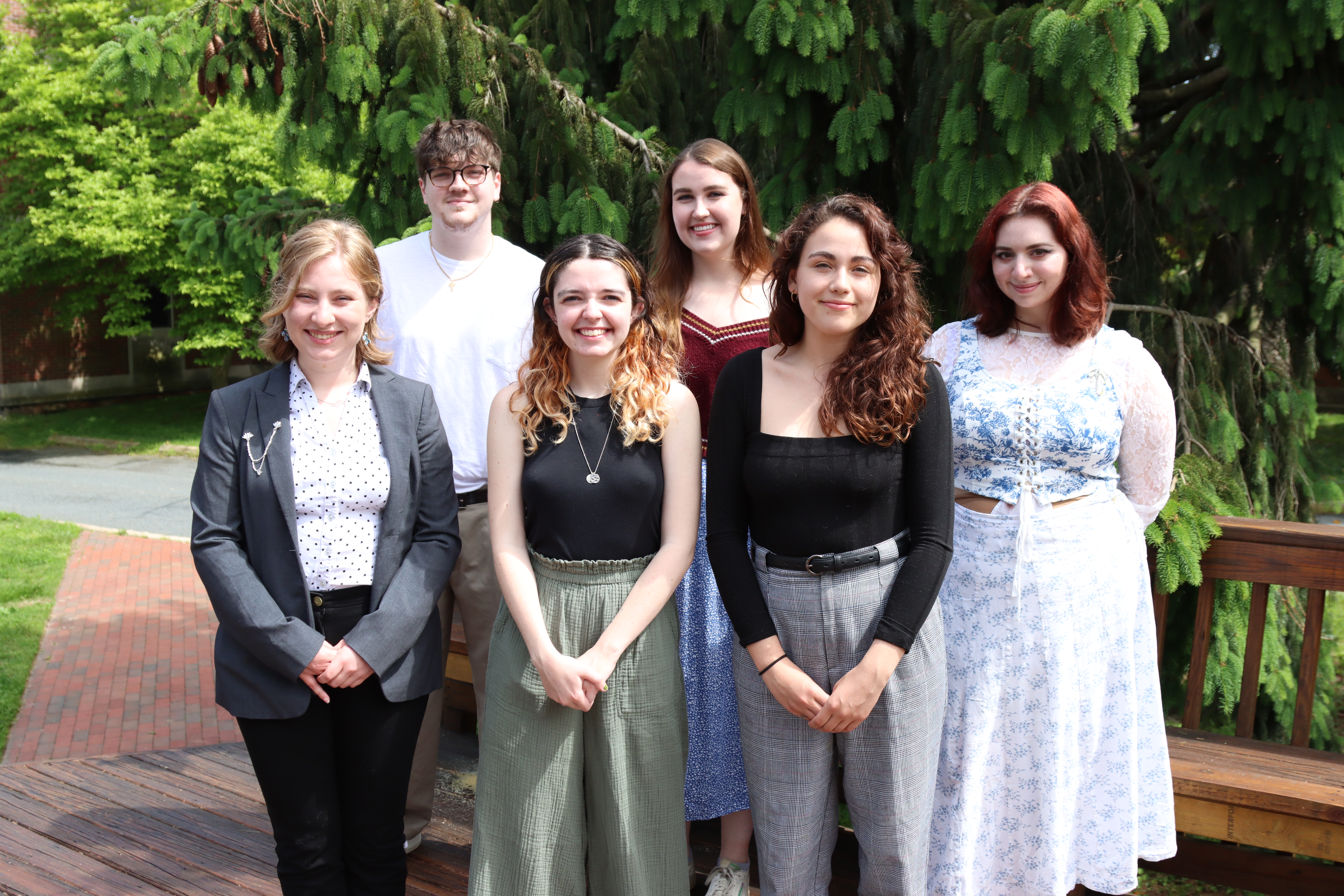 The six finalists have been announced for the 2022 Sophie Kerr Prize in literature, which is worth $68,292. They are (see below for bios): Isabelle Anderson, Emma Campbell, Teddy L. Friedline, Chloe Mello, Erica Quinones, and Nicholas Ritter.
The winner of the nation's largest undergraduate literary prize will be revealed on Friday, May 20 at 7:30 p.m. The announcement is part of the Sophie Kerr Prize ceremony, which will be held in Hotchkiss Recital Hall. In addition to the announcement of the winner, there will be readings by all of the finalists and an address from the keynote speaker, Stephanie Fowler, 2001 Sophie Kerr Prize winner.
The event will also be available via livestream at this link: https://youtu.be/9J-4ZI21mO8.
The prestigious prize is awarded each year to the graduating senior demonstrating the best potential for future achievement in a literary endeavor. The cash prize amounts to half of the annual income from Sophie Kerr's bequest to the College. The prize is open to students within all majors. Students who want to compete for the prize submit a writing portfolio, and a committee comprised of full-time faculty in the English Department and the President reviews all submissions and makes the final decision.
"The Committee was once again impressed with the range of genres and interdisciplinary areas of study represented in the portfolios submitted for the Prize," said Sean Meehan, English Department Chair and Curator of the Sophie Kerr Endowment. "With majors from Environmental Studies, English, Studio Art, Psychology, and German and minors including Anthropology, Creative Writing, Journalism, Music, Public Health, Political Science among others, this year's Prize reflects the distinctive vigor of writing across the liberal arts and sciences at Washington College. Judging by these portfolios and the promise demonstrated by the finalists, the future of literary endeavors is in very good hands."
Fowler is the author of two books. Crossing, a collection of creative nonfiction stories about the Delmarva Peninsula, based on work she submitted for her Sophie Kerr portfolio, was published in 2008. Chasing Alice, published in 2020, combines true crime, biography, and memoir, telling the story of the life and tragic death of Alice Davis, her beloved English teacher at Parkside High School in Salisbury, Maryland.
The finalists (in alphabetical order) are:
Isabelle Anderson, an English major from Baltimore, served as President of the Writers' Union, Editor-in-Chief of The Pegasus, and Poetry Editor of Collegian. Anderson has held internships at the Rose O'Neill Literary House, Creative Media Agency, and Yellow Arrow Publishing, a press dedicated to publishing women-identifying writers. Anderson's portfolio, centered on themes relating to girlhood, womanhood, and misogyny, is made up of poetry, fiction, creative nonfiction, and academic writing, and taps into her studies in English and creative writing as well as the fields of Sociology and Gender Studies. After graduation, Anderson plans to gain work experience in the publishing field before pursuing an MFA.
Emma Campbell is from Annapolis, majoring in English and minoring in Creative Writing and Journalism, Editing, and Publishing. She served as Opinion Editor for The Elm, Vice-President of Writers' Union, and Editor-in-Chief of Collegian, Washington College's student-run literary and arts journal. Campbell's writing portfolio includes creative nonfiction, editorial journalism, and short fiction celebrating resilience and exploring fraught human relationships. After graduation, Campbell hopes to work in book publishing.
Teddy L. Friedline, an English major and double minor in Creative Writing and Art + Art History from Greenville, South Carolina, was inducted into Phi Beta Kappa and served as Acting President of SAGE at Washington College. Their portfolio consists of poetry and academic essays focused broadly on gender identity and presentation, religious topics, and literature, among other topics.
Chloe Mello is a multimedia artist who most recently moved from Greenville, SC. They are a double major in Studio Arts and Psychology, completing their other thesis on the topic of Harm Reduction for drug users. They have interned in the Kohl Gallery since their freshman year at Washington College. While they will be interning with Easter Seals this summer, they are looking at both the art and psychology fields for careers. Currently, they are completing their Italian dual citizenship to eventually pursue a master's abroad. Chloe also enjoys poetry, piano, and medical oddities.
Erica Quinones, a double major in English and German Studies and a double minor in European Studies and Political Science, is a member of Delta Phi Alpha, Phi Beta Kappa, and Pi Sigma Alpha. At Washington College, she has been a Writing Consultant in the Writing Center, served as Associate Editor of Washington College Review (WCR) from 2019-2020 and as Editor-in-Chief of WCR from 2020-2021. While Quinones was an active part of the academic student publishing community, her most constant companion was The Elm, where she was Editor-in-Chief from 2021-2022. Quinones's portfolio explores issues of racial justice, LGBTQIA+ rights and representation, queer visibility, and grief. Quinones will pursue a PhD in English Literature and Certificate in Women and Gender Studies at the University of Delaware beginning this Fall.
Nicholas Ritter, a first-generation student and English major with a Creative Writing minor from Waldorf, MD, worked as a Poetry Reader for Cherry Tree and a Student Research Assistant/Web Designer for Dr. Alisha Knight's digital humanities project, Putting Them on the Map. Prior to Washington College, he received his associates degree from the College of Southern Maryland. A recipient of a Sophie Kerr Promise Grant, Ritter has consistently made the Dean's list while at Washington College. Ritter's portfolio includes a myriad of poems largely discussing his personal experiences with various expressions of grief, and selected sections from his Senior Capstone Experience. He will be attending the MFA Program at George Mason University starting Fall 2022 where he will work as a Graduate Teaching Assistant.
About the Sophie Kerr Prize:
The Sophie Kerr Prize is named after the Eastern Shore author who made her fortune in New York writing women's fiction during the 1930s and 1940s. The endowment that Sophie Kerr established in her will has inspired and supported the College's programs and events in literature and writing for more than 50 years.
In accordance with the terms of her will, half of the annual income from her bequest to the College is awarded each year to the graduating senior demonstrating the best potential for future achievement in a literary endeavor. Valued at more than $68,000 in 2022, it remains the nation's largest undergraduate writing prize, more than the Pulitzer Prize and National Book Award combined. See the list of Sophie Kerr Prize winners since its inception in 1968.
PICTURED ABOVE: Front Row (L-R): Erica Quinones, Teddy L. Friedline, Isabelle Anderson; Back Row (L-R): Nicholas Ritter, Emma Campbell, Chloe Mello