Nicholas Ritter, the Poet Who Didn't Know It
"I remember her saying, 'This is going to be a good fit for you.'"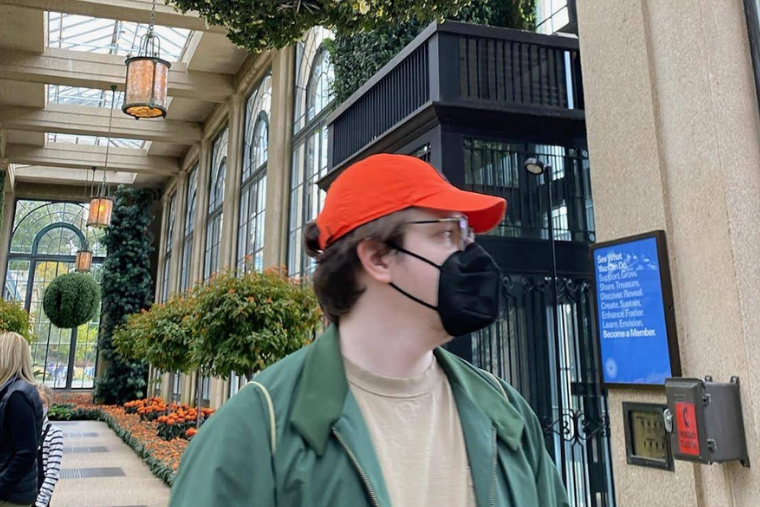 Nicholas (Nick) Ritter is set to graduate from Washington College this month with a Bachelor of Arts in English, a love of writing poetry and ambitious plans to pursue multiple advanced degrees – which is somewhat of a surprising twist for this first-gen student who initially wasn't planning on attending college at all.
Ritter's winding path after graduation from Thomas Stone High School in Waldorf included working as a carpenter's assistant and at various retail jobs. His grades in high school weren't all that great, largely, he knows, because he didn't apply himself to the work. For a time, he strongly considered attending culinary school as the next phase, but ultimately decided that a career in food service and the late-night lifestyle that came with it weren't right for him.
Ultimately, every plan that Ritter considered, tried and discarded was leading him towards the right choice, which was enrolling at College of Southern Maryland (CSM) in LaPlata, a regional community college. "Those two years after high school were so important because they helped me focus and decide what I actually wanted," said Ritter. "It gave me the time I needed to re-tune myself."
Ritter – who is the first person in his family to attend college -- began his classes at CSM in the Spring of 2018 and has never really looked back. He loved the whole experience, noting that CSM is where he met his significant other, where he first started working as a tutor -- which he said is his favorite job so far, and most importantly, where he first tapped into his love of writing.
Ritter credits John Kulikowski, Professor of English at CSM for encouraging him to join the English Club, which he admits to thinking was going to be a waste of time. "Writing for me took a while to come into," he explained. "But it really clicked once I started going to English Club. So yeah – I'm really glad I changed my opinion on that one!"
"Once I started going to Writing Club I realized, wow, there's really something to this," he added. "I appreciated the openness of the group and everyone's willingness to be vulnerable. It was really appealing to me." By Ritter's third semester at CSM, he was hooked and fully embraced his writing talents and desire to further pursue it as a career.
His primary genre is poetry, and Ritter shared that he has a deep fascination with working-class ideals and language. "I can get down with all types and styles, up to the most sophisticated prose; but I'm naturally drawn to working-class language and themes and reflecting that through my poetry," he said. "It's about sharing the struggles, and my own working-class upbringing has influenced this."
Dr. James Hall, Associate Professor of English and Director of the Rose O'Neill Literary House reflected on Nick's unique style, saying, "Nick has such an original relationship with language – how it can memorialize both time and people and how it can help us cope with loss."
Upon earning his Associates Degree from CSM, it was another CSM professor – Dr. Christine Arnold-Lourie – who pointed him to Washington College, largely due to the institution's strong focus on writing and the opportunity for meaningful internships. "I remember her saying, 'This is going to be a good fit for you.'"
Ritter applied as a transfer student, was accepted, and set out to start part two of his college career in the Spring of 2020. Then COVID hit, and after living on campus for about 6 or 7 weeks, Ritter and all of his classmates were sent back home. "That was tough," he said. "After all the stress of applying and then starting during an off-cycle, it was difficult to hear, 'OK, now you have to go home.'"
Like college students all across the country, Ritter adapted and stuck with his studies through nearly two virtual semesters, and then a hybrid semester where he lived on campus but the majority of his classes remained online. Ritter currently lives off-campus and is happy to be enjoying a mostly normal final semester before his December graduation.
Initially, Ritter intended to start slow and ease into life at Washington College, but soon after he enrolled, he lined up an internship with Dr. Alisha Knight's digital humanities project, Putting them on the Map: Mapping the Agents of the Colored Co-operative Publishing Company as a Research Assistant, and also picked up an extra class. He also got involved as a Poetry Screener for Cherry Tree, the annual literary magazine featuring poetry, fiction, creative nonfiction that is published by the Rose O'Neil Literary House.
Ritter recently completed his senior thesis. "For my SCE, I studied the Black Arts Movement writer Henry Dumas and examined how, through his use of vernacular, musicality, atemporal history and revolutionary politics, his poetry advocated for a Southern Black Utopia," said Ritter. Ritter chose to study Dumas' work after seeing a reference on him by Toni Morrison which encouraged everyone to read Dumas because he isn't widely-read. His thesis received Honors recognition.
Ritter is graduating at the end of this semester, and is actively applying to a number of graduate schools with the goal of pursuing an MFA in creative writing. With support from Dr. Courtney Rydel, Associate Professor of English and Ritter's academic advisor as well as guidance from Dr. Hall, he applied for and was awarded a Sophie Kerr Promise Grant, which will cover the grad school application fees. This grant is important for Ritter, as it allows him to apply to over a dozen schools instead of being limited to just two or three.
He says he'll be happy to land anywhere that he can continue his education, though Johns Hopkins and the University of Pittsburgh are high on his list. "What I've learned from high school to now is that I can find my place anywhere," said Ritter.
Ritter is also quick to give praise to the numerous professors and advisors who have helped him along the way - Dr. Meehan, Dr. Rydel, Dr. Hall, his CSM professors and so many others. "Being a first-generation college student, I'm not coming from a place where I would just automatically know how to navigate this," he said. "All credit to those professors for being that critical support system for me, because it's how I found my place at Washington College, and now it's the reason I am applying to graduate school and can see a future in creative writing."
Not surprisingly, those expressions of appreciation are mutual and just as plentiful towards Ritter from the faculty. "Nick possesses the drive and focus that have made so many community college students successful here, and I love his curiosity and enthusiasm to learn about new writers and check out new genres," said Rydel. "Getting to work closely with students like Nick—wherever they are on their path when they come to us—is my favorite part of teaching at Washington College."
Asked where he sees himself in 5-10 years, Ritter thinks he'll likely still be advancing his academic career, as he would like to eventually earn his doctorate. He hopes to continue his study of the Black Arts movement. "I would like a book, obviously…but who wouldn't?" he added.
More About the Sophie Kerr Promise Grant: All English majors are eligible for up to $3000 in funding to support a range of experiential learning activities like internships, study abroad, summer travel, research, and graduate school applications. Learn more here.