Rose O'Neill Literary House Kicks Off 50th Year with Engaging Line-Up of Events
Learn more about the events taking place at the Lit House this fall, as the signature center celebrates its 50th year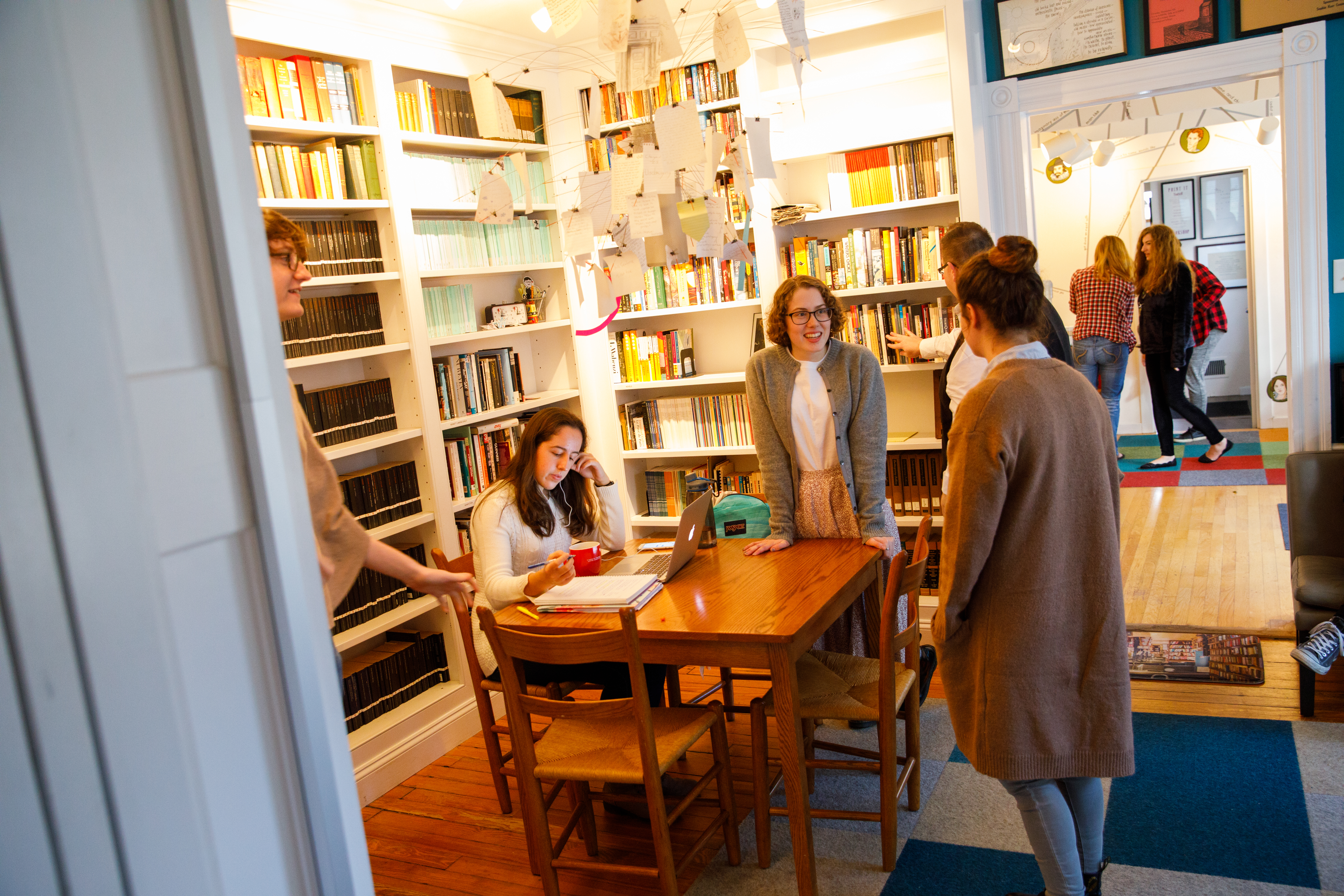 To mark its 50th anniversary, the Rose O'Neill Literary House is hosting a mix of in-person and virtual events that celebrate the house's founding director, Robert Day, as well as Lit House alumni. The fall offerings also include inspiring workshops and readings that will help current students to hone their skills as writers, editors, and publishers.
This semester's featured events include:
A Celebration of Reading in Memory of Robert A. Day – Tuesday, Sept. 13, 8 p.m. (Register here for this virtual public event). Attendees are invited to celebrate the life and work of Bob Day by sharing a story about Bob or a short excerpt of his writing.
Literary House Tea & Talk Series presents: Offensive to Pious Ears, A Book Launch and Reading by Prof. Elena Deanda – Thursday, Sept. 20, 5:30 p.m. in Litrenta Lecture Hall. Deanda will read from her newly published book, Offensive to Pious Ears: Obscenity and Censorship in 18th Century Poetry in Spain and Mexico. This event is co-sponsored by the Department of World Languages and Culture.
An Evening with Humor Columnist Damon Young -- Thursday, Sept. 29, 4:30 p.m., Rose O'Neill Lit House. Damon Young, winner of the Thurber Prize for American Humor, will discuss the art of finding the funny. Young, author of What Doesn't Kill You Makes You Blacker: A Memoir in Essays, is a humor columnist for the Washington Post Magazine.
Lit House Series in Collaboration with the Small Literary Arts Centers Coalition (SLACC) Presents: Going Viral: A Reading and Generative Workshop with Joseph Osmundson – Monday, Oct. 3, 6 p.m. (Register here for this virtual public event). This reading and workshop is especially for students and alumni of SLACC (member institutions (Washington College, Smith College, and Bucknell University). It is designed for those who identify as scientists and those who identify as writers, though those things do not need to overlap.
An Evening with Sophie Kerr Scholar in Residence Andy Nunn - Thursday, Oct. 20, 4 p.m., Location TBA. Professor Nunn, Sophie Kerr Scholar in Residence in African American Literature, will discuss her exciting research on the intersection of African American literature and contemporary science fiction.
Liberal Arts Brought to Life: A Reading and Conversation with Rich Gillin - Wednesday, Oct. 26, 4:30 p.m., Rose O'Neill Lit House. Rich Gillin, Professor Emeritus of English, will be reading from his book, A Guide to Hiking the Liberal Arts: The Washington College Kiplin Hall Program, and discussing how he has seen the liberal arts at Washington College be transformative for generations of students.
Manuel Munoz Reading from His Fiction – Monday, Nov. 14, 6 p.m. at the Rose O'Neill Literary House. Manuel Muñoz is the author of the novel, What You See in the Dark, and the short-story collections Zigzagger and The Faith Healer of Olive Avenue, which was shortlisted for the Frank O'Connor International Short Story Award. He is the recipient of fellowships from the National Endowment for the Arts and the New York Foundation for the Arts.
The Class of 2026 First-Year Reading – Wednesday, Nov. 30, 6 p.m. at the Rose O'Neill Literary House. Hear Washington College first-year writers read from their original work during this celebrated annual tradition.
Full details on all Lit House events can be found here.
One of the College's three signature centers, the Literary House serves as a cultural center on campus, hosting programs, classes, and student-run clubs and activities. The idea for the house dates back to 1970, and two years later a physical home - then called The Richmond House - was established. The Lit House's annual programming provides access to a wide variety of texts, including fiction, poetry, journalism, creative nonfiction, scholarly prose, songwriting, playwriting, and hybrid forms. They also publish the national literary journal, Cherry Tree, which features literary works by established and emerging authors, providing student learning opportunities in editing, marketing, design, and publishing.