Under sunny skies, the class of 2022 was cheered on by family and friends as they accepted their newly minted degrees.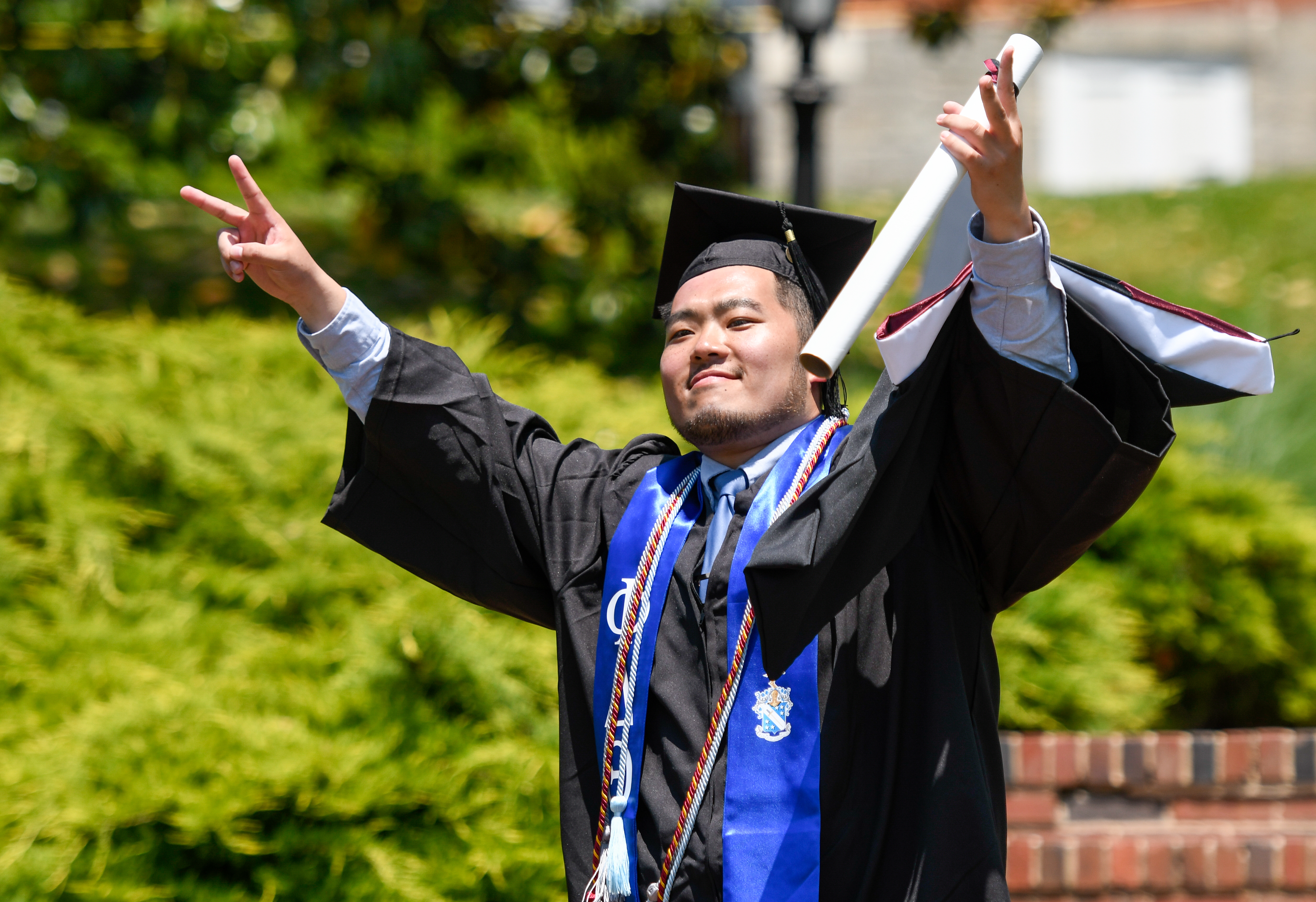 Washington College congratulates the 247 students who received their undergraduate degree during the College's 239th commencement exercises on May 22. Graduates were cheered on by friends and family during the outdoor ceremony, which included performances by the vocal group, WACapella.
The highlight of the ceremony was the public conferral of Bachelor of Science and Bachelor of Arts degrees on the 2022 Washington College graduates. Interim Provost and Dean Michael Harvey officially conferred the degrees while Dr. Alisha Knight, incoming Associate Provost of Diversity and Inclusion and Senior Equity Officer individually presented each graduate.
Joseph Getty, recently retired Chief Judge of the Maryland Court of Appeals and a 1974 Washington College graduate delivered the keynote address and was the recipient of an honorary Doctor of Laws degree.
Other notable awards presented or highlighted during the ceremony include:
The John A. Conkling, Ph.D. Distinguished Award for Excellence – presented to Dr. Ed Schulman '71
The Alumni Citation Award – presented to Joe Holt '83, Executive Director of Institutional Giving and Stewardship, Washington College
The Alumni Association's Distinguished Teaching Award – presented to Professor Sara Clarke-De Reza, Assistant Professor of Education and Director of the Museum, Field, and Community Educator Minor
The Jane Huston Goodfellow Memorial Prize – presented to Alison Esther Buckwalter '22 and Katherine Rose Desrosiers '22
The Gold Pentagon Awards, awarded to one graduating senior and one member of the staff, faculty or alum or friend of the College – presented to Katharine DeSantis '22 and Lisa Marx, Director of Health Services
The Sophie Kerr Prize, presented to Teddy Friedline '22
The Louis L. Goldstein, Class of '35 Award – presented to Salamata Jalloh '22 (also a Fulbright Award winner)
The Eugene B. Casey Medal – presented to Erica Quinones '22
Henry W.C. Catlin, Class of 1894 Medal – presented to Emma Austen Rossier Markus '22
The Clark-Porter Medal – presented to Kyle Rufo '22
The George Washington Medal and Award – presented to Tegan McBride
Founded in 1782, Washington College is the tenth oldest college in the nation and the first chartered under the new Republic. With an emphasis on hands-on, experiential learning in the arts and sciences, and more than 40 multidisciplinary areas of study, the College is home to nationally recognized academic centers in the environment, history, and writing. Learn more at washcoll.edu.