Salamata Jalloh '22 Earns Fulbright Award for 2022-23 Academic Year
As sole recipient of the UK Partnership Award for the University of Edinburgh, Jalloh will pursue a Master's Degree abroad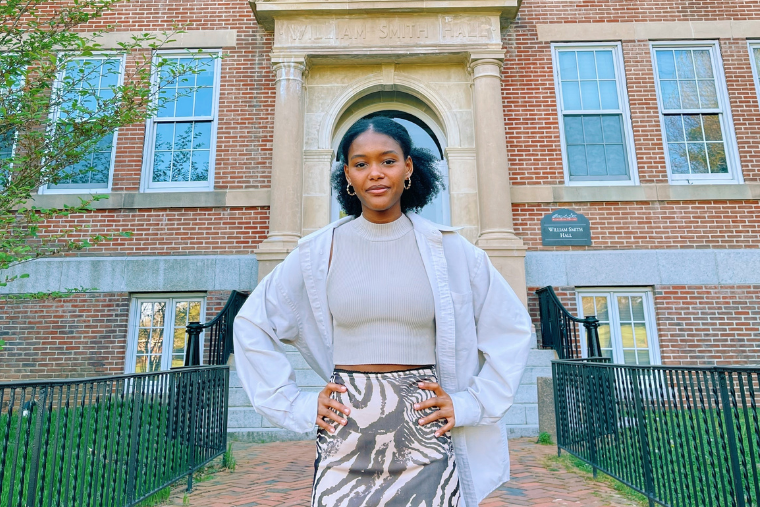 Salamata Jalloh, a senior at Washington College, received a Fulbright Award for the 2022-23 academic year. Jalloh will be attending the University of Edinburgh in the UK, where she will pursue a Master's Degree in African Studies and International Development.
Jalloh, who will graduate later this month with a degree in Political Science, along with dual minors in Religion and Peace and Conflict Studies, was thrilled to learn that she had been selected as the finalist for this program, particularly since she has aspired to the Fulbright program since she first learned about it from a middle school tutor. "Fast forward to coming to Washington College, and I already knew it was something I wanted to apply for," she said. "I was always working towards this."
The rigorous Fulbright application process began in the early fall and included a written application and an interview. Semi-finalists were announced in December and final award notifications take place in the spring. Jalloh was in competition with about 120 other applicants for this particular award, and was the sole recipient of the UK Partnership Award for the University of Edinburgh.
An expectation of all recipients is that they actively contribute to the cultural exchange experience. One of the ways Jalloh intends to do that is to join the University's rowing club, a sport she participated in during her high school years. She also wants to travel throughout the UK and learn as much as she can about their history.
After completing the master's program at University of Edinburgh, Jalloh will either enter law school or the Peace Corps. Her career goal is to earn her law degree and work in International Law, but finds the Peace Corps option intriguing. "I think serving with the Peace Corps would really allow me to apply what I've learned in my undergraduate studies and the graduate program," she said.
Types of Fulbright awards available include open study/research awards, English teaching assistant awards, and special programs such as their Fellowships in Public Health and National Geographic Storytelling Fellowship. Jalloh's award is for study/research, which are available in approximately 140 countries around the globe. Her studies in the UK begin in September.
In addition to her studies at Washington College, the Milton, MA resident has been actively involved with a number of other organizations on campus. She is in the Political Science Honor Society, Cater Society, Cleopatra's Sisters, and the African Student Union (ASU).
Jalloh was supported throughout the entire application process by Carrie Reiling, Assistant Professor, Political Science & International Studies, who is herself a Fulbright alum. Reiling helps Fulbright applicants from start to finish, including setting internal deadlines for written portions, reviewing the application draft and offering feedback, and submitting letters of recommendation.
Emily Hall '14 was the last Washington College student to receive a Fulbright Award, and hers was to work in Nepal for a year after graduation. Hall in fact provided support to Jalloh, after they connected through the Cater Society network. Jalloh interned with Hall at Advancing Girls' Education in Africa in the Fall of 2021, and Hall lent her experience and offered assistance with Jalloh's own Fulbright application.
In addition to Hall and Reiling, Jalloh credits and thanks Dr. Christine Wade, Dr. Tahir Shad, Dr. Emily Steinmetz, Dr. Elizabeth O'Connor, and Dr. Lisa Daniels for writing recommendations and offering support throughout the entire application process.
Recipients of Fulbright awards are selected in an open, merit-based competition that considers leadership potential, academic and/or professional achievement, and record of service. As Fulbright alumni, their careers are enriched by joining a network of thousands of esteemed alumni, many of whom are leaders in their fields. Fulbright alumni include 61 Nobel Prize laureates, 89 Pulitzer Prize recipients, and 40 who have served as a head of state or government.
The Commission evaluating applicants to this specific area of study seek those who demonstrate rigor in scholarly enquiry and academic excellence; strong reasons for wishing to pursue study at that particular institution; a desire to gain a better understanding of the peoples and cultures of their host country and a commitment to the community through volunteer and extracurricular activities.
The Fulbright Program is the U.S. government's flagship international educational exchange program and is supported by the people of the United States and partner countries around the world. The Fulbright Program is funded through an annual appropriation made by the U.S. Congress to the U.S. Department of State's Bureau of Educational and Cultural Affairs. Participating governments and host institutions, corporations, and foundations around the world also provide direct and indirect support to the Program.
Since 1946, the Fulbright Program has provided more than 400,000 participants from over 160 countries the opportunity to study, teach and conduct research, exchange ideas, and contribute to finding solutions to shared international concerns.