Kappa Sigma is the largest college social fraternity in the world with more than 230,000 living members, including over 20,000 undergraduates and 320 Chapters and colonies located throughout the United States and Canada.
Kappa Sigma (ΚΣ), commonly nicknamed Kappa Sig or K-Sig was founded in 1869 at the University of Virginia. It's International Headquarters is based out of Charlottesville, Virginia. It is currently the leader of all American Fraternities in terms of pledges, new initiates per year, service hours, and philanthropic donations. Kappa Sigma also has the lowest national dues out of any other fraternity and has the oldest continuous endowment fund which has donated $6.5 million to undergrads since the fund's inception in 1919.
Kappa Sigma is focused upon the Four Pillars of Fellowship, Leadership, Scholarship, and Service. As a values-based men's fraternity, Kappa Sigma strictly forbids hazing and fosters meaningful college experiences by offering progressive membership development and pledge education.
The Omicron-Phi Chapter fundraises for two national causes:
The chapter, while supporting many other causes and organizations, primarily supports these two organizations for several reasons, including promoting men's health and the well-being of our veterans. Both of these issues affect us on a daily basis and serve as constant reminders to protect our health and aid our veterans.
The origins of the Kappa Sigma Fraternity can be traced back to the city of Bologna, Italy around the year 1400.
At the University of Bologna, a teacher by the name of Manuel Chrysoloras founded an ancient society of students with five of his most devoted disciples. The society was founded for mutual protection against the corrupt governor of the city, former pirate Baldassare Cossa, who would often have students of the University physically attacked and robbed in the streets.
The students used secret words and signs to protect their ranks from betrayal. These forms and rituals became the basis of their organization. It embodied their ideals and allowed for both the safety of their members and the strong unity of the society.
The society slowly grew too large numbers, taking in those students who desired the protection it could offer. With a strong foundation in the loyalty and quality of its members, the ancient order grew into a strong organization. Over time, its strength and unity transformed the order from a protective society against Cossa into something much greater, a true brotherhood.
On December 10, 1869, five students at the University of Virginia met in 46 East Lawn and founded the Kappa Sigma Fraternity in America. They took the traditions of the ancient order in Bologna and created a fraternity that aimed to continue in its noble cause, that of unending brotherhood.
History of the Omicron-Phi Chapter
The Omicron-Phi Chapter of the Kappa Sigma Fraternity was founded on Saturday, April 14, 2007. On this day, 27 men moved from pledges to initiates of the fraternity and received their charter. The chapter began as a colony in March 2006 when twenty-one of the twenty-seven founding fathers pledged to the Fraternity. From this point forward they sought to achieve their goals through the four pillars of Kappa Sigma: fellowship, leadership, scholarship, and service.
Since the induction of the Omicron-Phi chapter, the brothers have seized collective and individual opportunities to further themselves as fellow brothers, leaders, scholars, and community members. Many brothers have taken on campus leadership positions, such as the SGA Executive Board, Student Events Board, and many other campus organizations. Additionally, it is common to see the brothers actively involved in campus and community activities, events, and organizations. Furthermore, the chapter has earned a prestige on campus for academics by winning the Loving Cup award, which is awarded to the fraternity with the highest overall GPA, in 2008 and 2009.
The chapter has also received national attention from Kappa Sigma Headquarters. In June 2009, at the 67th Biennial Grand Conclave in San Antonio, Texas, the Omicron-Phi chapter received several awards, including: The Founder's Award for Chapter Excellence, Outstanding Grand Master: Trey Weitzel '10, Outstanding Alumnus Advisor: Vern Penner, Outstanding First Year Assistant Alumnus Advisor: Dr. Aaron Krochmal, Campus Involvement Award, and Academic Excellence Award.
Being relatively young, the Omicron-Phi Chapter has become a successful force at Washington College and continues to set the example by following the pillars of Fellowship, Leadership, Scholarship, and Service.
Six members of the cloth on the Campus of Miami University (OH) founded the Phi Delta Theta International Fraternity in 1848. The chapter of Phi Delta Theta at Washington College was founded in 1992. This chapter has many unique individuals ranging in academic interests from philosophy to economics and psychology to music. The current brothers are extremely active in athletics, community service, campus wide activities and international conventions and leadership programs.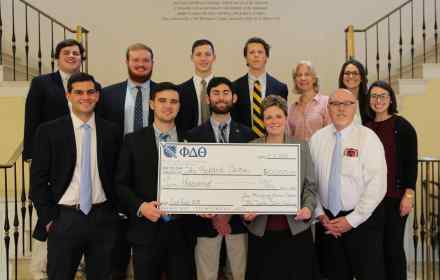 Phi Delta Theta's annual crab feast raises $10K for ALS research, bringing to over $20K its donations to the Robert Packard Center for ALS Research at Johns Hopkins.
The Maryland Gamma chapter hosts fundraisers, the most famous is the Annual Crab Feast for the ALS Association; Lou Gehrig Disease.
The chapter, while supporting many other causes, primarily supports the ALS Association. Amyotropic lateral sclerosis (ALS), is a disorder that affects approximately 5,600 people in the U.S. each year, and it is estimated that as many as 30,000 Americans may have the disease at any given time. We partner with the ALS Association because we are continuing the research and awareness efforts of former Phi Delta Theta Brother, Lou Gehrig from Colombia University. The LAS Association is leading the fight to treat and cure ALS through global research and nationwide advocacy while also empowering people with Lou Gehrig Disease and their families to live fuller lives by providing them with compassionate care and support. Last year, we raised more money than any other Phi Delta Theta Chapter in PDT history for the Association. This year, we aim to double our support!
OUR MISSION
Phi Delta Theta was built on three pillars that haven't budged an inch since the Fraternity was founded by "The Immortal Six" way back in 1848 at Miami University. The pillars are: The cultivation of friendship among its members, the acquirement individually of a high degree of mental culture, and the attainment personally of a high standard of morality. Shortened, we refer to the principles as friendship, sound learning and rectitude.
Helping every individual to meet his true potential is the bedrock of the Phi Delta Theta Fraternity. By celebrating each person's true self, and by learning from each other's strengths while helping to improve each other's weaknesses, every member of Phi Delta Theta develops into a greater version of himself than he could ever on his own. Rather than try to find young men to "mold" into some ideal, we celebrate the uniqueness of each individual and, through encouragement, values, example and brotherhood, empower every brother to exceed his personal expectations.
Theta Chi is the seventh largest national men's fraternity. It was founded on April 10, 1856 at Norwich University in Vermont. As an organization, Theta Chi has always stressed that its' members conduct themselves in the highest of gentlemanly conduct.
Washington College's chapter was founded in 1940. Our brothers are members of the WAC Trap and Skeet team, club sports, peer mentors, and many other extracurricular activities.
The main purpose is to develop outstanding brothers that are ready to enter the real world, and be tomorrow's leaders.
The focus of the Beta Eta chapter philanthropy is the USO, a national organization that provides support for veterans and their families.
Theta Chi was founded as the Theta Chi Society on April 10, 1856, at Norwich University, by two military cadets: Frederick Norton Freeman and Arthur Chase.
Freeman and Chase met in Freeman's room of the University's Old South Barracks, and after taking oaths and declaring each other "true and accepted members" of the Society, Chase was elected President and Freeman was elected Secretary. The next evening, Freeman and Chase initiated two more cadets: Edward Bancroft Williston and Lorenzo Potter.
Although Theta Chi is regarded as Norwich's first fraternity, it is believed that Freeman and Chase may also have been members of a secret society called The Regulators prior to founding Theta Chi. However, whether there was any connection between the Regulators and Theta Chi is still open for debate today.