Leading the way.
Since George Washington first served on the Board, Washington College has asked its governing body to provide the vision, the philanthropic support, and the leadership needed to strengthen the College's position among the nation's best small liberal arts colleges.
Executive Officers
Stephen T. Golding '72 P'05, Chair
William J. Harvey P'10, Vice Chair
Richard D. Wood III '91, Vice Chair
Richard L. Creighton '73, Immediate Past Vice Chair
Valarie A. Sheppard '86, Secretary
Richard T. Wheeler '86, Treasurer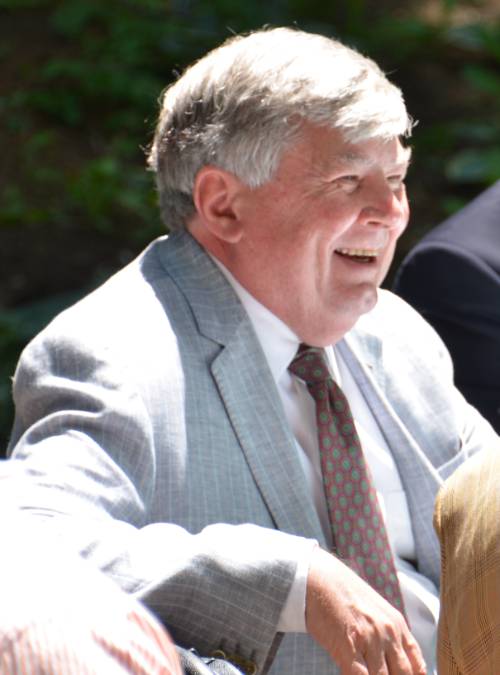 Executive Vice President, Danaher Corporation (retired), Henderson, Nevada
A member of the BVG since 2009, Pat Allender is retired from Danaher Corporation, where he was Executive Vice President from 1999 until his retirement in 2007. He joined the company in 1987 as CFO. Prior to joining Danaher, Pat was a partner with an international accounting firm. During his time at Danaher, he also headed up the Danaher Foundation. 
On the Board, Pat serves as Treasurer and chair of the Financial Affairs Committee and the Audit Committee. He also served on the former President's Leadership Council (PLC). Other board service includes public companies Brady Corporation and Colfax Corporation, and the Allender Family Foundation.  
Board Elected (2009), Term Expires June 2026
Thad Bench serves as the Chief Executive Officer of Benchworks, Inc., a family of companies that specializes in the health care and pharmaceutical industry. Headquartered in Chestertown and Cambridge, MD, it also has offices in Boston, Philadelphia, and Miami. Under his leadership, Benchworks has been named to the Inc. 5000 list of America's fastest-growing private companies for the last 4 years, and has grown sixfold since 2014.
Thad is a seasoned executive with extensive experience in marketing, brand positioning, and product launch management. He was named one of the 2016 ELITE 100 in the Entrepreneur category by PM360 magazine, an honor given to the 100 most influential people in the health care industry. He has managed hundreds of large-scale marketing initiatives for Fortune 500 companies with a particular emphasis in the pharmaceutical industry, including 9 product launches.

Thad has owned and continues to own a number of closely held family businesses, including manufacturing and distribution operations and commercial real estate holdings. Formerly he held senior corporate marketing positions with St. Louis-based Huttig Building Products and with Jeld-Wen Inc, one of the country's largest forest product companies.

Thad graduated from Elmira College in 1984 and lives with his wife Renee in Chestertown, MD.
Gubernatorial Appointment (2019), Term Expires June 2024
Lynn Bergeson is Managing Partner of Bergeson & Campbell, P.C. (B&C®), a Washington, D.C. firm concentrating on conventional, nanoscale, and biobased chemicals and chemical products.

She has earned an international reputation for her deep and expansive understanding of the Toxic Substances Control Act (TSCA), the Federal Insecticide, Fungicide, and Rodenticide Act (FIFRA), European Union Registration, Evaluation, Authorisation and Restriction of Chemicals (REACH), and especially how these regulatory programs pertain to nanotechnology and other emerging transformative technologies. Her knowledge of and involvement in the policy process allows her to develop client-focused strategies whether advocating before Congress, the U.S. Environmental Protection Agency, the U.S. Food and Drug Administration, or other governance and standard-setting bodies.

For more than 20 years, Ms. Bergeson has counseled corporations, trade associations, and business consortia on a wide range of issues pertaining to chemical hazard, exposure and risk assessment, risk communication, and minimizing legal liability, particularly with respect to TSCA, FIFRA, Food Quality Protection Act (FQPA), REACH, and Occupational Safety and Health Administration (OSHA) matters. Her clients include industrial chemical manufacturers and processors, and agrochemical and biocidal manufacturers and formulators.

Ms. Bergeson served as chair of the American Bar Association Section of Environment, Energy, and Resources, and has served in many Section leadership positions. She served on the Board of Directors of the Environmental Law Institute and is on the NanoBusiness Commercialization Association Advisory Board, and is President –Elect and on the Board of the Product Stewardship Society, among other business and law organizations, and lectures and writes frequently on legal, regulatory, and science policy issues. She is on the editorial board for "Nanotechnology Law and Business," "The Environmental Forum," "Pesticide & Toxic Chemical News," "Environmental Quality Management," "Chemical Processing," and "Pollution Prevention Review," among others, and is a member of the District of Columbia Bar, Bar Association of the District of Columbia, American Bar Association, Women's Bar Association of the District of Columbia, and The Cosmos Club.

Her rankings and recognitions include: 2011 inductee, American College of Environmental Lawyers; The Best Lawyers in America (2009-2017); Chambers USA: Environmental Law (2005 - 2017); International Who's Who of Environmental Lawyers (2004 - 2017); Law360's Five Most Admired Environmental Attorneys (2010); Super Lawyers (2012-2017).

Ms. Bergeson is also President of The Acta Group, B&C's scientific and regulatory consulting arm, which assists chemical and product manufacturers in marketing and sustaining their products globally, and President of B&C Consortia Management, L.L.C., which helps the chemical industry leverage resources and maximize impact by forming consortia to achieve shared research, testing, regulatory, and access goals.

According to Chambers USA Guide 2012: "The universally highly regarded Lynn Bergeson has a solid reputation in chemical and pesticide regulatory work, with particular expertise in nanotechnology. Peers predict that she is set to become 'one of the most important lawyers in America.'"

Lynn resides in Chevy Chase with her spouse, Ingrid Hansen. Together, they are parents to Claire Hansen '14, and Lorentz Lillian Hansen, Chicago '17.
Gubernatorial Appointment (2013), Term Expires June 2022
Marc Bunting is the CEO of the Blue Jar Family Council. The Blue Jar Council is a multigenerational family council that inspires and encourages future generations to understand and strengthen the Bunting/Duffy/Kranzlin family values and foster wealth.
To further cultivate his commitment to family and philanthropy, Marc is a Director of the Bunting Family Foundation – Fund B, a private foundation formed in 1992. Marc leads the annual family program that provides younger generations with exposure to the needs within the community and focuses on the philanthropic efforts of the organization.
Marc is the CFO and co-founder of Alpine Food Service Solutions. Alpine was incorporated in 1996 and within two years the company established itself as a unique food service provider for host locations on college campuses and hospitals within the United States. Alpine currently operates healthy food service concepts that have won numerous quality product and service awards since inception.
Marc received his undergraduate degree at Stevenson University with a BA in Business Administration. In 2002, Marc completed The LEADERship, a year-long program of the Greater Baltimore Committee to cultivate awareness and accelerate change in the region. Marc earned a Wealth Management Certificate from Stanford University's Graduate School of Business in 2008.
A native Baltimorean, Marc serves on the Board of Directors for many non-profit organizations, such as Baltimore Civic Works, National Aquarium in Baltimore, Washington College, Outward Bound and Catholic Charities.
Marc is a retired professional endurance sports car driver, winning Grand American Rolex Series championships in 2004 and 2006, throughout the United States and Mexico. He earned recognition as a 2006 2nd team All-American by the American Auto Racing Writers & Broadcasting Association.
Marc resides in Monkton, Maryland with his two daughters, Jessie and Calli, and his partner, Eliza Graham.
Gubernatorial Appointment (2018), Term Expires June 2024
Norris Commodore, a member of the BVG since 2000, worked for IBM Credit where he was Director of Contracts & Negotiations. He is a former Alumni Council member and former reunion chair. As a student he majored in mathematics and was on the track and soccer teams.

On the Board, Norris serves as Chair of the Student Affairs Committee. He is also on the Executive and Admissions & Student Financial Aid Committees. In addition, he has served on the former Johnson Fitness Center (JFC) Committee.

Norris and his wife, Terry Commodore '74, live in Newport, Rhode Island.
Alumni Elected (1999), Term Expires June 2023
Rebecca is founder and CEO of Corbin Advisors, a leading research and advisory firm, and a pioneer in investor relations globally. Over her 20-year career in capital markets, she has architected a proprietary and proven methodology to drive sustained value creation based on extensive and unparalleled Voice of Investor® research and insights-driven strategies that have consistently been validated by the global equity markets.
As a subject matter expert and renowned capital markets and investor relations strategist with a demonstrated track record of rerating companies, Rebecca is a trusted advisor and partner to boards and executives who continually seek her research-based insights and counsel. She serves a broad range of global clients across sectors, industries, and situations.
Rebecca was in her mid-20s when she founded Corbin Advisors in 2007 and, under her leadership, the company has developed a reputation as a best-in-class partner. She serves as Editor-in-chief of Inside the Buy-Side®, a leading research publication covered worldwide that identifies and reports on investor sentiment trends globally and best practice. Rebecca is a highly sought after and prolific public speaker, including at the World Economic Forum in Davos, and is a recurring guest on CNBC.
Long committed to giving back, Rebecca dedicates significant time and resources to helping advance social services, the arts, humanities, and education. In 2020, she created Corbin for Nonprofits and committed to donating 20% of that practices' annual operating profits to nonprofit organizations. Rebecca serves on the boards of Washington College and The Bushnell Center for the Performing Arts and is a past director of the Hartford Symphony Orchestra and Connecticut Women's Hall of Fame. She is President of the Jim and Rebecca Loree Foundation, a nonprofit, charitable organization she co-founded with her husband in 2009, which is focused on supporting secondary and higher education.
Rebecca has been a frequent honoree for business and community leadership and most recently received Hartford Business Journal's Annual Women in Business Award, which recognizes outstanding Connecticut-based female CEOs, entrepreneurs, and senior-level executives who have mastered their industry and are admired by the business community. She holds a B.A. in Business Management from Washington College, the first college chartered in the sovereign United States of America, where she graduated cum laude and with Honors.
Rebecca resides in the Nutmeg State with her husband and their four daughters.
Board Elected (2015), Term Expires June 2024
Photo and full bio coming soon.
Minority Owner, McMurry/TMG Chevy Chase, Maryland
Board Elected (2009), Term Expires June 2023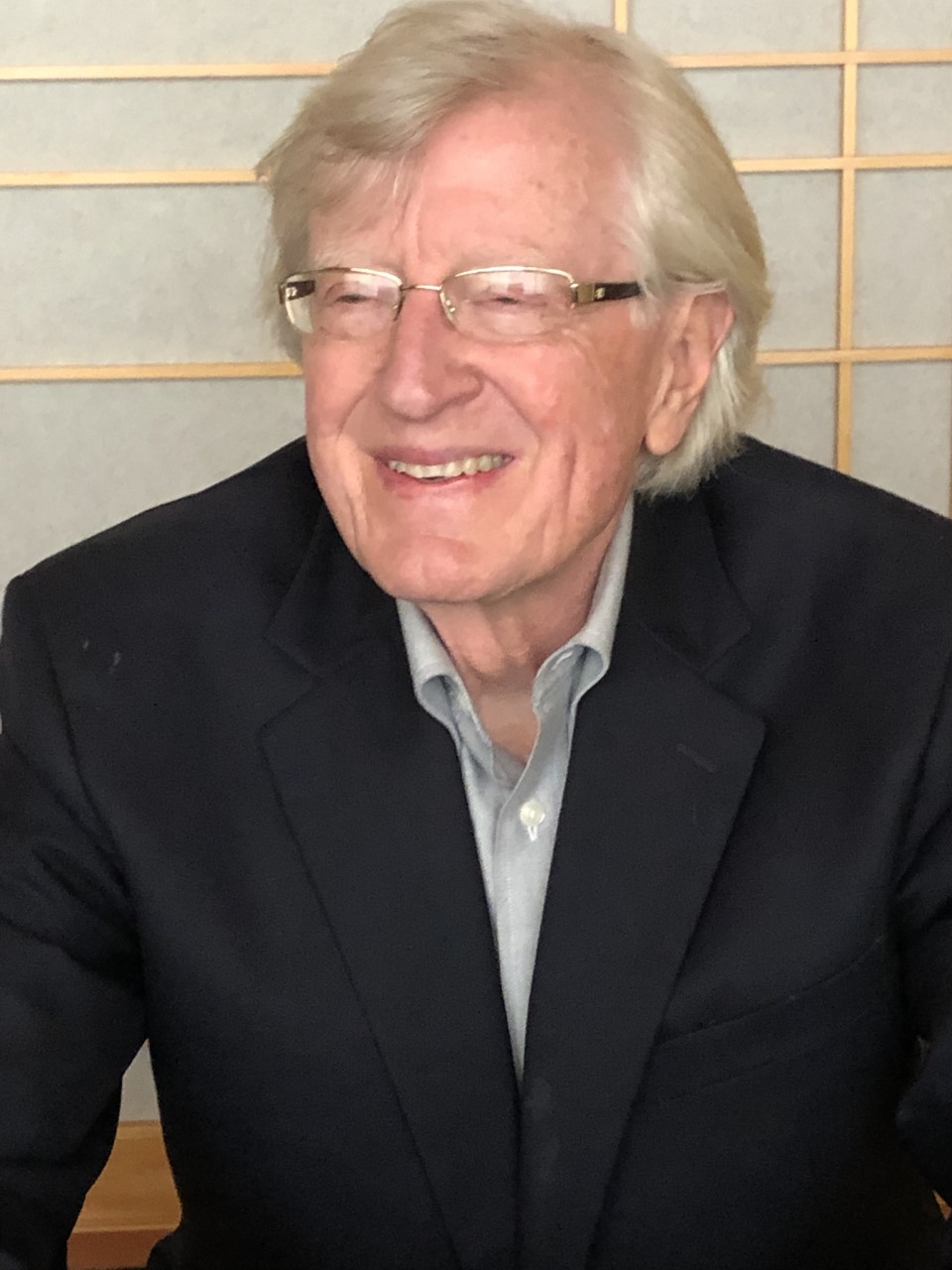 Chairman and CEO, CIG International (retired) Walpole, New Hampshire
Tom Crouse, the founder, chairman and CEO of CIG International LLC in Washington, DC until its sale in 2004, and has served on the BVG since 2003.  Previously he was with Citibank for 15 years during which he served in Hong Kong, Japan and Indonesia, the latter as Country VP.  Subsequently, he joined Crocker Bank in San Francisco as SVP for Asian operations before moving to Washington DC and eventually establishing CIG International.
On the Board, Tom is Vice Chair of the Academic Affairs Committee and also serves on the Student Affairs and the Honors and Awards Committees.  He is the recipient of both an Alumni Service Award and an Alumni Citation Award.
In addition to his degree in economics from Washington College, Tom holds an MBA from Columbia University and is a graduate of the Stanford Business School Executive Program. He and his wife, Kay Enokido, now live in Walpole, New Hampshire and New York City and have created WC Fellowships for study abroad.
Alumni Elected (2004), Term Expires June 2025
Larry Culp is the Chairman and CEO of General Electric and a Senior Lecturer at Harvard Business School, focusing on leadership, strategy and general management in the MBA and executive education programs. He is also a Senior Advisor at Bain Capital Private Equity and a member of the T. Rowe Price Group Board of Directors.
Larry served as the Chief Executive officer and President of Danaher Corporation from 2000 to 2014, during which time the company increased revenues and its market capitalization five-fold to $20 billion and $50 billion, respectively. Investors and analysts alike consistently ranked him as one of the top CEOs in annual Institutional Investor surveys. Harvard Business Review named Mr. Culp one of the Top 50 CEOs in the world.
Under his leadership, Danaher expanded international sales from 40 percent to 60 percent, and deployed nearly $25 billion for strategic acquisitions. Larry was
instrumental in the establishment and growth of their health care, environmental, product identification and test and measurement platforms and in the evolution of the Danaher Business System, the common operating philosophy and model deployed company-wide.
Larry joined Danaher in 1990 at Veeder-Root, becoming president in 1993. He was appointed Group Executive and Corporate Officer in 1995, with responsibility for Danaher's Environmental and Electronic Test and Measurement platforms. During this time, he also served as President of Fluke and Fluke Networks. In 1999, he became Executive Vice President, in 2001 Chief Operating officer, and in 2001 President and CEO.
Mr. Culp is the past chair the Board of Visitors and Governors of his alma mater, Washington College, and is a member of the Wake Forest Board of Trustees. Previously, Larry served on the board of GlaxoSmithKline and chaired the board of the Potomac School.
Board Elected (2003), Term Expires June 2026
Photo and full bio coming soon.
President and CEO, flyADVANCED Wilmington, Delaware
Gubernatorial Appointment (2009), Term Expires June 2023
Photo and full bio coming soon.
Vice President, Gaines & Company, Reisterstown, Maryland
Alumni Elected (2020), Term Expires June 2025
Photo and full bio coming soon.
Owner and Proprietor of Eversley Farm, Centreville, Maryland
Gubernatorial Appointment (1998), Term Expires June 2022
Photo and full bio coming soon.
Senior Vice President for Strategic Initiatives and CEO Ohio University at Dublin, Athens, Ohio
Alumni Elected (2003), Term Expires June 2021
Photo and full bio coming soon.
Managing Partner, Outdoor Income Partners LLC Easton, Maryland
Alumni Elected (2004), Term Expires June 2022
Photo and full bio coming soon.
President, DuPont Packaging & Industrial Polymers Division (Retired) Greenville, Delaware
Gubernatorial Appointment (2014), Term Expires June 2023
Margaret Stevens Jacks is Chief Operating Officer of MNSG Acquisition Company, in addition to maintaining a private business law practice in Baltimore. Previously, she held the position of EVP Legal & Administration for Sandler Systems, a sales and management training firm. A member of the Class of 1979, Jacks earned a degree in political science and then went on to earn her law degree from the University of Maryland. As an undergrad, she was a member of the Volleyball team. After graduation, she served as co-chair of the Alumni Annual Fund, was a founding member and President of the Sho'Men Club, and assisted in the establishment of the Penny Fall Endowment Fund.
Jacks' spouse, Tad Jacks, is also a Washington College graduate.
Board Elected (2021), Term Expires June 2027
Photo and full bio coming soon.
Executive Vice President and General Counsel, Litholink Corporation Lake Forest, Illinois
Board Elected (2013), Term Expires June 2025
Photo and full bio coming soon.
Managing General Partner, Greenspring Associates. Berwyn, Pennsylvania
Alumni Elected (2015), Term Expires June 2021
Photo and full bio coming soon.
Founder and President, Maller Wealth Advisors, Owings Mills, Maryland
Alumni Elected (2020), Term Expires June 2026
Photo and full bio coming soon.
President, Trident Utility Contracting, Norfolk, Virginia
Board Elected (2015), Term Expires June 2023
Photo and full bio coming soon.
Co-Founder and CEO, Wakefield Capital Management, Inc., Chevy Chase, Maryland
Gubernatorial Appointment (2003), Term Expires June 2021
Photo and full bio coming soon.
Partner, Wiley Rein, LLP, Washington, DC and Chestertown, Maryland
Board Elected (2014), Term Expires June 2025
Photo and full bio coming soon.
Executive Director, Teucrium Trading, Marlboro, Vermont
Board Elected (2017), Term Expires June 2022
Photo and full bio coming soon.
Chief of the Executive Services Unit, U.S. Immigration and Customs Enforcement, Department of Homeland Security Baltimore, Maryland
Gubernatorial Appointment (2017), Term Expires June 2025
Hugh Sherman was named the President of Ohio University in May 2021. He was Dean at Ohio University's College of Business from 2007 until 2021 and joined the BVG in 2020. He holds a master of business administration from Northeastern University, as well as a doctoral degree in strategy from the Fox School of Business at Temple University.

Following a 20-year career in business, Sherman moved into academia in 1995. He subsequently rose into a number of critical leadership positions, including Associate Dean of Operations and Strategy, Associate Director of the Voinovich School for Leadership and Public Affairs, and Assistant to the University Provost for Strategic Planning.
He lives in Athens, Ohio.
Board Elected (2020), term expires June 2024
Photo and full bio coming soon.
Chancellor Emeritus, Duke University and former Chancellor for Health Affairs, President and CEO of the Duke University Health System, James B. Duke Professor of Medicine, Duke University Durham, North Carolina
Alumni Elected (2000), Term Expires June 2024
Michael J. (Mike) Sosulski, a leader in academic and student affairs, financial stewardship and change management, became Washington College's 31st president in September 2021. He previously served as Provost at Wofford College in South Carolina. During his tenure at Wofford, the college has redesigned or reconstructed a range of vibrant academic spaces. Sosulski also appointed the first academic Dean of Diversity, Equity and Inclusion, created the Diversity Search Advocacy Program to diversity Wofford's faculty, and led comprehensive work to strengthen shared governance, including the creation of an independent Rank and Tenure committee. In addition to serving as Provost since 2016, he was also a full Professor of German at Wofford College. Prior to that, he was with Kalamazoo College, serving first as an Assistant Professor of German and eventually earning the roles of Associate Professor, Department Chair in German Studies and Associate Provost. Sosulski earned his BS in German from Georgetown University, and went on to receive an M.A. followed by a Ph.D. in Germanic Studies from The University of Chicago.
Photo and full bio coming soon.
President, CEO, and Owner, Spyraflo, Inc., Atlanta, Georgia
Alumni Elected (1999), Term Expires June 2023
Photo and full bio coming soon.
Partner and Director, Camden Private Capital, Baltimore,Maryland
Gubernatorial Appointment (2008), Term Expires June 2026
Photo and full bio coming soon.
President, North Star Realty Healthcare, Potomac, Maryland
Gubernatorial Appointment (2007), Term Expires June 2025
Photo and full bio coming soon.
President, DMT Investments, Bel Air, Maryland
Gubernatorial Appointment (2008), Term Expires June 2026
Janice Daue Walker is principal of JD Walker Communications, LLC, a boutique communications firm. She also served as the VP of Corporate Communications for the United States Postal Service. Prior to her tenure with the USPS, Walker was an officer with Fannie Mae and First Marblehead Corporation. Her professional PR experience also includes senior roles with Rebuilding Together and The Enterprise Foundation.
A member of the Class of 1985, Walker earned a degree in political science as a Washington College student, and later went on to study at American University. She also completed a JFK School of Government program at Harvard University. As a student, she was a member of Alpha Omicron Pi and played lacrosse. Walker has remained active as an alum as well, including membership in the Alumni Alliance, and serving as chapter chair and reunion chair. She also served on the President's Leadership Council.
Walker and her husband, Glenn Walker, reside in Marblehead, MA.
Alumni Elected (2021), Term Expires June 2027
Photo and full bio coming soon.
Vice President, Oakland Consulting Group, Lanham, Maryland
Gubernatorial Appointment (2017), Term Expires June 2021
Photo and full bio coming soon.
Director of Governmental Relations and Sustainability, Wawa, Inc., Wawa, Pennsyvlania
Board Elected (2016), Term Expires June 2021
Photo and full bio coming soon.
Principal, Brown, Brown & Young, Monkton, Maryland
Alumni Elected (2004), Term Expires June 2022
---
Emeritus Members
Jeannie P. Baliles '62, Richmond, Virginia - Civic Leader
Margaret R. Bennett, Washington, DC - Civic Leader
Betty Brown Casey '47 H'86, Potomac, Maryland - Owner, Casey Management, Inc.
Barbara T. Cromwell '55, Arnold, Maryland - Civic Leader
Jack S. Griswold P'94 H'07, Cockeysville, Maryland - Director, Black Oak Associates
Libby Anderson Cater Halaby H'90, San Rafael, California - Civic Leader, Former First Lady of Washington College
Christian Havemeyer, Chestertown, Maryland - Historic Preservationist
Ann Horner '80 - Director, Bourne Leisure (retired), Charlottesville, Virginia
Charles Lewis Lea, Easton, Maryland - Managing Director, Dillon, Read & Company, Inc. (retired)
Craig Lewis P'79 GP'05, Cockeysville, Maryland - President, Investment Counselors of Maryland, Inc. (retired)
Thomas J. Maher P'83 P'85, Swarthmore, Pennsylvania - CEO, Wachovia/Maher Partners
John A. Moag, Jr. '77, Baltimore, Maryland - Chairman and Chief Executive Officer, Moag and Company
Zung Nguyen '77, Morristown, New Jersey - Founder and President, ZTN Capital Consulting LLC
Geoffrey M. Rogers, Jr. '80 P'06, Managing Director, Glenmede Trust Company, Wilmington, Delaware
B. Francis Saul II H'08, Chevy Chase, Maryland - Chairman and President, B.F. Saul Company
Dr. Mark A. Schulman '67, Ft. Myers, Florida - Founding Partner, Abt SRBI (retired)
Linda J. Spire, Willow Street, Pennsylvania - Vice President, Seraph Foundation
Dr. W. Jackson Stenger '49, Chestertown, Maryland - Assistant to the President (retired), University of Maryland System