Academy of Lifelong Learning Announces Spring 2023 Registration
WC-ALL will hold Spring Showcase on December 15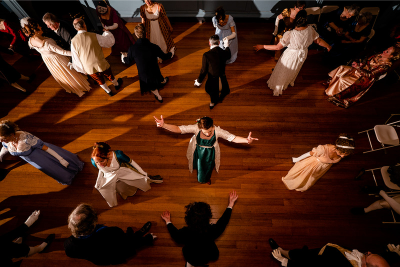 The Washington College Academy of Lifelong Learning (WC-ALL) will hold registration for Spring 2023 classes between December 15 and January 15. There are two 6-week sessions available with Session 1 running from January 29 to March 11 and Session 2 from March 19 to April 29.
Classes offered in the spring include Using DNA Tests for Family History and Health Care, Sunday at the Movies: Espionage!, Aging and the Law, and English Country Dance, among others. You can view all the spring courses online here with registration available at www.washcoll.edu/wc-all beginning on December 15. 
WC-ALL is hosting its Spring Showcase on Thursday, December 15 from 3-4:30 p.m. in Hotchkiss Recital Hall, in the Gibson Center for the Arts on the Washington College campus. This event allows anyone interested in signing up for spring classes to speak directly with the instructors about their courses.
Most of the classes are held in-person on the Washington College campus though there are a few classes offered via Zoom. Classes on campus are typically held in classrooms in Daly Hall, Goldstein Hall and William Smith Hall and most are scheduled in the afternoons.
"We are so excited about the variety and range of topics available in the spring course offerings. We encourage everyone to find courses that match their interests or broaden their horizons join us for one or both of our sessions," said Sandy Brown, WC-ALL Administrator. "Our programming is open to anyone of any age or background who is interested in learning and provides a fantastic opportunity for learning and enrichment without having to take a for-credit course."
All classes are free to members and memberships are available on a semester or annual basis, for individuals or couples. In addition to offering four sessions a year, WC-ALL hosts a Learn-at-Lunch series, hosting various guest speakers throughout the year.
This year marks the 30th anniversary of the Washington College Academy of Lifelong Learning, which currently has about 300 members. All courses are planned, run, and led by WC-ALL volunteers, who offer a wide range of expertise and professional experience. Membership in WC-ALL is open to people of all ages and backgrounds.
About the Washington College Academy of Lifelong Learning (WC-ALL)
Founded in 1992, the Washington College Academy of Lifelong Learning was created by a small group of Kent County residents who worked for more than a year studying other similar college-affiliated institutions. Lifelong learning is a critical component of a liberal arts education and Washington College is proud to support this department's programming and focus on community engagement.