The Man Behind the Counter
Bradley Long '18 took one look behind the pharmacy counter at age 10 and knew that was where he wanted to spend his career, bridging the gap between patient and doctor.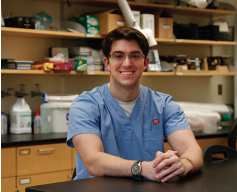 With the help of Washington College and its pre-health professional studies, he started as a Doctor of Pharmacy student at the VCU School of Pharmacy in August - one step closer to the other side of the counter.
Bradley Long '18 believes in the power of teamwork in the medical field. "One of the biggest issues with health care today is communication," he says. "There is a lot of confusion about how insurance works, and keywords that people don't understand. Pharmacists can help patients navigate the system and help them get the medical care they need." Long landed a position as a registered pharmacy technician at the Walgreens in Chestertown in his junior year. On his way to completing the 180-hour pharmacy tech program, Long assists with filling prescriptions and handling insurance information for patients.
He says his experience at Walgreens opened his eyes to the mechanics of pharmacy and the everyday tasks of a pharmacist at work. "I saw that people don't always know how medications work or how insurance works; I felt like there was a disconnect between a patient and the doctor. I think of a pharmacist as a good enzyme that brings everything together and makes it work," Long says. The biology major/chemistry minor is one of six Washington College students on track to pursue pharmacy school. He initially considered the College's 3:4 pre-pharmacy program with University of Maryland, but he opted to take his fourth year of studies at Washington College to complete his thesis studying "the efficacy of gabapentin in conjugation with opiates as a therapy for treating neuropathic pain." Long will enroll this fall in the Virginia Commonwealth University's School of Pharmacy, where he'll pursue his PharmD and obtain a master's degree in public health. His plan ultimately is to work in a hospital setting in palliative or hospice care.