Heather Smith '14 opted out of WC's 3:2 nursing programs to spend her full undergraduate career on campus as a student athlete, majoring in biology and playing varsity soccer.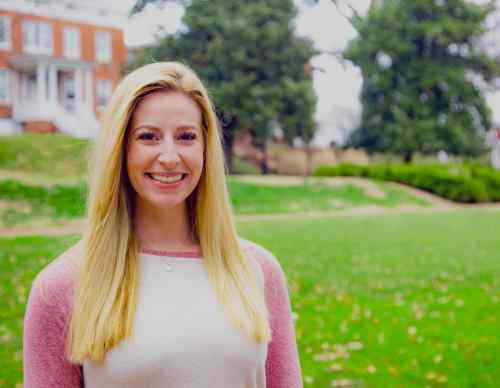 There is no single path to achieve your dreams of becoming a nurse. Articulation agreements with the University of Maryland and now, with Johns Hopkins University, allow students to enjoy the advantages of Washington College's small classes, research opportunities, and close faculty mentoring for three years before completing degree requirements at a large teaching hospital. Students following this track earn both a bachelor of science degree and a bachelor of nursing degree in five years.
But as Heather Smith '14 demonstrates, devoting four years to your studies at Washington College has its advantages, particularly for student athletes, campus leaders, and others who want to enjoy the full liberal arts experience.
"I played varsity soccer, so I wanted to stay at Washington College all four years," notes Smith, a biology major in the pre-nursing program who captained the soccer team in her senior year. "My biology classes really instilled the discipline I needed to study for classes in nursing. Otherwise, I wouldn't have known how to study effectively or conduct a research project," says Smith, whose senior capstone project focused on bone injury in female elite athletes.
After spending three semesters pursuing a bachelor of nursing degree at Salisbury University, Smith completed a year-long nurse residency program at University of Maryland's Baltimore Washington Medical Center in Glen Burnie, where she now works on the medical surgery/oncology/hospice floor.
"I really appreciate the opportunity to provide long-term care," says Smith, who is certified to administer chemotherapy and who already has fulfilled the role of charge nurse on the floor. "We typically see patients and their families over the course of several week or months, and I love getting to know them personally and providing the best possible experience in what can be an emotionally difficult time."