United Way of Kent County honors Washington College as its "Business Partner of the Year."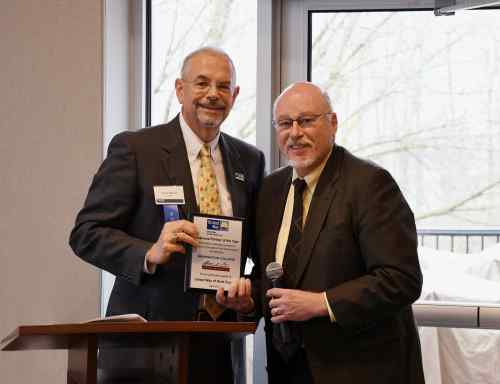 United Way of Kent County today honored Washington College as its "Business Partner of the Year," lauding the superior commitment of the College's work in the community.
"With President Kurt Landgraf's personal and institutional leadership, Washington College has become a major contributor and supporter of our work," said Glenn Wilson, president of United Way of Kent County. "This clearly demonstrates the commitment of the College, and its generous staff and faculty, to helping those in need in our community."
"I'm just so proud that United Way of Kent County has honored Washington College in this way," said Landgraf, who accepted the award on behalf of the College to a standing ovation. "This organization does so much good for people in our community who truly need help, and I'm grateful to know that thanks to the generosity of Washington College's staff and faculty, we are making a real difference by working as partners with United Way of Kent County."
Early in his tenure as president, Landgraf made clear the value he places on the work of United Way and its value to helping all residents of the Kent County community. Last fall, Landgraf asked College employees to consider signing up for a payroll deduction to United Way of Kent County, pledging that he would match whatever they raised. As of mid-December, 82 employees had signed up for a total donation of $13,944, which Landgraf matched with $14,000 for a total donation of $28,000. That compares to 2016, when eight employees gave through the payroll deduction for a total of $1,248.
United Way of Kent County raises and distributes funding to multiple organizations, with a focus on improving the health, education, and financial stability of Kent County residents. In addition to the College's donations through the workplace campaign, the College has directly supported or provided resources for many United Way member organizations including Character Counts! Kent County, the Kent Center, St. Martin's Ministries, the Community Food Pantry, Camp Fairlee/Easterseals, Horizons of Kent and Queen Anne's Counties, Girl Scouts of the Chesapeake Bay Council, Kent Forward, For All Seasons, Echo Hill Outdoor School, and the Mid-Shore Council on Family Violence.