With scholarship funding from Pi Delta Phi, the national French honor society, Maria Betancur Cardona '20 has been selected to study at the American University in Paris this summer.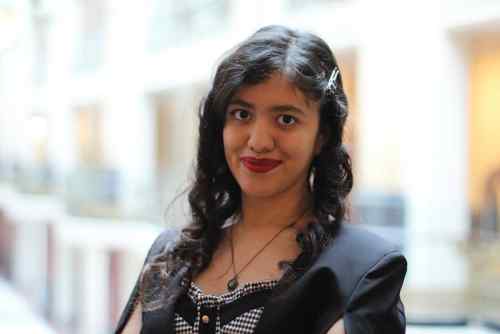 Working for the Starr Center, double majoring in history and French studies, serving as the vice president of Pi Delta Phi (the national French honor society), acting as co-president of the French Culture Club, and empowering women as a new member of the Alpha Chi Omega sorority, Maria Betancur Cardona '20 does it all.
When Professor of French Katherine Maynard suggested that she apply for the prestigious Yedlicka Scholarship, Betancur thought it was a long shot. Every year, the scholarship is awarded to just four students, enabling them to study abroad in France or Canada over a six-week summer session. The scholarship, supported by Pi Delta Phi, the national French honor society, covers the cost of tuition, room and board, and most travel expenses.
"My professors and I were unsure about what the [scholarship] committee wanted from my application," says Betancur. "No Pi Delta Phi member at Washington College had ever applied before."
She must have given them exactly what they were looking for. In early 2019, Washington College received the news. Betancur had been awarded one of the selective scholarships. Better yet, she would have the distinct honor of being the only scholarship winner heading to the American University in Paris this summer.
"We have never had a student win one of these," Professor of French Pamela Pears exclaims. "She is so deserving and [the French Department] is over the moon."
Her six weeks abroad will be filled with interactive learning experiences including a trip to Monet's home and a chocolate-tasting tour, while she is enrolled in Museums and French Immersion courses
"I've been studying French since middle school, but this will be my first time in France," explains Betancur. "I'm looking forward to experiencing first-hand the culture that I've been learning for a lifetime."
Betancur plans to go into the field of museum education after graduating. With a passion and merit for the French language and culture, Betancur also welcomes the possibility of working in museums abroad.
— Meredith Kenton '19