Solving Problems with Sociology
What can you do with a sociology degree? Washington College students are using it to solve some really pressing issues.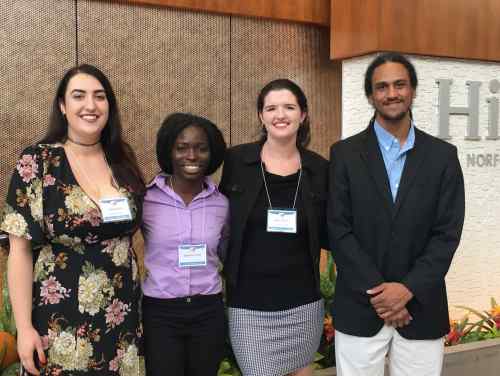 Four Washington College sociology majors spent their fall break applying their training to solve real-world problems at the Client Problem Solving Competition hosted by the Association for Applied & Clinical Sociology in Norfolk, Virginia.
Chloe Bailey '20, Julia Gannon '21, Beatrice Keller '19, and David Rascoe '20 were tasked with solving an issue posed by REACH, a non-profit organization whose mission is to promote literacy for children who are at-risk and homeless throughout Coastal Virginia. Specifically, the team was asked to come up with solutions for programs like REACH to stay afloat in coastal Virginia during this age of technological advancement and diversity.
Washington College's team, advised by sociology department faculty Erin Anderson and Libby Yost, was one of five participants in the contest. Though Washington College's solution was not chosen as the winner, Anderson said, they did an excellent job, were commended for their proposal, and received lots of positive feedback.
This was the first time a team of Washington College students entered the Client Problem Solving Competition and they look forward to participating again in the future.