Shoremen Soccer Advances to First Ever Centennial Conference Championship After 1-0 OT Victory Over the Diplomats
Following a Thrilling Overtime Victory, Men's Soccer Secures Spot in the Centennial Conference Final for the First Time in School's History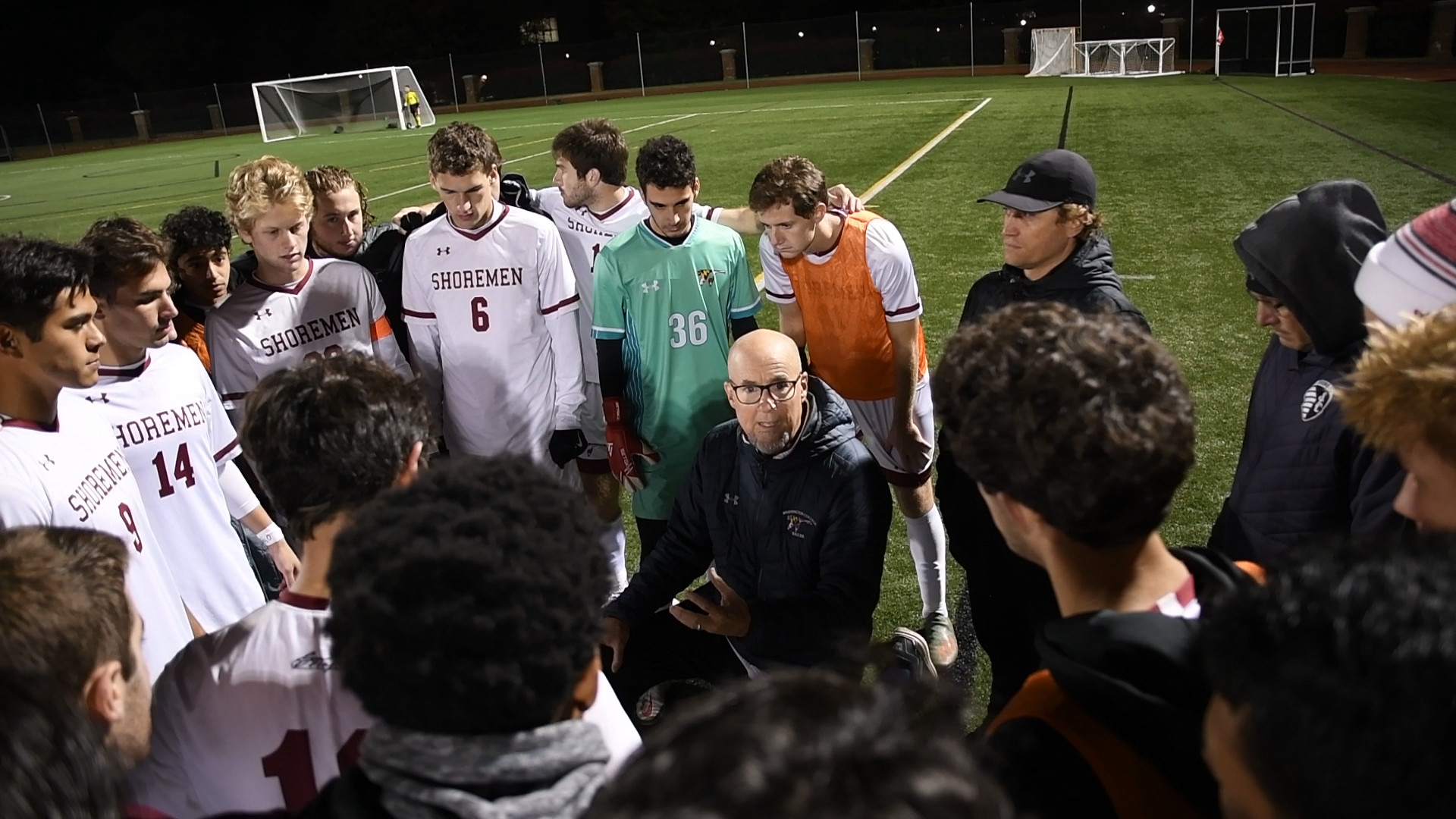 Continuing its historic run, the Men's Soccer team defeated fourth-ranked Franklin & Marshall at home in an OT thriller to advance to the Centennial Conference Championship for the first time in the school's history.
The Shoremen will now face the fifth-seedd Gettysburg, who upset No. 1 Johns Hopkins in the other semifinal game. The championship game is set for Sunday Nov. 7 at Noon at Johns Hopkins. With the 1-0 win over the Diplomats, the Shoremen have improved to 12-4-1 overall on the season.
"It's a thrill to know that we've reached the championship game," said Head coach Roy Dushee. "F&M is a fantastic team and they made it a very difficult game for us. We rode our luck a little bit but we persevered and got a fantastic goal from Eric and a great feed from Greg. Our forwards have been our strength all year and they came through for us again."
How It Happened
After a scoreless 90 minutes, two seniors and a junior collaborated on the game-winner at the 92:03 mark for the Shoremen. Following a throw-in, junior midfielder Ben Strine leapt into the air and headed a ball ten yards ahead to senior forward Greg Adams along the right-sideline. Adams with a head of steam, carried the ball into the right-corner and sent a long centering pass to Gwadz, who was streaking in on the goal. Diplomats' keeper Sam Altmann Farrell dove to the ground to try and intercept the pass but failed to do so and Gwadz was there to tap in the lone goal of the contest from point-blank range.

Greg Adams on his game-winning assist: "I wanted to go to goal actually, however, my touch took me a little wide. Because I was on the right side I knew Eric Gwadz would be running in on the left and he's someone that is always there for a tap in. I just hit it hard across to him and he did what he always does best."
Eric Gwadz on the golden goal: "My plan was to stay a little more central in case we got a through ball. I saw Greg pick up the ball after an amazing win by Ben on the header. It was just one of those moments when I knew the ball just might be there so I decided to get right in front of the net. The goalie just missed it and it was an easy tap in."
The Shoremen were outshot by a 15-6 margin and only had a couple of scoring chances prior to the marker. The visitors, who hit the post early in the opening half, attempted six corner kicks compared to just one by the hosts. Both goalies recorded just one save in the contest.