Six Chosen as 2019 Sophie Kerr Prize Finalists
Six WC seniors were chosen as finalists for the Sophie Kerr Prize in literature, worth $63,912. The announcement will be livestreamed tonight.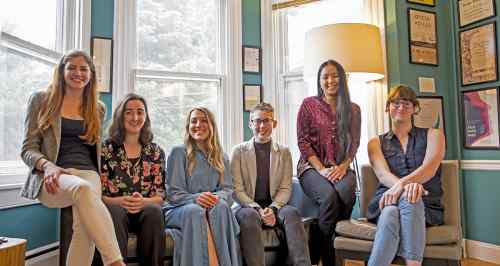 Six Washington College seniors today were named finalists for the 52nd annual Sophie Kerr Prize, at $63,912 the nation's largest literary award for college undergraduates. Representing the liberal arts and sciences in majors and minors from political science and music to English and Hispanic studies, the finalists were chosen from a group of graduating seniors who submitted portfolios that included fiction, poetry, non-fiction, and music.
The winner will be announced this Friday, May 17, by Sarah Blackman '02, a poet, fiction, and creative non-fiction author, and College President Kurt Landgraf. All of the finalists will read from their work at the event, which begins at 7:30 p.m. in Hotchkiss Recital Hall, Gibson Center for the Arts, and is free and open to the public. It will also be livestreamed at https://www.washcoll.edu/offices/digital-media-services/live/ .
"It's an incredible honor to read such terrific, polished work from so many different kinds of writers," says James Allen Hall, Director of the Rose O'Neill Literary House and associate professor of English. "The finalists are so impressive. One already has published a book of poetry with another coming out soon. A few are going on to graduate school (creative writing, political science, library science), and others are pursuing professional and artistic lives that are sure to yield incredible work. Sophie's will guides us to choose finalists who have 'promise for future fulfillment in the field of literary endeavors,' and it is certainly easy to imagine the literary lives ahead for these six."
"The committee was impressed by the strength and diversity of the writing submitted this year, both in the range of genres as well as the multidisciplinary interests of the students," says Sean Meehan, chair of the Department of English and the Sophie Kerr Committee. "Majors and minors include biology, chemistry, creative writing, English, environmental science, history, international studies, and philosophy, among others.
"About the six finalists, the committee kept returning to an apt phrase in our deliberations: the integrity of the work. We delighted in the achievement of individual works within each portfolio, but at the same time, we marveled at the coherence of the work as a whole. The writers tell a story in their work that speaks to a remarkable promise for their future endeavors, a key criterion of the prize."
The finalists are:
Erin Caine is an English major and creative writing minor from Owings, Maryland. She is the lifestyle editor for The Elm and a recipient of the Sophie Kerr Gift in English Literature scholarship. Additionally, she has served as dramaturg for Washington College's theater productions of Major Barbara and These Shining Lives. Caine's writing portfolio is a collection of short stories, short plays, and excerpts from larger pieces of her fiction that emphasize, among other themes, queer identity, the weight of memory, and the pursuit of a more genuine self. After graduation, she plans to continue to work in theater and write fiction.
Mai Nguyen Do is a Santa Clarita, California, native majoring in political science, and she is a member of Omicron Delta Kappa. Her portfolio includes historically rooted and speculatively driven work centered on her experience as a daughter of Vietnamese refugees. After graduation, she will be continuing her work in electoral and legislative research with Courage Campaign and will be pursuing a doctoral degree in political science at the University of California, Riverside.
Emma Hoey is an English and music double major from Baltimore County, Maryland. The poetry in her portfolio focuses on sonic aestheticism and experiences of impaired cognition. After graduation, she will return to Baltimore City in the interest of beginning a career in live music performance.
Charlotte Lindsay, an English major and New Jersey expat, was the prose editor of The Collegian and a member of Sigma Tau Delta. Her portfolio includes samples from her Senior Capstone Experience (SCE) on alternative literature, but is mostly centered on her poetry, which focuses on grief, gender, and formal invention. After graduation she is attending Rutgers Newark's MFA program for poetry.
Shannon Moran, an English major from Baltimore with creative writing and music minors, was the poetry editor for The Collegian, the blog and social media editor for The Elm, a member of WACappella, and a sister of Alpha Omicron Pi. Moran's portfolio contains poetry, her SCE, and an excerpt of a screenplay. She often writes about the body and its relationship to familial and romantic relationships.
Shannon Neal is an English major from Frederick, Maryland, with minors in Hispanic studies, creative writing, and gender studies. She was inducted into Phi Beta Kappa and Sigma Tau Delta. She interned at the LGBT Community Center National History Archive in New York City and the Betty Boyd Dettre Library and Research Center at the National Museum of Women in the Arts. She was a poetry screener for Cherry Tree, and her portfolio consists of poems, prose poems, and a prose excerpt from her SCE, many of them centered around trauma, gender, and sexuality. After graduation Neal is interning at the National Portrait Gallery.
Read excerpts from their work.
Sarah Blackman, a former Sophie Kerr Prize winner, graduated from Washington College in 2002 with a degree in English and earned her MFA from the University of Alabama in 2007 with concentrations in fiction and poetry. She is director of creative writing at the Fine Arts Center and College, an arts-dedicated public high school in Greenville, South Carolina. Her poetry and prose has been published in numerous journals and magazines, and her story collection Mother Box, published by FC2 in 2013, was the winner of the 2012 Ronald Sukenick/American Book Review Innovative Fiction Prize. Her most recent publication, the novel Hex, was published by FC2 in April, 2016.
About the Sophie Kerr Prize and Legacy
Eastern Shore native Sophie Kerr published 23 novels, hundreds of short stories, and even a cookbook. When she died at 85 years old, she bequeathed the College a half-million-dollar trust fund, requiring that half of the annual earnings go to a graduating senior who shows the most promise for future literary endeavor. The other half funds student scholarships, visiting writers and scholars, and library books. Through this remarkable gift, Washington College has been able to host some of the nation's most gifted writers, as well as provide its students with extraordinary opportunities to explore their creative potential in writing and literature. Learn more at http://www.washcoll.edu/departments/english/sophie-kerr-legacy/.