Riverfront Concert Series Starts June 28
Jazz, rockabilly, gospel, bluegrass—bring your blanket and your picnic and get ready for the 2018 Riverfront Concert Series.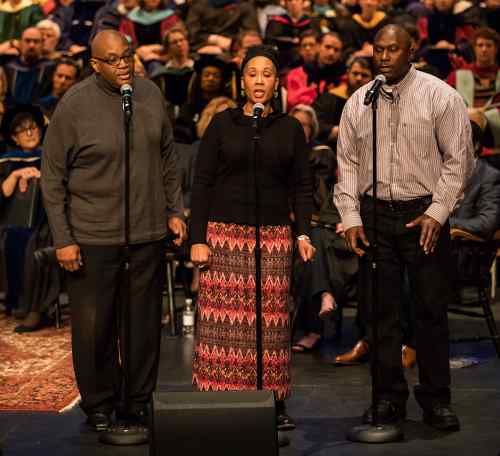 Slip into summer with Washington College's Riverfront Concert Series, which this year kicks off with Sombarkin', the acclaimed a capella gospel, blues and jazz trio, who will open the Thursday evening series on June 28 at 6:30 p.m. Produced by the Starr Center for the Study of the American Experience, the free concerts take place at the Custom House lawn on the corner of High and Water streets in Chestertown. Bring your own picnic, (free cookies and lemonade provided!) blankets, and chairs; rally your friends, family, and neighbors, and get ready to tap your feet, clap your hands, sing along, dance, or just sit back and enjoy.
Featuring jazz, gospel, bluegrass, rockabilly, and more, the 2018 Riverfront Concert Series powerfully demonstrates the appeal and versatility of the grassroots music that arose from city streets, juke joints, mountain hollows, and African American churches across America. At each performance, Starr Center program manager and concert series host Michael Buckley will provide some cultural context, interview the artists, and invite questions from the audience. A 20-year veteran of the music world, Buckley's eclectic weekly radio program on Annapolis-based WRNR, 103.1 FM, includes the popular interview series "Voices of the Chesapeake Bay."
The full concert schedule is as follows:
Thursday, June 28, 2018 - Sombarkin' The award-winning trio Sombarkin'—Karen Somerville, Lester Barrett, Jr., and Jerome McKinney—use the skill of vocal instrumentation and harmony to deliver an explosive performance of African American spirituals, map (code) songs, folk, gospel, blues, and jazz. Their polyphonic technique is reminiscent of the old-time camp meetings, yet they also deliver a contemporary soulful sound with surprising jazz licks and blues bends. Theirs is a transforming gospel crafted to impress the ear with the quality of an ensemble greater in number than three. Sombarkin' will be joined by Joe Holt, the inspirational classical and jazz pianist whose performances reflect the influence of both worlds, and the joy in the moment. Hailing from Kent County, Sombarkin's versatility has brought them into collaboration with an impressive list of renowned artists from New York's Broadway and beyond, particularly their acclaimed performance in Red Devil Moon—an original musical based on the 1923 literary classic Cane—at the 2016 NYC Fringe Festival.
Thursday, July 12, 2018 – Ultrafaux, with special guest Danny Knicely
Ultrafaux is an acoustic powerhouse of two guitars and upright bass that has thrilled audiences at festivals and concert halls worldwide since the release of their first CD in 2014. Ultrafaux performs original music inspired by Django Reinhardt, jazz manouche, be-bop, gypsy folk, swing, funk, blues, and French musette. Lead guitarists Michael Joseph Harris and Sami Arefin trade dazzling leads and harmonize together on rich gypsy-inspired melodies. Ultrafaux and Hot Club of Baltimore founding guitarist and composer Michael Joseph Harris was named one of the top 10 artists in Baltimore by Baltimore Style Magazine. The band often includes top guest artists and for their debut performance at this year's Riverfront Concert Series, Ultrafaux welcomes master mandolinist Danny Knicely. Steeped in a mountain music tradition, Knicely has shared his roots in old-time and bluegrass music throughout four continents, including U.S. State Department tours in Tunisia, Morocco, and Russia. Knicely displays his virtuosity performing on mandolin, guitar and violin.
Thursday, July 26, 2018 – The High & Wides
The High & Wides, like the large-haul trains for which the band is named, project a big, driving sound—mountain musical traditions re-imagined for a new century. Formed on Maryland's Eastern Shore in 2015, they write music about arson and hourly motels, dystopian love songs, and ballads of violent history. The High & Wides draw from their members' extensive backgrounds in bluegrass and take the music to a place all their own, recalling an era when old-time, rockabilly, and proto-rock'n'roll coexisted in a murky soup of hillbilly string band music. The High & Wides include Marc Dykeman (guitar and vocals), Sam Guthridge (banjo, mandolin and vocals), Nate Grower (fiddle), and Mike Buccino (upright bass). Their new album, titled Lifted, was released this spring.
For more information, visit starrcenter.washcoll.edu or contact Michael Buckley at 410-810-7156. Additional concerts sponsored by the Kent County Arts Council take place every other Saturday evening beginning June 10, from 7-8:30 pm at Chestertown's Fountain Park.