MSNBC news producer and acclaimed author Jack Bohrer '06 returns to Washington College on March 20 to discuss his new book on Robert F. Kennedy.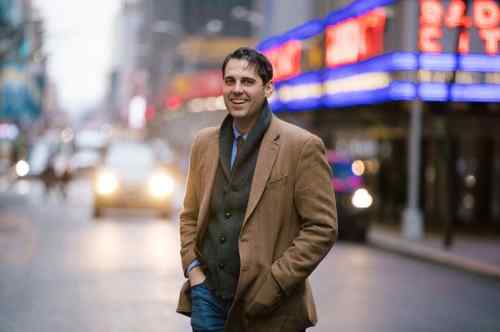 This year marks the 60th anniversary of the assassination of political icon Robert F. Kennedy. On Tuesday, March 20, John R. "Jack" Bohrer '06, news producer at MSNBC and author of The Revolution of Robert Kennedy: From Power to Protest after JFK, will return to campus to discuss his acclaimed book. The recently published work examines three critical years in the life of Robert Kennedy, just after his brother John F. Kennedy's assassination.
The event will begin at 5:30 p.m. in Hynson Lounge, Hodson Hall, and will be followed by a book signing. Sponsored by the Starr Center for the Study of the American Experience and the Department of Political Science, the program is free and open to the public.
Bohrer's book grew out of his political science senior thesis at Washington College in 2006. He also worked on the project as one of the first student fellows at the Starr Center, writing at a desk in the Custom House. Speaking of his upcoming visit to Chestertown, Bohrer says: "Adam Goodheart and the Starr Center took me on my first archives trip and gave me hands-on experience with historical research, so this is a homecoming for me."
The Revolution of Robert Kennedy argues that RFK—a less-than-charismatic attorney general and JFK's reputed hatchet man—was transformed by the events of 1963 and their aftermath, and that he emerged from that crucible the champion of the dispossessed who captured Americans' collective imagination.
Published by Bloomsbury last June, Bohrer's first book has received rave reviews. Matt Bai, one of the country's finest political pundits, declared The Revolution of Robert Kennedy "fast-paced and full of new detail" and said it "signals the arrival of an unusually gifted writer and historian." Kirkus Reviews described it as a "poignant sketch of a lost champion of social justice from an age when it could still be said that 'politics is still the greatest and most honorable adventure.' "
"I couldn't be more excited to welcome Jack back to campus," says Goodheart, the Starr Center's Hodson Trust-Griswold director. "Washington College can be proud of the contributions that this exceptional young alumnus is making in the fields of both journalism and history. And we can be especially proud that his important work on RFK began here in Chestertown."
A reporter, historian, and television producer for MSNBC's "Morning Joe," Bohrer has helped produce high-profile interviews, including with nearly every major 2016 presidential candidate. His research has been cited by the New York Times, the Washington Post, and the Boston Globe, and his writing has appeared in New York magazine, The New Republic, Politico, and USA Today, among others. In addition to Washington College faculty, two of his mentors on the RFK project were former senator Birch Bayh and the late political journalist Richard Ben Cramer, both senior fellows of the College.