Newly Renovated Residence Halls Ready for Move-In
Minta Martin and Reid Hall re-open to students after getting summer glow-up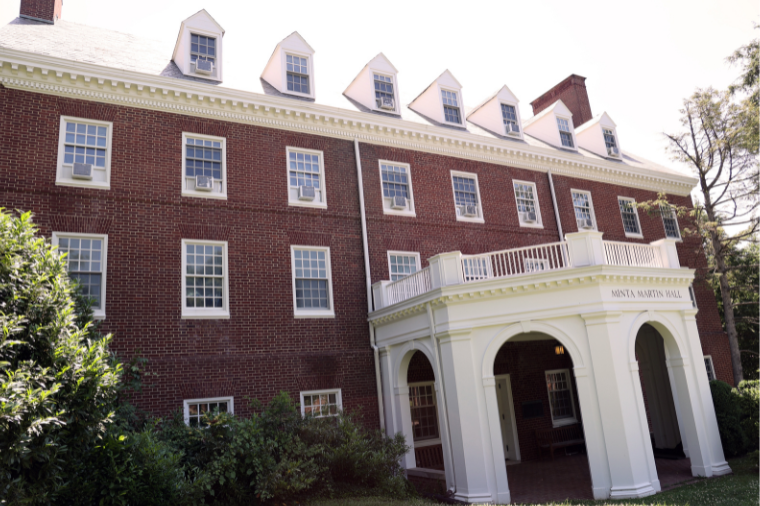 After undergoing major renovations throughout the summer, both Reid Hall and Minta Martin Hall are ready to welcome the 176 students who will call these buildings home during the 2022-23 academic year.
The full-scale renovations to these residence halls include all-new flooring, interior paint and lighting, with major upgrades to the heating and cooling systems that provide individual room climate controls. The bathrooms in both halls were completely renovated. Reid Hall received new windows and a new roof while Minta Martin's lower lounge was outfitted with new furniture and had a kitchen installed.
Reid's expected occupancy for the 2022-23 school year is 56 students, with a mix of first-year and upperclass students in this gender-inclusive hall. Minta Martin, the College's largest residence hall, will serve as home to 120 first-year students. New student move-in is set for Monday, August 22, though RA's have already begun moving in.
"The renovations are a great way to say 'Welcome' to our incoming students," said Amy Sine, Director of Residential Life at the College. "The new kitchen space in Minta provides residents the opportunity to cook and engage together in a common area. The upgraded paint, tile and flooring are all elements that take a modern twist on these historic buildings, allowing the next generation of students to create their own wonderful memories."
The upgrades in these two residence halls represent the first phase of a $20 million investment in physical improvements to the campus, with a focus on the residential experience. East, Middle and West Halls are slated for renovations in the next phase, though that project start date has not yet been finalized.
Future phases of the improvement plan include an upgrade to the WiFi network campus-wide as well.
The upgrades to student living spaces are largely made possible through a new Energy-as-a-Service agreement (EaaS) with FESCO Energy. The result of this innovative partnership is the implementation of a campus wide energy infrastructure modernization project that will yield energy, water, carbon, and cost savings. Approximately 50% of the project funds are being used to enhance the student experience by rehabilitating the energy systems in Reid and Martin, significantly improving the air quality in those locations. The balance of the campus-wide planned improvements focus on energy and environmental sustainability and operational improvements, and include lighting updates, interior and exterior water fixture improvements, new windows and replacement roofs, among others.
The campus-wide energy project with FESCO got underway in April 2022 and is expected to be completed by May 2023.