Washington College and the Chestertown community will remember Martin Luther King Jr. on the 50th anniversary of his assassination with a series of events April 3-6 honoring his life and legacy.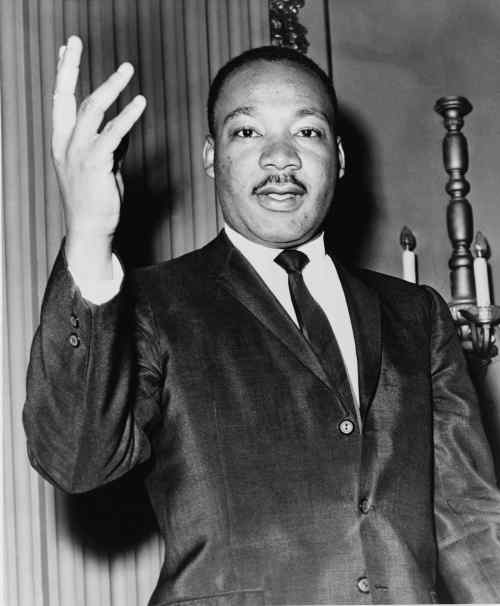 The assassination of civil rights leader Martin Luther King Jr., on April 4, 1968, shocked the nation. The 50th anniversary of his tragic death will be marked by a series of community events honoring the life and legacy of this great American. The series is presented by Washington College's Starr Center for the Study of the American Experience, Department of Music, and Black Student Union in partnership with Sumner Hall, Chester Valley Ministers' Association, Bethel AME Church, Kent County Arts Council, and RiverArts. All events, including living history performances, films, concerts, and dinners are free and open to the public.
The opening event on Tuesday, April 3, features internationally renowned Ysaye Barnwell, who will lead a community-sing incorporating the music of the civil rights movement, spirituals, gospel, and other tunes in four-part harmony, teaching the parts to singers and non-singers alike. Barnwell is a composer, arranger, author, actress, and former member of the African American female a cappella ensemble Sweet Honey In The Rock.
On Wednesday, April 4, 50 years to the day after King's assassination, Washington College students, volunteering for a day of service at Sumner Hall, will host an MLK-inspired "History Harvest" with students listening to and recording the community's memories of King. In keeping with his vision for the beloved community, the public is invited to share their personal stories and recollections, photographs, letters, or clippings related to King's life and legacy. Recordings will be archived at Washington College and made accessible to the community.
The series will conclude with an event hosted at Bethel AME Church on Friday, April 6. Actor Bill Grimmette will provide a dramatic portrait of King, delivering excerpts from some of his better-known writings and speeches. The evening will also feature praise dancing by Angels of New Birth, music performed by the Bethel AME Church Choir and the Millington/Pondtown Mass Choir, and a reception after the program.
"The five-day memorial will provide multiple opportunities for the community to come together to reflect upon the impact Dr. King has had on our lives," says Starr Center Deputy Director Patrick Nugent. "It's an important moment for us to consider the directions Dr. King would point us toward today."
A full schedule of commemorative events follows:
Tue., April 3, 5:30 PM: Community Sing with Ysaye M. Barnwell, Hynson Lounge, Washington College (free and open to the public).
Wed., April 4, 2 - 5 PM: MLK History Harvest: share and record your memories of MLK's life, death, and legacy. Sumner Hall, 206 S. Queen Street, Chestertown (free and open to the public).
Wed., April 4, 5 - 7 PM: Community Dinner with music and remembrances. Sumner Hall (free and open to the public).
Thurs., April 5, 7:00 PM Screening of Vik Muniz's film Wasteland presented by the Chestertown Environmental Committee. Sumner Hall (free and open to the public).
Fri., April 6, 5 - 6:30 PM: Screening of The Butler's Home: A Glimpse into Eugene Allen's Life, a film by Melissa Sue Lopez '19 (2017, 26 minutes). Litrenta Lecture Hall, Toll Science Center, Washington College (free and open to the public).
Fri., April 6, 7:00 PM "Remembering Martin:" A Dramatic Portrait of MLK by actor Bill Grimmette, accompanied with music, dance, and prayer. Bethel AME Church, 237 North College Avenue, Chestertown (free and open to the public).