Washington College Inaugurates President Michael J. Sosulski, Ph.D.
In front of an enthusiastic crowd, President Sosulski was officially sworn in and invested with the president's chain and medallion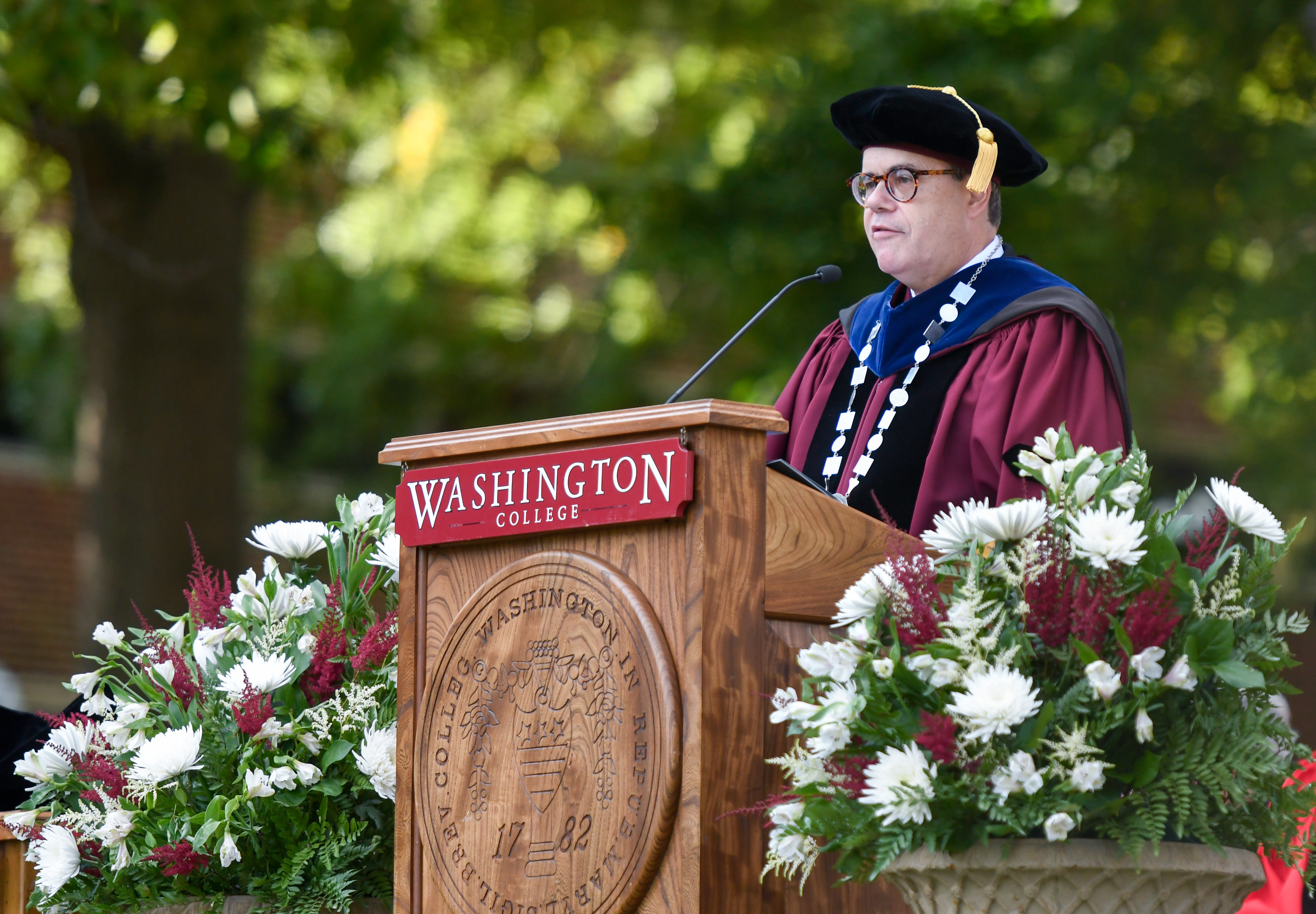 On Saturday, October 8, Washington College inaugurated its 31st president, Michael (Mike) JPh.D. The late-afternoon ceremony began with a traditional academic procession and included greetings from representatives of the Washington College Board of Visitors and Governors, staff, faculty, alumni, and student body, as well as the town of Chestertown. Jazz singer Sue Matthews and the Washington College Choir both performed as part of the ceremony.
Stephen Golding '72, chair, Board of Visitors and Governors, administered the oath and officially installed Sosulski as president of Washington College. Sosulski was then invested with the president's medallion and chain, which is worn on official college occasions such as convocation and commencement.
Following the investiture, Sosulski delivered his inaugural address, titled "Our Aim is Truth", where he eloquently reflected on truth-seeking, civil discourse, and the important role of the College in addressing the most urgent issues confronting the nation today – global climate change, the global crisis of democracy, and the renewal of the liberal arts for the 21st century.
"Does higher education still have the capacity to create and strengthen our democratic values and community?," asked Sosulski. "I believe with every fiber in my being that the answer is yes. … We know from experience that the truth is often discovered in and at the intersections of different ways of knowing the world, and that is what has made Washington College a beacon for truth seeking throughout its history."
Sosulski, who assumed the role of Washington President in September 2021, also announced the launch of the College's new Bridge Project, an initiative that ambitiously seeks to raise $100 million over the next two years. Funds raised will continue the College's investment to improve the student experience that began in May with a $20 million project that resulted in the renovation of two of the College's most iconic residence halls, Reid and Minta Martin.
The celebration of the inauguration of President Sosulski spanned several days and included a full-day academic symposium on Friday, a variety of community events on the waterfront campus on Saturday morning, and an outdoor reception following the ceremony.