Poet Takes The Sophie Kerr Prize
English major wins the 2018 Sophie Kerr Prize, at nearly $64,000 the nation's largest undergraduate literary award.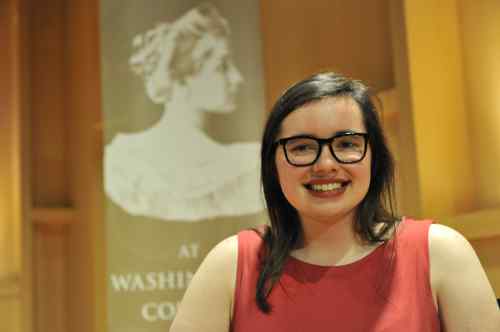 "Caroline's work is gorgeously detailed and specific. As a poet and academic writer, she takes as her subject matter things that others may find distasteful and difficult and finds the beauty in them. As an editor, she has worked to facilitate of the writing of others and to build a dynamic and supportive literary community on campus," says Professor Kathryn Moncrief, Chair of the English department and Sophie Kerr Curator.
"I had the distinct pleasure of directing Caroline's thesis, which incorporated complex literary and identity theory with contemporary poetry in order to posit that Otherness can be owned and deployed in subversive and empowering ways," says James Hall, Director of the Rose O'Neill Literary House. "Her own poems find new metaphors to think in striking ways about gender, faith, and representation. Caroline uses traditional forms like sonnets and villanelles to subvert patriarchal assumptions about who has the right to speak. Reading Caroline Harvey's work, I'm reminded of what Wallace Stevens said about how every poet has to reinvent the language for herself."
At the announcement, Harvey thanked her family, friends, staff of the Rose O'Neill Literary House, and her professors, especially James Allen Hall, from whom she took her first undergraduate class and who advised her senior thesis. She also thanked her former professor, Jehanne Dubrow.
"She was the first person to sit me down and call me 'poet,' and that was so important," Harvey said. "And finally, I have to thank my cohort. Everyone I grew up with in this community, everyone who wrote with me, who read with me, and especially Rhea, and Brooke, and Mallory, and Casey, all of whom came together in this moment. There's so much about this place that I love, and so much I would like to change. But the one thing that I hold on to at all times is the people—the wonderful people who helped me get where I am."
A member of Omicron Delta Kappa, the leadership honor society, and Sigma Tau Delta, the English honor society, Harvey plans to take a gap year before pursuing an MFA in poetry and a PhD in English.
Harvey was among five finalists chosen from a number of student portfolios, encompassing essay, poetry, non-fiction, journalism, academic scholarship, and print projects. Although the Sophie Kerr Prize is not limited to English majors, this year's finalists were all majors in English with one who double majored in political science. Several were creative writing minors, and all represented multiple honors societies and campus leadership activities. Several have worked on College publications including the student newspaper, The Elm, the student review, The Collegian, and Cherry Tree, the College's national literary journal.
"It is always a privilege to read these portfolios. They illuminate the best of the literary culture and the commitment to writing that is the heart and soul of this College," Moncrief says. "These students and their outstanding work highlight their diverse interests and approaches, their promise in the field of literary endeavor, their dedication to craft, and their shared passion for the written word."
About the Sophie Kerr Prize and Legacy
Eastern Shore native Sophie Kerr published 23 novels, hundreds of short stories, and even a cookbook. When she died at 85 years old, she bequeathed the College a half-million-dollar trust fund, requiring that half of the annual earnings go to a graduating senior who shows the most promise for future literary endeavor. The other half funds student scholarships, visiting writers and scholars, and library books. Through this remarkable gift, Washington College has been able to host some of the nation's most gifted writers, as well as provide its students with extraordinary opportunities to explore their creative potential in writing and literature. Learn more at http://www.washcoll.edu/departments/english/sophie-kerr-legacy/.
About Washington College
Founded in 1782, Washington College is the tenth oldest college in the nation and the first chartered under the new Republic. It enrolls approximately 1,450 undergraduates from more than 35 states and a dozen nations. With an emphasis on hands-on, experiential learning in the arts and sciences, and more than 40 multidisciplinary areas of study, the College is home to nationally recognized academic centers in the environment, history, and writing. Learn more at washcoll.edu.