New Leadership Position for Strategy and Operations
Mark C. Hampton will return to Washington College on Sept. 1 to step into the newly created position of Executive Vice President of Strategy and Operations.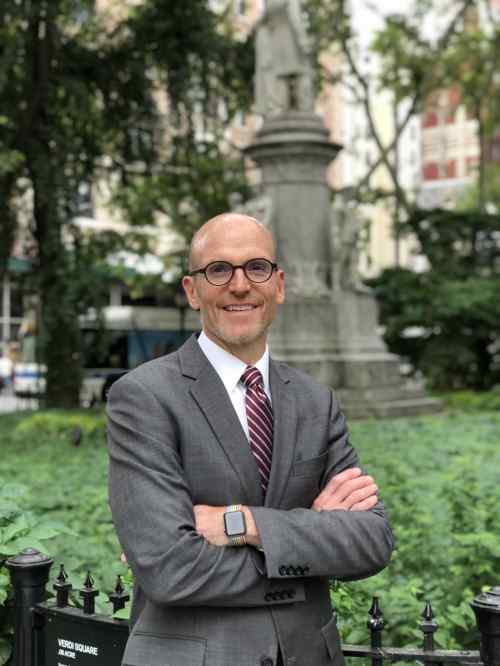 Mark C. Hampton, who led Washington College's Office of Finance and Administration for two years before taking a position at the New York Institute of Technology, is returning to Chestertown to take on a newly created leadership role at the College, Executive Vice President of Strategy and Operations. In this position, Hampton will oversee key areas of administration while developing and executing a holistic strategy to help ensure the College's long-term sustainability, said President Kurt Landgraf.
"Mark is a gifted, brilliant, and fully engaged member of our community, and I am thrilled that he is returning to the College as a senior member of our leadership team," Landgraf said. "Mark brings exceptional quantitative skills, institutional knowledge, and rapport with faculty and staff, familiarity with Chestertown and the College's vital relationship with the community, and a positive, thoughtful approach. I can't think of anyone who can better help us optimize our opportunities and navigate the challenges we face to create an even more optimistic future for the College."
Hampton was Vice President for Finance and Administration from July 2014 until August 2016 before leaving for the New York Institute of Technology, where he most recently was Vice President for Enrollment and Enterprise Analytics. Before coming to Washington College, he had been at the University of Virginia since 2007, serving as an associate professor in the Department of Leadership, Foundations and Policy, while also working first as Senior Associate Dean for Strategy and Planning for UVA's Curry School of Education, and then as Assistant Vice President for Budget and Financial Planning for UVA. Hampton has a bachelor's degree in mathematics, a master's degree in statistics and mathematics, and a PhD in philosophy, educational leadership, and policy, all from the University of Utah.
"I am very excited by this opportunity to return to Washington College to help President Landgraf and his senior staff guide Washington College to its brightest possible future," Hampton said. "The forward momentum at the College has clearly grown under President Landgraf's leadership, and I really think the College's best days are at hand. Jay and I are also looking forward to being full-time members of the Chestertown community again and being part of bringing the town and the College together in support of each other and the Eastern Shore."
Though they moved their primary residence to New York in 2016, Hampton and his husband, Jay Alexander, kept their house in Chestertown and have remained actively connected to the community. Hampton is a founding member of AIR.C (Artists in Residence.Chestertown) which last year became Artikultur-MD, of which he remains a board member and treasurer. Alexander served as vice president of the board of directors of United Way of Kent County and as president of Main Street Historic Chestertown prior to moving to New York.
As Executive Vice President of Strategy and Operations, Hampton will oversee the Office of Finance, IT Infrastructure, College Relations and Marketing, Facilities Management, and Human Resources. He will also concentrate on developing and executing a strategy that will enhance the College's financial stability and solidify its long-term sustainability.
Hampton will assume his new position on September 1.