Steve Golding '72 succeeds Larry Culp '85 as chair of the College's Board of Visitors and Governors.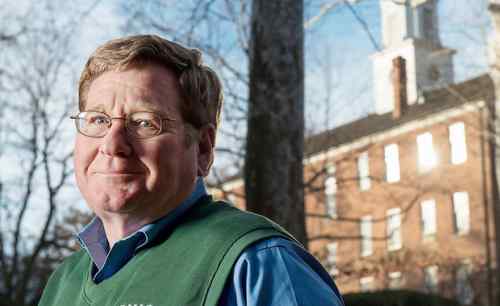 Steve Golding a 1972 graduate and a member of Washington College's Board of Governors since 2003, has been elected to the position of Board Chair. H. Lawrence Culp, Jr., a 1985 graduate, Board member since 2003 and Board Chair since 2014, recently was named General Electric's new lead independent director. Recognized as one of the country's leading CEOs, Culp became Board Chair shortly after his retirement from the Danaher Corporation, after serving as its CEO for 15 years.
"Serving as Board Chair has been as rewarding as any experience in my career," Culp says. "Washington College, its town, and its future are near and dear to my heart. I am thrilled to take on this new opportunity at GE, and I am delighted to pass the Board gavel to Steve Golding, who will bring his immense talent and leadership abilities at an exciting time for the College. I am pleased to remain on the Board. I remain committed to supporting our outstanding college, albeit with less time due to my new commitment at GE."
Washington College President Kurt Landgraf noted, "It has been a great honor to work with Larry, one of our country's finest CEOs and one of Washington College's most significant benefactors. Along with his wife Wendy, he has made generosity to the College and to Chestertown top priorities. It is a tribute to his leadership, and a testament to the formative education he received at Washington College, to know that he is serving one of our country's most iconic companies. This is truly a capstone for Washington College, and I am grateful that Larry will remain on the board and continue to co-chair our Forge a Legacy campaign."
Steve Golding brings 25 years of higher education leadership experience to his new role, having served as CFO, Budget Director or Chief Administrative Officer at four different public and private national universities. Prior to entering higher education financial management, Steve was the State of Delaware's Secretary of Finance and Budget Director.
Golding offered, "I am humbled to assume the responsibilities of Board Chair at this historic institution that I have loved since I came to Chestertown as a student in 1968. There are few things more important than helping to lay the proper foundation for Washington College to grow and prosper in its third century, and I look forward to working with my fellow board members, the college's senior staff, faculty and students to help guide its vibrant future."
President Landgraf added, "I have had the pleasure to work with Steve on numerous issues during my presidency. His significant experience in higher education working with college administrations and faculty, his institutional knowledge of Washington College, and his work on board committees will prove invaluable as Washington College forges its path to the future. I am excited to work with him in to strengthen Washington College as a transformational learning institution."