Susie Chase, a Washington College alumna and former development director, is returning to lead the Advancement team.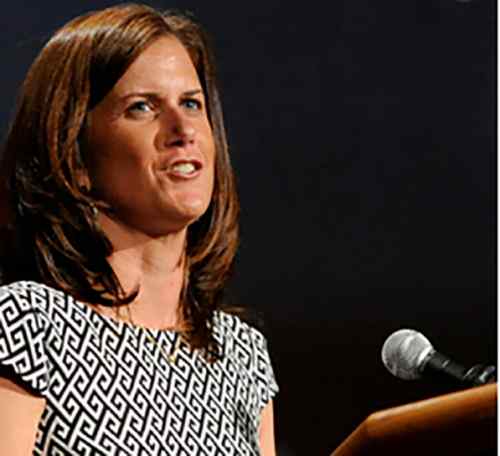 Susannah "Susie" Chase '90, who ran Washington College's Development Office for five years and has honed her skills in a career focused on development and management in both the non-profit and for-profit sectors, will return to her alma mater to become Vice President for Advancement.
Chase, who was the College's development director from 1999 to 2005 and has also been a member of the College's Alumni Council and Alumni Board, most recently has been executive director of the Maryland region of the New York-based One Love Foundation. Previously she held positions as vice president of philanthropy and partnerships and vice president of the US Lacrosse Foundation; executive vice president of sales and marketing for Innovative Wellness Solutions (IWS) in Baltimore; and director of development for Baltimore's Living Classrooms Foundation.
"We're thrilled that Susie Chase is returning to Washington College to head up our Advancement team as it works toward fulfilling the goals of our Forge a Legacy campaign," said President Kurt Landgraf. "Her broad experience in public and private philanthropy and fundraising, coupled with her depth of knowledge about the College and the greater community, give her a terrific foundation upon which to propel the Advancement team's continuing successes."
While at the US Lacrosse Foundation, Chase oversaw the organization and implementation of the non-profit's $15 million capital campaign and annual fund, as well as developing and maintaining key relationships with the foundation's board and key corporate contacts, and working closely with the foundation's finance and administration team. Similarly, at One Love Foundation she quickly expanded its financial base of support, increasing giving by $200,000 in her first eight months while expanding partnerships and increasing stakeholder engagement. While at Washington College, Chase managed the mini-campaign that raised $2.5 million from 188 donors in 18 months that helped fund the new Kirby Stadium.
"I am humbled to have this opportunity to return to the College and contribute to its future growth and continued excellence," Chase said. "I've always been grateful for the opportunities, as an undergraduate and a professional, that the College and its community have given me. I'm excited to have this chance to give back, and to be in a position to help ensure that future WC students can receive the same extraordinary education and experiences that were afforded me."
Chase begins her new position on Sept. 5.