Never Caught, the story of one slave's struggle for freedom from George Washington, is the topic of the Feb. 27 Goodfellow Lecture at WC.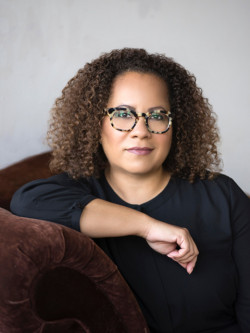 Erica Armstrong Dunbar, the Charles & Mary Beard Professor of History at Rutgers University, will visit Washington College on Tuesday, February 27, to discuss her book Never Caught: The Washington's Relentless Pursuit of Their Runaway Slave, Ona Judge. A finalist for the National Book Award, Never Caught tells the story of how one young woman risked everything to achieve her freedom from the nation's founding father, George Washington.
The event at 4:30 p.m. at Litrenta Lecture Hall in the Toll Science Center is part of the Department of History's Guy Goodfellow lecture series and is co-sponsored by the Starr Center for the Study of the American Experience and the William James Forum. It is free and open to the public, and a book signing will follow in the McClain Atrium.
The reading is part of WC's celebration of Black History Month, and it is especially resonant at the College where George Washington gave the use of his name, helped finance its creation, and served on its Board of Visitors and Governors. Students studying the College's slave past in a course taught by Carol Wilson, the Arthur A. and Elizabeth R. Knapp Professor of American History, have read an earlier version of Dunbar's work.
"Though Ona Judge lived a life of relative comfort, she was denied freedom," notes a description of the book from its publisher Simon & Schuster. "So, when the opportunity presented itself one clear and pleasant spring day in Philadelphia, Judge left everything she knew to escape to New England. Yet freedom would not come without its costs. At just twenty-two-years-old, Ona became the subject of an intense manhunt led by George Washington, who used his political and personal contacts to recapture his property."
USA Today calls Never Caught "A crisp and compulsively readable feat of research and storytelling."
Dunbar, who is also the Director of the Program in African American History at the Library Company of Philadelphia, studies the lives of women of African descent who called America their home during the 18th and 19th centuries. She is a social historian, a scholar of urban history, women's history, and Philadelphia history. She received her BA in history and what was then called Afro American studies from the University of Pennsylvania, and earned her master's and PhD from Columbia University.