Men's Soccer Earns No. 2 Seed in Centennial Conference Tourney, Will Host F&M in Friday Night Semifinal Matchup
The Men's Soccer team has earned the No. 2 seed, and will host No. 3 seeded Franklin & Marshall at Roy Kirby, Jr. Stadium this Friday at 7:00 p.m.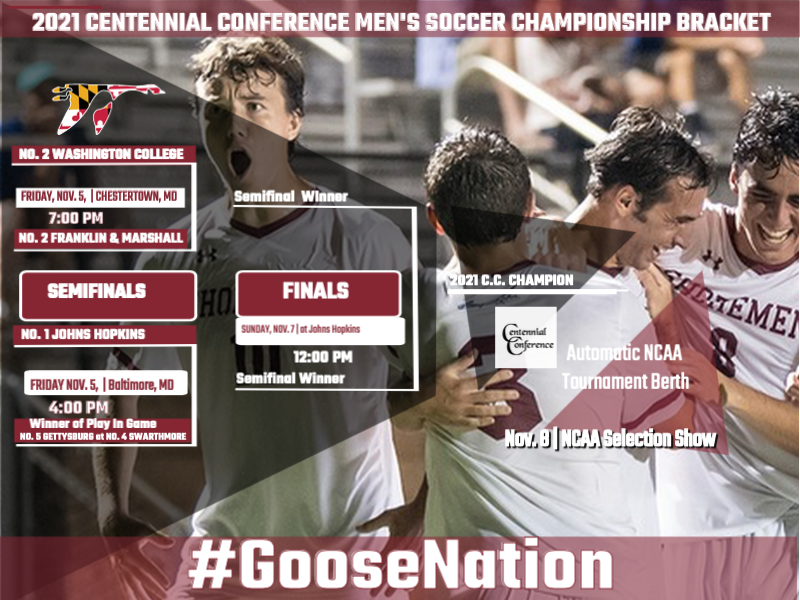 With a 2-1 win over Dickinson in the final game of the regular season, the Shoremen secured the No. 2 seed and a home semifinal game heading into the Centennial Conference Tournament. They will host the No. 3 seed, Franklin & Marshall, at 7 PM Friday in Kirby Stadium.
The winner of the semifinal will move on to play the winner No. 1 Seed Johns Hopkins vs. either Gettysburg in the Centennial Conference final on Nov. 7 at Noon. The winner of the Centennial Conference receives an automatic berth to the NCAA Men's Soccer Tournament.
With that final regular season win, the Shoremen improved to 11-4-1 overall and 6-2-1 in the conference. The 11 wins are the most for the Men's Soccer program in 21 years, tying the 2000 squad that went 11-7-2.
How it Happened:
The Shoremen got on the board in the 34th minute as James Strine converted a cross from Eric Gwadz to take a 1-0 lead. Dickinson would then level the contest at 1-1 with 27 ticks left in the first half as Luke Beiles finished off of a cross from Chaz Smith and that would be the halftime score. WC took a 2-1 lead 8:12 into the second half as Gwadz found Junior midfielder Cole Gifford and his shot from the top of the box found the back of the net. The Red Devils had two more chances to try to tie it, but both shots were off the mark, with the final one coming from Geoffrey Ogenrwot with 13:16 remaining in the second half.
The Shoremen hadn't come up with a win at Dickinson since 2006, marking yet another positive stat in what's become an historic season for this Washington College squad.
"This game was played in tough conditions and it took us some time to adjust to the playing surface, " said Roy Dushee, Head Coach. "But once again our senior leadership came through. Eric Gwadz provided two lovely assists. James Strine's goal was a thunderous volley and Cole Gifford won it on a real peach."
"Credit Dickinson for a very tough test, added Dunshee. "They are better than the record reflects and have some dangerous players. Our defense was really solid and really limited their chances. Anthony Pinto came up with a massive save to keep us in the game."
The Friday night game will be streamed on GooseNation TV here.