Men's Soccer Team Defeats No. 2 Ranked Franklin & Marshall
In an historic victory, Men's Soccer took down the No. 2 ranked Diplomats - the highest-ranking team the Shoremen have ever defeated.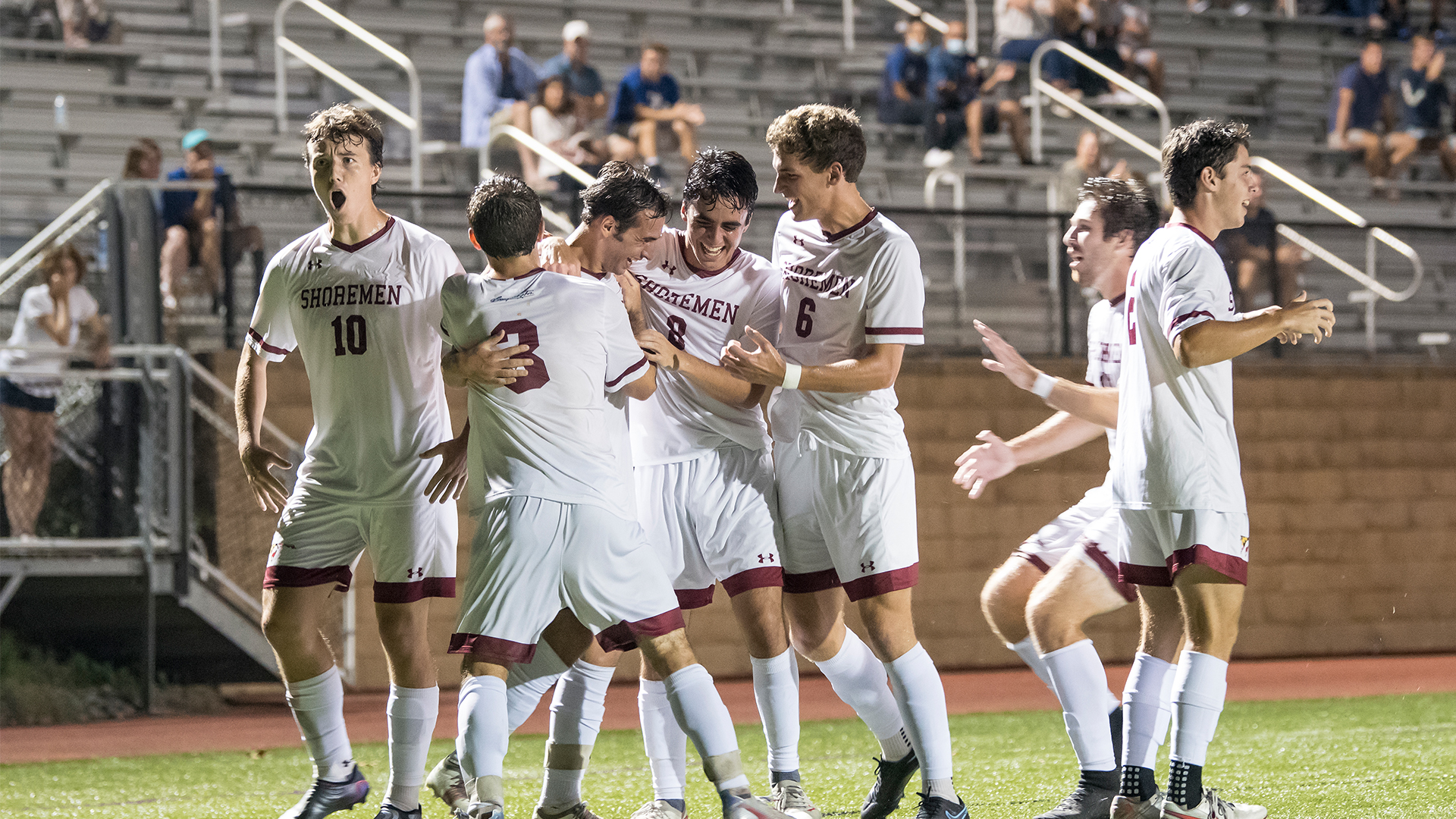 In front of a raucous crowd, the host Washington College Shoremen men's soccer team (5-2-0) scored a pair of first half goals and went on to blank No. 2 ranked (NCAA Division III) Franklin & Marshall, 2-0, in the Centennial Conference opener on Kibler Field at Roy Kirby, Jr. Stadium. The Diplomats (4-1-0) are the highest ranked team that the program has ever defeated. Senior forward Greg Adams scored on a penalty kick and junior defender Alex Coster added the other tally on a gorgeous give-and-go with senior forward James Strine.
"We knew that we were going to have to play really well in order to defeat this team," said Head Coach, Roy Dunshee. "It all comes down to the leadership of our team and our seniors who are pushing us right now. We decided that we were just going to play our game and we stuck to our principals. We gave the fans something to really be proud of. It's so great having them in the stands again."
How It Happened
Junior midfielder Cole Gifford was tripped in the box in the in the 22nd minute by Diplomat keeper Sam Altman Farrell after a defensive miscue. Farrell was handed a yellow card and Adams stepped to the line for a penalty shot. Adams took a stutter step and then beat Farrell with a low shot into the right corner of the net for a 1-0 advantage.
Washington College struck just five minutes later at 27:49 as Coster scored on a perfecty executed give-and-go from Strine. Coster juked past a couple of defenders along the right side of the box and played the ball back to Strine. Coster then snuck past the defense as Strine delivered a pinpoint feed back to Coster, who then banged the ball off the inside of the far post for the goal.
Strine now has six goals and three assists on the season (15 points), and Adams has five goals and two assists (12 points).
"This game was the biggest one in my entire career here at Washington College," said Adams. "I've never seen the stadium like that and I've never seen our team perform like we did. This game was everything for us. This year we have a team that can make some noise in the Centennial Conference and in the country. We earned some respect tonight."
The Shoremen took 12 shots compared to seven by the visitors. The hosts took five corner kicks while the Diplomats attempted three. Sophomore goalkeeper Anthony Pinto was asked to make just two saves as he improved to 3-1-0.
The last victory against a top-ten team came when the Shoremen defeated No. 10 Johns Hopkins 1-0, back in 2008. The team's last win against the Diplomats was in September 2002, by a score of 3-1 in a game at home.
Next up for the Shoremen is a game at Penn State-Altoona on Wed, Sept 22 at 4 PM.