"Material-isms" at the Kohl Gallery
A solo exhibit featuring Washington, D.C. artist Amber Robles-Gordon will open the fall season at the Kohl Gallery on Sept. 6, with an artist talk set for Sept. 13.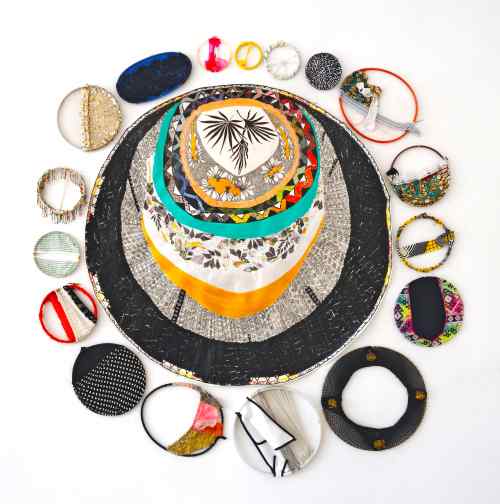 The Kohl Gallery at Washington College kicks off the 2018-19 academic year with a solo exhibit titled Material-isms: the cultivation of womanhood and agency through materiality, featuring Washington, D.C.-based mixed-media artist Amber Robles-Gordon. The exhibit features assemblage and installation works created from a range of found objects and textiles.
Opening on Thursday, September 6, with a public reception from 4:30 to 6:30 p.m., Material-isms will run through October 10. Robles-Gordon will also deliver a public talk in the gallery on Thursday, September 13, at 3:00 p.m.
Robles-Gordon's broad artistic practice draws upon the often-paradoxical experiences of her gender, ethnicity, and social and cultural influences, including her Latino, African and Caribbean heritage. What the artist calls "hybridism" is reflected in her varied material strategies and vibrant use of color, often invoking a spiritual and energetic sensibility. "Materials intrigue me, but colors uplift and excite me," Robles-Gordon said in a 2017 interview with Bmore Art Magazine. Material-isms will highlight Robles-Gordon's spirited use of a bold color palette in a series of mixed-media and installation works that conjure themes of femininity and masculinity, duality, spirituality, and the natural and cultural environment.
Robles-Gordon earned her MFA from Howard University and has over 15 years of experience as a practicing artist, curator, and arts educator. Her work has been reviewed or featured in the Washington Post, Washington City Paper, Hyperallergic, Huffington Post, ebony.com, The Miami Herald, Bmore Art Magazine, Support Black Art, and Callaloo: Art and Culture in the African Diaspora, among other publications.
Robles-Gordon's work has been exhibited throughout the U.S. and in Germany, Italy, Malaysia, London, and Spain. She has created temporary and public installations for the DC Commission on the Arts and Humanities, the Northern Virginia Fine Arts Association, Howard University, The Schomburg Center for Research in Black Culture, Washington Project for the Arts, Salisbury University, and Martha's Table. In 2012, Robles-Gordon was selected for Under the Influence, in association with the Corcoran Gallery of Art's 30 Americans exhibit. As an arts advocate, Robles-Gordon has served the Washington D.C. regional arts community as an active member of Black Artists DC, serving as exhibitions coordinator, vice-president, and president. She is also the co-founder of Delusions of Grandeur Artist Collective.
Kohl Gallery is located on the first floor of the Gibson Center for the Arts at Washington College in Chestertown, Maryland. The gallery is open Wednesday through Friday 1:30 to 5:30 p.m.; Saturday and Sunday noon to 4 p.m. For more information, please email: kohl_gallery@washcoll.edu.