A busy summer in Bermuda and Wisconsin gave Jake Vassalotti '20 a chance to combine his diverse interests in environmental policy and transportation.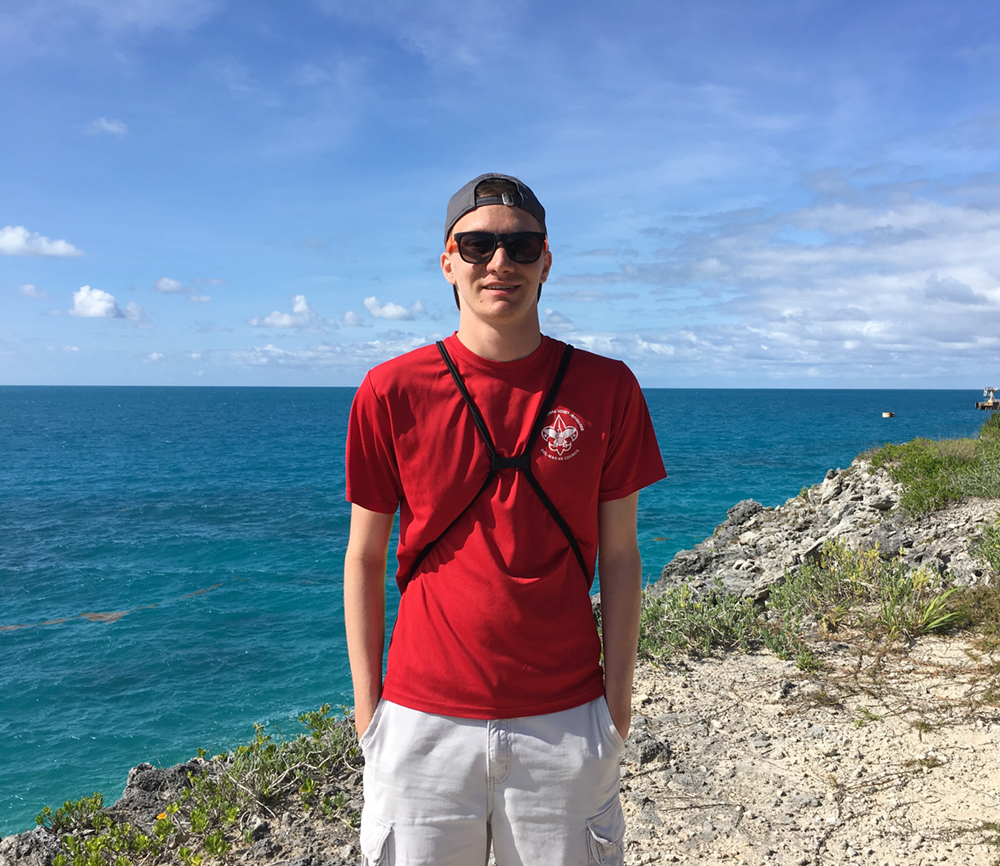 As an environmental studies and political science double major, Jake Vassalotti '20 is always thinking about how people, policies, and the environment are connected. So when he walked the beaches of Bermuda as part of the Bermuda Environment field course last summer, he was stunned to see all the plastic trash—bottles, bags, the obvious stuff, but also endless quantities of microplastics, all the tiny, colorful bits of bottle caps, toothbrushes, and millions of other plastic items that break down in the ocean and mingle with the pink coral sand of Bermuda's world-famous beaches.
The field course, offered through the departments of Environmental Science and Studies and Biology, takes about a dozen students to BIOS, the Bermuda Institute of Ocean Sciences, for ten days of hands-on research and learning on land and in the ocean. Students hike, snorkel, dive, and interact with the scientists at BIOS.
"It was very interdisciplinary and it incorporated the human impacts on the environment as well," Jake says. "It just didn't focus on marine ecology, but it also focused on how humans are impacting different ecosystems. The ecosystem in Bermuda is very sensitive, and people as far away as Canada and Africa are contributing to pollution and trash washing up on the islands there.
"And that really opened my eyes how pollution and climate change are really global things. You have an island in the middle of the Atlantic that's just sitting there, helpless. They're not that populated and they don't have the impact that bigger nations have to make a change, but yet they're dealing with the consequences."
Jake came to WC undecided, thinking of pursuing a biology or pre-med track. But after an introductory environmental studies course his freshman year, which talked also about how policy can effect change, he declared a double major in environmental studies and political science. In fall 2019, Jake won the Middendorf Environmental Studies Scholar award, which recognizes a student who has demonstrated superior scholastic achievement in environmental studies as well as exemplary leadership within the student body.
He also immediately started working in the College's GIS Lab during his freshman year, one of the deciding factors for his choice of WC.
"I've always been interested in maps and transportation, and it seemed like it would be a good fit for me," Jake says. "I started as a junior apprentice…now I'm a journeyman leader, I've worked all the way up."
Through the GIS Lab, he landed a paid internship after sophomore year with The Washington Center's Summer Transportation Internship Program for Diverse Groups. Based in Washington, D.C., he did GIS analysis and mapping at the Pipeline Hazardous Materials Safety Administration at the U.S. Department of Transportation (DOT).
Spring of his junior year he applied to the same program and was offered a second paid internship, this time in the Wisconsin Division Office of DOT's Federal Highway Administration.
"That was more focused on environmental policy and NEPA (National Environmental Policy Act)," he says. "But they also brought me out because they didn't have any GIS expertise in their office, so they wanted to get someone to give them some new ideas and see if it would be feasible to incorporate in their office. I also went on various field visits, which were a ton of fun. Standing on the bridge under construction over the Mississippi River was great. And understanding all the processes that go into highway construction, everything from permitting to wetland mitigation to how you lay a thing called tack coat that causes the asphalt to adhere to the road."
As part of Jake's internships, he used his GIS skills to create a story map: http://washcoll.maps.arcgis.com/apps/Cascade/index.html?appid=96b4708ee6094d9fa09e58bb0db07761
After graduation, he may pursue an advanced degree in GIS, or seek a federal job in GIS- or environmental-related policy work in the transportation field.