Kappa Sigma Chapter Wins Prestigious National Award
The Kappa Sigma chapter at Washington College has been awarded a Kappa Sigma Founders' Award of Chapter Excellence as one of the fraternity's top chapters in North America.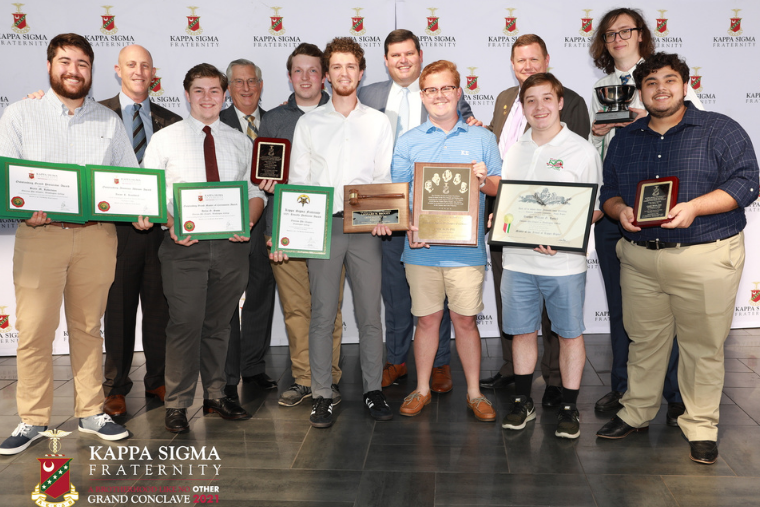 The Founders' Award of Chapter Excellence (FACE) is the benchmark award in the Kappa Sigma Fraternity, recognizing outstanding Chapter management, achievement, and program development in all areas of operation. Only 31 chapters received the FACE award within Kappa Sigma in 2021.
"Kappa Sigma is North America's largest college social fraternity. We pledge more men and have more undergraduate members than any other fraternity, and we give more time in community service and more money to charitable causes than any other fraternity. Winning a Founders' Award of Chapter Excellence means that our chapter at Washington College is not just one of the best chapters in Kappa Sigma, but is one of the best fraternity chapters on any college campus in North America," said Worthy Grand Master Adam J. Merillat, president of Kappa Sigma's International Board of Directors.
Kappa Sigma's Omicron-Phi Chapter at the Washington College and its 18 members had the following achievements during its award-winning 2020-2021 academic year:
The chapter's GPA was above the Washington College's All Men's GPA during both semesters in 2020.
The chapter engaged in more than 500 hours of community service.
The chapter raised more than $7,200 for charitable causes.
The chapter raised more than $5,500 for the Kappa Sigma Military Heroes Campaign, which is committed to supporting ongoing care for our military veterans and their families.
The chapter raised more than $3,000 for its Kappa Sigma Endowment Fund Chapter Scholarship Fund, which provides scholarships to chapter members based upon academic achievement, campus involvement, and leadership within Kappa Sigma.
"I am extremely proud of my brothers and all of the hard work they've done in order for us to get this award," said Leonard Brogen, Chapter President. "Whether that was helping others study for exams and classwork, giving their time back to the community, or putting time aside to study our Fraternity's ritual. Normally only chapters at larger schools are able to get these awards due to the larger chapter sizes. However, thanks to the dedication of my brothers we were able to achieve greater things and pull a bit of an upset."
In addition to the prestigious FACE award, Kappa Sigma took home its fair share of other honors. This included the Outstanding Single Service award for the campus-wide letter writing campaign the chapter organized with the sisters of ZTA. This pen-pal program benefited the quarantined residents of Heron Point, a local retirement community.
They were also 1 of 2 recipients nationwide for the Outstanding Military Heroes Service Event, an award earned for the virtual pancake breakfast event, an activity that raised for $2500 for veterans' charities.
They also earned Chapter-wide awards for their grades and dedication to Kappa Sigma rituals and history. On top of the chapter level honors, each of the Kappa Sigma executive officers won the Outstanding Officer Award, and Aaron Krochmal was again bestowed with the Outstanding Alumnus Advisor Award in recognition of his ongoing work with the Washington College chapter.
Kappa Sigma is the largest college social fraternity in the world with more than 200,000 living members, including over 17,000 undergraduates and 300 chapters and colonies located throughout the United States and Canada. Founded in 1869 at the University of Virginia, Kappa Sigma International Headquarters is based in Charlottesville, Virginia.