From among a statewide field of nearly 700 artists, the Maryland State Arts Council has conferred Individual Artist Awards for 2019 to three from WC working in creative nonfiction, works on paper, and media.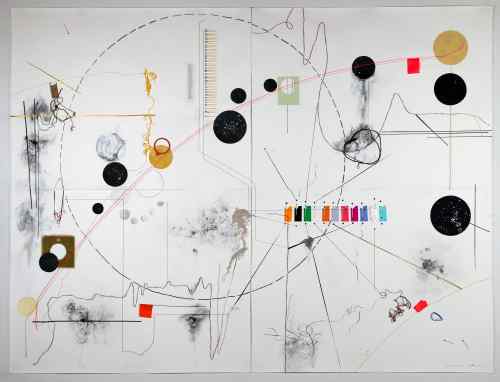 The Maryland State Arts Council has awarded Individual Artists Awards to three Washington College faculty and staff, honoring their outstanding achievements in the arts from among 669 applicants across the state.
Poet and essayist James Allen Hall, director of the Rose O'Neill Literary House, won a $1,000 award for creative nonfiction (Hall in 2016 won a $3,000 award in poetry), Julie Wills, assistant professor of art, won $6,000 in the category of works on paper, and Michael Buckley, program manager at the Starr Center for the Study of the American Experience, won $1,000 in the media category.
"Writers toil solely, often wrestling with our own doubts about form and subject, about syntax and diction," Hall says. "It feels great to be recognized alongside these other terrific writers, and particularly among my fellow WC artists."
"Maryland has a strong history of support for the arts, and it is wonderful to be a part of that legacy," says Wills. "Having moved to Maryland for my teaching position at Washington College only three years ago, I am thrilled and grateful to be included alongside some of the artists I most admire in the state as recipients for this award. It is equally exciting to see outside recognition, through my colleagues' awards, for the excellence of the arts at WC as a whole."
The Maryland State Arts Council (MSAC) on April 15 awarded a total of $246,000 to 105 Maryland artists through the 2019 Individual Artist Awards (IAA). Awardees were chosen, based solely on artistic merit, by an out-of-state jury of discipline-specific experts. Administered in partnership with Mid Atlantic Arts Foundation, the 2019 IAAs represent the fields of creative nonfiction/fiction, digital/electronic arts, media arts, painting, theater solo performance, and works on paper.
Hall, an associate professor of English and creative writing, won awards from Lambda Literary Foundation, the Texas Institute of Letters, and the Fellowship of Southern Writers for his first book of poems, Now You're the Enemy. His second book, I Liked You Better Before I Knew You So Well, is a collection of memoir-in-lyric-essay that was selected by author Chris Krauss as the winner of the Cleveland State University Poetry Center Press's Essay Award. Recent poems and nonfiction have appeared in Ploughshares, Copper Nickel, New England Review, and are forthcoming in Texas Review and Fourth Genre.
Wills, an interdisciplinary artist, works in sculpture, drawing and collage, performance and video; her IAA award specifically recognizes her mixed-media assemblages on paper, including those exhibited in Kohl Gallery on the Washington College campus in 2017. She has had recent solo exhibits at Arlington Arts Center in Virginia, Hillyer Art Space in Washington, D.C., and Whittier College in Los Angeles. Her works on paper are included in the White Columns Artist Registry in New York and the ICA Baltimore's Flat Files Program. In addition to her individual studio practice, Wills is a frequent collaborator with artists and with innovators in other fields.
Buckley is an instructor in oral history and the host, for 25 years and counting, of the weekly radio program "Voices of the Chesapeake Bay" that airs Sunday mornings on 103.1 WRNR-FM Annapolis. Crisscrossing the six-state Chesapeake Bay watershed, Buckley has amassed over 750 interviews covering a wide variety of Chesapeake Bay subjects, people, events, and interests. The IAA was awarded for the excellence of sample interviews and recordings and includes a Maryland Governor's Citation, Buckley's third. At the Starr Center, for the past ten years Buckley has worked with Washington College students and faculty on the StoryQuest Program teaching students recording and interview preparation techniques, using oral history as a lifelong learning tool and as a way to develop their own critical communications skills.