GW Prize Winner on Campus
2018 George Washington Prize winner Kevin Hayes will discusses George Washington: A Life in Books and the craft of narrative writing at Washington College on Oct. 23.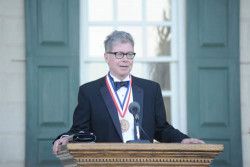 Few Americans think of the nation's founding father as a writer, or an avid reader. More often than not, we picture George Washington as a vigorous leader astride a horse, commanding an army, or crossing stormy rivers in the cold of night. Kevin Hayes's prize-winning narrative, George Washington: A Life in Books, dismisses these popular images of Washington as a man of all action and no ideas or learning. By examining Washington's personal library, his reading notes, and his personal journals, Hayes shows how books influenced the development of Washington's intellect, his character and leadership skills, and by extension, the development of a new nation.
Hayes, who won the 2018 George Washington Prize, will speak about his book at Washington College on Tuesday, October 23 at 5:15 p.m. in Hynson Lounge, Hodson Hall. A book signing will begin at 4:30 p.m. A reception will be held after the talk. Hosted by the Starr Center for the Study of the American Experience, all events are free and open to the public.The full schedule for the Washington Prize celebration follows:
4:30 – 5:00 p.m. Book signing with Kevin Hayes
5:15 – 6:15 p.m. "Making History: A Conversation with Kevin Hayes and Adam Goodheart"
6:15 p.m. Public reception.
In awarding Hayes the prize, a jury of noted historians praised him for revealing a new side of Washington, by "uncovering an intellectual curiosity that dozens of previous biographers have missed." Adam Goodheart, the Starr Center's Hodson Trust Griswold director says: "A Life in Books demonstrates that while Washington never attended college and felt self-conscious about his lack of formal education compared to some of his peers, he was a broadly inquisitive man who found pleasure as well as instruction in books."
Hayes's project began with a fellowship that he received in 2008 from Washington College's Starr Center. The award allowed him to spend a month working with rare volumes at the Boston Athenaeum, which holds a large portion of George Washington's personal library.
The recipient of numerous research fellowships, Hayes is emeritus professor of English at University of Central Oklahoma. His interests in literature and American history intersect in his publications The Road to Monticello: The Life and Mind of Thomas Jefferson (2008) and A Journey through American Literature (2012). As a graduate student at the University of Delaware he studied under Professor J. A. Leo Lemay, a leading scholar of early American literature. Hayes lives and writes in Toledo, Ohio.
The George Washington Prize campus celebration is co-sponsored by Washington College Department of History, American Studies Program, Department of English, Sophie Kerr Committee, and Phi Alpha Theta, the College chapter of the national history honors society.
The $50,000 Washington Prize was awarded to Hayes at a black-tie dinner at George Washington's Mount Vernon Estate in May. Sponsored by Washington College, the Gilder Lehrman Institute of American History, and Mount Vernon, the Washington Prize is one of the largest literary prizes in the nation. Awarded annually for the year's best written work about America's founding era, it particularly recognizes works that contribute to a broad public understanding of the American past.
Established in 2005, the George Washington Prize has honored a dozen leading writers on the Revolutionary era including the Tony Award winner Lin-Manuel Miranda and Pulitzer Prize winning historians Annette Gordon-Reed and Alan Taylor.