From Patient to Physical Therapist
Gabrielle Dejuliis '15 found her career focus as a Physical Therapist after experiencing an injury as a freshman.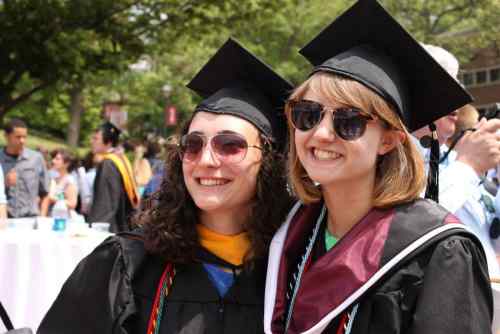 From Patient to Physical Therapist
"I was first introduced to physical therapy as a patient after I sustained a sports injury in the fall of my first year at WC," Dejuliis stated. "Through the following year, I explored other career interests such as teaching, but I was continuously drawn back to physical therapy." Ultimately, it was the multifaceted approach to care during an internship at Chestertown Orthopedics that inspired Gabi to commit to the profession. "The way physical therapy seamlessly blends consistent critical thinking and innovation, as well as unique hands-on patient care, I knew it was the profession for me," she said.
For Gabi, the relationships she built with professors were very important. Dr. Aaron Krochmal, Associate Professor of Biology, was a mentor during her time at the College. "He constantly encouraged me to explore my interests and get hands-on experience while I was deciding what career path to take," Dejuliis said. "Once I committed to physical therapy, Dr. Krochmal pushed me to think critically in and outside of the classroom and as a result made me a better student."
Currently in graduate school at University of Maryland Eastern Shore, she feels that WC's pre-health curriculum helped prepare her for this next phase in her life. "The variety of health related classes offered to science majors such as neurobiology, immunology, developmental biology, biochemistry, anatomy, genetics, and physiology has made the transition into graduate school much more manageable," Dejuliis stated. "Being able to build a basis of various complex information at WC has allowed me to continue to expand on that knowledge in my graduate program." Even her Senior Capstone Experience, a research project required in order to graduate, has played a role in her current educational experience. "In addition to the great classes and professors I had at WC, the senior capstone experience has also prepared me for the graduate research project I will soon begin at UMES," Dejuliis said.
Dejuliis loved spending time in the Toll Science Building as a student. Some of her best memories at Washington College take her back to Toll, gathered with friends and faculty around a table, talking science. "As a science major, I spent a lot of time in Toll, studying at the round tables and white boards, listening to fascinating guest lectures in Litrenta, and getting to interact and build relationships with my professors outside of the classroom. The Toll Trolls, as we affectionately call ourselves, are a family bonded by our love of science - a bond that has continued long after graduation."