Through the Starr Center's Explore America Summer Internship program, history major Sara Underwood '19 is working as a curatorial and collections management intern at the Museum of the American Revolution in Philadelphia.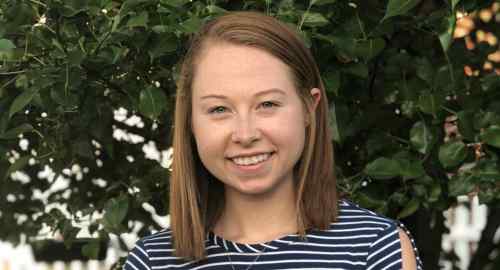 It was a freshman history class that sparked Sara Underwood's passion for American history.
"My intro class with Professor [Ken] Miller first semester made me realize that history is so much more than just facts and dates," recalls Underwood '19, now a history major intent on a career in museum curation.
That initial spark, fanned under the mentorship of Adam Goodheart, director of the College's Starr Center for the Study of the American Experience, has spurred a new partnership for Washington College with Philadelphia's Museum of the American Revolution (MAR). The museum, which opened in 2017, tells the story of the War for Independence through high-tech, interactive exhibits.
On the strength of her exceptional academic ability, oral and written communication skills, and pronounced interest in American history and culture, Underwood was accepted into the Starr Center's Explore America Summer Internship (EASI) program and landed a post as the only full-time curatorial and collections management intern at the MAR.
"The first time I stepped into the museum, I was in awe," she says. "They use touch screens to help tell a deeper story about artifacts and the people, and the gallery design and interactive exhibits are incredibly impressive. I'm actually getting to see what curators do and what goes into making a museum run."
Underwood's internship encompasses all aspects of the era, showcased in weekly Facebook posts for the museum. Her high-level projects include researching the rise of Loyalist units in Philadelphia, tracking George Washington's movements, and conducting research on the George and Martha Washington levees.
"My favorite project was assisting with the installation for Flag Day, which included Washington's standard flag and a replica that went into orbit in 1998," she says.
Goodheart and Underwood were introduced through a mutual friend early in Underwood's academic career, when Goodheart invited her to take part in the StoryQuest oral history program. Goodheart was impressed with Underwood from the start.
"In addition to her academic and extracurricular accomplishments, Sara is just an exceptionally curious, energetic, and fun person," Goodheart says. "I can't think of anyone to better represent Washington College as we launch this new partnership at the museum."
Underwood credits Goodheart's exceptional mentorship with facilitating her interest in history.
"He makes me want to be my best self and always gives great advice. My favorite part about the Starr Center is that faculty care about you outside the classroom. They're here to teach you skills that will benefit you for the rest of your life."
—Victoria Smith