After an $8.2 million systems renovation, Cullen Hall will be ready for students this fall.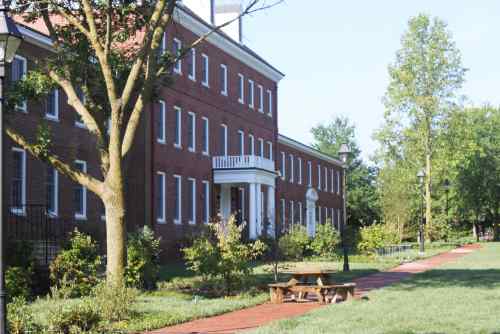 The last time Cullen Hall got this much love was 35 years ago. But after 14 months of work, the 1950s-era residential hall has been thoroughly updated to better accommodate students' needs and make the building far more energy efficient.
Students returning to campus in August will notice the transformation right away. Gone are the piles of earth moved to install a geo-thermal field just beyond the campus gates. Gone too are the building's window air-conditioning units, the dreary laundry rooms and bathrooms, and the interior walls that once separated the three housing units within the building.
But the most dramatic transformations are underground, above the ceilings, behind the walls, and in the sophisticated labyrinth of pipes, tanks, gauges, and control panels housed within the mechanical room. Much of the $8.2 million invested in the project was spent on the systems that make the facility more comfortable and energy efficient.
Mechanical engineers and construction crews have retrofitted the 30,000-square-foot building with modern systems—new heating and air conditioning, new plumbing, new bathrooms and laundry areas, energy-efficient lighting, and new windows throughout the 94-bed residence hall.
"For this renovation, we focused on the systems that most affect our students' quality of life," says Ursula Herz, associate dean of students and director of residential life. "The bathrooms have brand-new fixtures and tiling, the laundry rooms are clean and bright, and all the walls are freshly painted."
With Cullen Hall now online, Washington College is drawing on four geo-thermal systems for heating and cooling, which typically represent a 26 percent savings in energy costs over conventional systems.
Cullen Hall will house a mix of upperclassmen and first-year students. And the Department of Public Safety will return to its renovated quarters on the ground floor.