In annual national marketing awards, WC's College Relations and Marketing team takes gold for admissions campaign and platinum for virtual reality campus tours.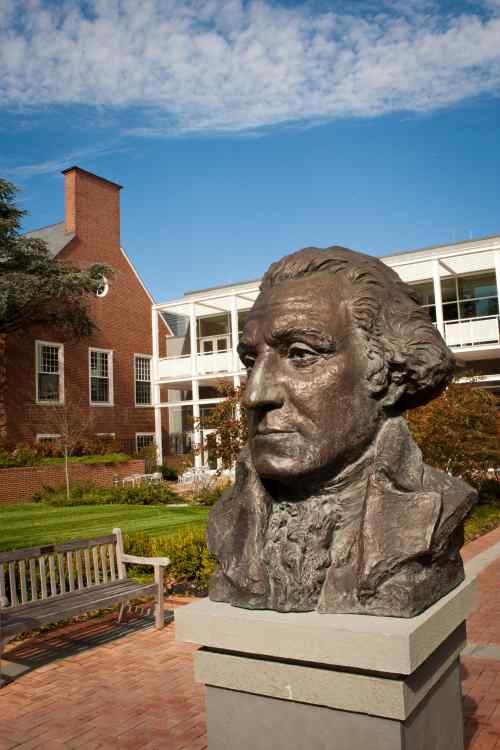 The College Relations and Marketing team has won an array of awards from the Association of Marketing and Communications Professionals (AMCP), including gold in the MarCom Awards for a new admissions campaign, and platinum in the dotCOMM Awards for virtual reality campus tours.
Both the MarCom and dotCOMM awards are sponsored annually by the AMCP, whose judges "look for companies and individuals whose talent exceeds a high standard of excellence and whose work serves as a benchmark for the industry."
The MarCom Awards this year drew more than 6,000 entries from corporate marketing and communications departments, ad agencies, PR firms, production companies, and design shops. Winners included AARP, Hilton Worldwide, IBM, and Microsoft. Washington College won gold in strategic communications/marketing and promotion for the "Do You" campaign for prospective students, as well as honorable mention for The Academic Minute in strategic communications/media relations and publicity, and for strategic communications/ marketing and promotion for the Athey Athletic Club.
"The 'Do You' campaign takes the typical admissions viewbook to a new, more personal level for generation Z," says Rolando Irizarry, Vice President of College Relations and Marketing. "It is physically designed to feel almost like a personal gift, with the message emphasized throughout that at Washington College, it's possible for students to find their best, truest selves. From concept through writing, editing, and design, the deep pool of CRM's talent and creativity really shines through on this project."
The CRM team also won two platinum awards in the AMCP's annual dotCOMM awards in website element/virtual reality, one for the 360 interactive virtual campus tour and one for the 360 interactive VR tour of the Rose O'Neill Literary House. An international competition honoring excellence in web creativity and digital communication, the dotCOMM Awards drew more than 2,000 entries this year.
"The print studio is one of the most unique things about Washington College; fewer than 10 colleges in our country have something like it," says James Allen Hall, Director of the Rose O' Neill Literary House. "I'm so glad that with the VR tour, now anyone from anywhere can experience the warm, special environs of the Lit House. I hope prospective students will take the tour and see what a fabulous home awaits them at WC."
Irizarry also noted that because Chestertown is such an integral part of the student experience at Washington College, the virtual tours also include much of the town.
"In addition to documenting the campus, Google photographers shot seven local businesses, including Radcliffe Creek School, Kingstown Home and Garden, the Robert Ortiz Studios, and the Chester River Packet," he says. "So these will also now be searchable as virtual tours within Google Maps, and hopefully when we expand these tours, we can also show more of Chestertown and Kent County."
View the award-winning Campus Tour https://goo.gl/maps/Gr9Z1qcrnNo and Lit House tour https://goo.gl/maps/D2PmuGU39j42 .