Community Unity Day is set for April 14. Get ready for a block party on Campus Avenue with fun, food, and funk!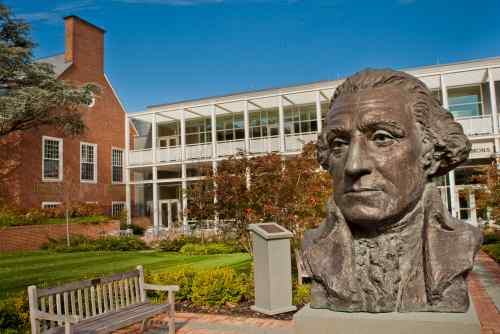 Washington College, in cooperation with Chestertown's Diversity Dialogue Group, is hosting the town's first Community Unity Day on April 14, a family friendly block party that will happen on Campus Avenue from noon to 4 p.m.
The event will include a variety of food vendors, a sports corner, multiple musical performances, and a kids' area that will feature a moon bounce, face painting, the making of a community mural, and much more. Community information booths and activities will be supplied by various campus offices, local businesses, and organizations, all in an effort to showcase what Chestertown and Washington College together have to offer.
"Everyone is engaged and excited because everyone is working very hard to make it happen," says Elena Deanda, associate professor of Spanish and one of the event organizers.
The effort behind the event stems from a shared will between Washington College and its neighbors to "break the bread," reach out, and improve our mutual understanding. As a collaborative effort, many local organizations and campus offices have enthusiastically joined in order to promote wellness, civics, sustainable living, information about teen drug abuse, animal adoptions, the thriving artistic and cultural life in Chestertown, information about our historic legacy, and about academic opportunities for Kent County residents as well as opportunities for WC students such as internships, job openings, and volunteer work.
On stage there will be the Dell Foxx Company Band, the Freddy Granillo Band, Washington College's Musician Union, Chestertown Ukulele Club, and DJ TCRON. Food will include a fish fry by Bethel Church, Cajun food by Crazy Rick's, BBQ southern food from Papa Smurf, Mexican fare with Los Jarochos, hot dogs to benefit the Kent County High School Band Committee, as well as homemade baked goods from neighbors and free cookies courtesy of Washington College.
Washington College groups represented will include WAC Caring for Kids, the German club, the Latin American Student Association, and the Student Environmental Alliance as well as Admissions, Human Resources, the Starr Center for the Study of the American Experience, the GIS Lab, and Miller Library.
Community groups represented will include the Chestertown Farmers Market, the Garfield Theater, the Kent County Arts Council, the Kent County Humane Society, the Kent County Family Center, the Kent County Library, the Kent County School District Parents, the Kent County Department of Social Services, the Kent County Behavioral Health Office, Sultana Education Foundation, Sumner Hall, the Diversity Dialogue Group, the Democratic Club of Kent County, and Indivisible.
For more information, contact Elena Deanda at edeanda2@washcoll.edu and Lolli Sherry at sherrywine@wildblue.net.