Partnering with Colonial Williamsburg, Washington College offers students an immersion into the culture, society and technology of the Revolutionary Era in a new one-week course offered over spring break.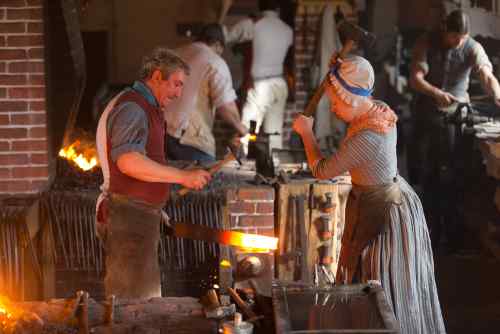 Washington College and Colonial Williamsburg have partnered to offer a unique hands-on experience in the archaeology and material culture of the Revolutionary era, enabling students to work closely with museum curators and skilled tradesmen to gain perspective on the cultural and social dimensions of the American War for Independence.
The intensive, two-credit, weeklong course will take place over spring break in mid-March. After preparatory sessions at Washington College, students and faculty will travel to Williamsburg, Virginia, where they will go behind the scenes in Colonial Williamsburg's collections with curators and learn trades first-hand in various workshops. Students will spend time in the blacksmith shop at the public armoury, as well as try their hand at tinsmithing, carpentry, gunsmithing, leather work, and more. They will prepare some of their meals over an open hearth and spend at least one night in a military camp.
By applying experimental archaeology and period technical skills, students will gain a deeper perspective into the daily lives of the people who fought for America's independence.
"This is a truly unique experience, and we see it as a pilot program that could open up many more experiential learning and research opportunities for our students at Williamsburg," says John Seidel, director of the College's Center for Environment & Society and the Lammot du Pont Copeland Associate Professor of Anthropology and Environmental Studies. "This is the kind of engaged learning, partnering with experts from one of the world's premier living history museums, that sets Washington College apart."
"Colonial Williamsburg offers a classroom like no other, where we preserve and interpret the lives and livelihoods of a nation on the verge of independence," says Mitchell B. Reiss, president and CEO of the Colonial Williamsburg Foundation and former president of Washington College. "We're thrilled to have students from my former home in Chestertown join us and learn by immersing themselves in our shared American story."
Among the topics students will explore are the roles of diverse social, racial, and economic groups of the time; the military culture, tactics, logistics, and organization of General George Washington's Continental Army; and understanding the complexities of the military dimensions of the War for Independence within a broader social, cultural, economic, and political framework. Faculty will include Seidel and Charles Fithian, lecturer in anthropology.
For more information about the new partnership, contact John Seidel at jseidel2@washcoll.edu or Charles Fithian at cfithian2@washcoll.edu.