Clippings, Voids, and Banana Curry
A conversation between Baltimore-based artists Jo Smail and Paul Jeanes on Nov. 2 will begin the next Kohl Gallery Exhibit, "Clippings, Voids and Banana Curry."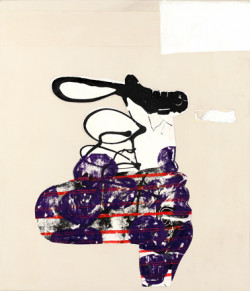 Kohl Gallery at Washington College is pleased to announce "Clippings, Voids and Banana Curry," a two-person exhibit featuring Baltimore-based artists Jo Smail and Paul Jeanes. To celebrate the opening of this exhibit, Kohl Gallery will present a salon-style conversation between the two artists on Friday, November 2, at 4:00 p.m., followed by an opening reception from 5:00 to 6:30 p.m. Both events are free and open to the public. The exhibit will be on view through December 9, 2018.
Jo Smail, who was born and raised in South Africa, is an internationally renowned artist and lifelong educator who has taught at the University of the Witwatersrand, the Johannesburg College of Art, and most recently at the Maryland Institute College of Art until her retirement in 2017. Smail's recent works in paint and collage incorporate scraps torn from her personal archive of newspaper articles, family recipes, and photographs that confront personal and political histories through the reconfiguration of memory. Her work has been reviewed in The New York Times, Art in America, Art on Paper, The Baltimore Sun and The Hudson Review, among many others, and is represented by Goya Contemporary gallery in Baltimore.
Paul Jeanes, originally from North Carolina, is the interim Director of the Master of Fine Arts in Studio Art graduate program at the Maryland Institute College of Art, where he has taught for 12 years. He earned a MFA in 2006 from the Hoffberger School of Painting at MICA while studying with noted abstract expressionist, Grace Hartigan. His current body of work consists of paintings, photographs and models that focus on notations of absence and on the enigmatic play of space, color and light. Jeanes's work has been extensively exhibited along the east coast and in the Baltimore and Washington, D.C. region.
With divergent cultural upbringings and more than three decades between these two artists in age, Smail and Jeanes formed a special friendship while teaching together at MICA and maintain an ongoing dialogue built around their personal musings, their mutual love for tennis, and their sincere admiration for one another's art practice. Though their works alternately explore political, spatial, interpersonal, and perceptual experiences, an abiding curiosity and idiosyncratic sensibility fuel each artist's creative output. This exhibit will pair the two artists's works together for the first time, offering a compelling view into two distinctive creative practices, through the lens of artistic symbiosis and friendship.
Kohl Gallery is located on the first floor of the Gibson Center for the Arts at Washington College in Chestertown, Maryland. The gallery is open Wednesday through Friday 1:30 to 5:30 p.m.; Saturday and Sunday noon to 4 p.m. For more information, please email: kohl_gallery@washcoll.edu.