Career Center Facility Named for Alumna
The Rebecca Corbee Loree Center was dedicated to the founding director of Corbin Perception on May 19.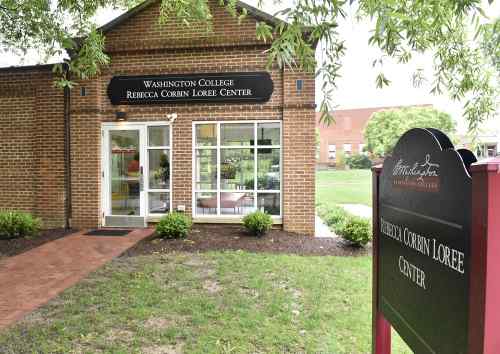 "I'm committed to helping students achieve their professional goals, in terms of mentoring, inspiring, and financially supporting them."
Those words from College trustee Rebecca Corbin Loree '00 set her intentions at a May 19 ceremony dedicating the building that houses the Center for Career Development in her name. Loree and husband Jim committed $1 million to the Career Center for new and enhanced internships, job shadowing, program assessments, and other related initiatives to help students launch their careers upon graduation.
Faculty, staff, students, trustees, and friends of the College gathered for the event, which included a luncheon for 60 guests. Speakers, in addition to Loree, included Nanette Cooley, executive director of career development; Anne Marteel Parrish, professor of chemistry; Career Center employee Michael Luckert '18; and President Kurt M. Landgraf.
Describing what compelled her to support the Career Center, Loree recalled her own challenges as a Washington College student who graduated without having landed a job. "That experience of not having a network outside of Maryland, not having family connections for an internship, stuck with me. That's why I've set up funds for students who couldn't otherwise afford to be in an internship away from home."
Loree now also regularly hires WC students for internships – and eventual staff positions – at her company, Corbin Advisors, an investor relations advisory firm. She hopes such connections will become more common with networks flourishing in the Career Center. "The intent was to enable the team to invest strategically in the future, have the resources to develop the technology, hire the leadership, train, and engage students at a deeper, more meaningful level," she said.
Loree said she is honored to be able to make a difference, citing the dedication of the Schottland Tennis Center when she was a varsity team member as an event that inspired her vision. "I thought, one day I would like to be in a position to do that for my alma mater. We can all be stewards of our college. We all have that responsibility."
"Rebecca is giving our students a running start into the job market," Landgraf said. "Thank you for your leadership, your dedication to your alma mater, and your support of this next generation of citizen-leaders."