Washington College Welcomes New Trustees to the Board of Visitors and Governors
The Board of Visitors and Governors has welcomed three new members to its ranks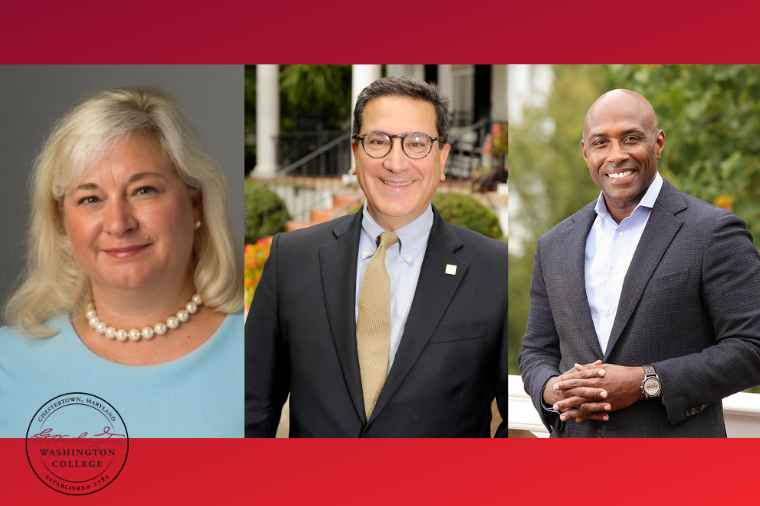 The Washington College Board of Visitors and Governors welcomed three new members to its ranks on July 1. The new trustees are Michelle Nichols Gibbons-Neff '95, Dr. Nayef Samhat, and Michael Woodfolk '88.
Michelle Nichols Gibbons-Neff '95 is the Executive Vice President of BSC America, a group of companies that offer vehicle auction, finance, appraisal, and insurance services. BSC America is a family business, founded in 1964 by her parents. Ray Nichols, her father, continues to serve as Chairman. Gibbons-Neff earned a degree in political science from Washington College in 1995. As a student, she was a member of the women's rowing team and Alpha Omicron Pi. She formerly served on the President's Leadership Council, as well as the 1782 Society Executive Committee.
Gibbons-Neff lives in Annapolis with her spouse, Stormy Gibbons-Neff. They have two children, a daughter who attends Elon University and a son who attends Severn School. Two of Gibbons-Neff's nephews are also graduates of Washington College, as well as two of her aunts.
Nayef Samhat, Ph.D, is the 11th President of Wofford College in Spartanburg, SC, a position he has held since 2013. Previously he was the Provost and Professor of political science and international studies at Kenyon College. Samhat holds a B.A. in international affairs from The George Washington University's School of International and Public Affairs, a master's degree in international affairs from Columbia University and a Ph.D. in political science from Northwestern University.
Nayef serves on the executive committee of the Annapolis Group of Liberal Arts Colleges, the SACSCOC Board of Directors and IES Board of Directors. His past national service includes the Council of Independent Colleges and the National Association of Independent Colleges and Universities (NAICU) boards of directors, as well as serving on the NCAA Division I board of directors and the NCAA board of governors. Current Washington College president, Michael Sosulski, most recently served as Provost at Wofford College and was part of Samhat's Cabinet.
Samhat and his spouse, Prema, reside in Spartanburg, SC.
Michael J. Woodfolk '88 serves as President of the Darden School Foundation, leading day-to-day operations for the independent nonprofit organization responsible for raising and stewarding philanthropic funds for the University of Virginia's Darden School of Business. In this role, Woodfolk liases with the school's leadership boards, including the Darden School Foundation Board of Trustees, and manages relationships with stakeholders across the network, including alumni, corporate leaders and government officials. Prior to assuming the Darden School Foundation presidency, he served as Senior Executive Director of Engagement, and in fact continues to lead engagement activities at Darden in his current role. Before joining Darden, Woodfolk spent a decade at St. Anne's-Belfield School in Charlottesville, where he began as a teacher and coach and eventually served as the School's first head of alumni engagement. In 2014, he was the recipient of St. Anne's Distinguished Alumni Award.
As a Washington College student, he was a member of the Varsity lacrosse team, and served on the College's Kirby Stadium Committee. He earned a history degree in 1998, and is also a graduate of The Executive Program, the flagship offering of Darden Executive Research.
Woodfolk and his spouse, Judith, have three children and live in Keswick, VA.
The term for the new trustees began on July 1 and runs through June 2028.
As the college's governing body, the Board's charge is to provide the vision, philanthropic support and leadership needed to continuously strengthen and improve the institution's position among the nation's best small liberal arts colleges.
Photo (L-R): Michelle Nichols Gibbons-Neff '95, Nayef Samhat, PhD, Michael Woodfolk '88