Washington College approves faculty tenure, promotion and emeritus status
The Board of Visitors and Governors approved eight faculty promotions and four retired or retiring faculty for emeritus status this academic year.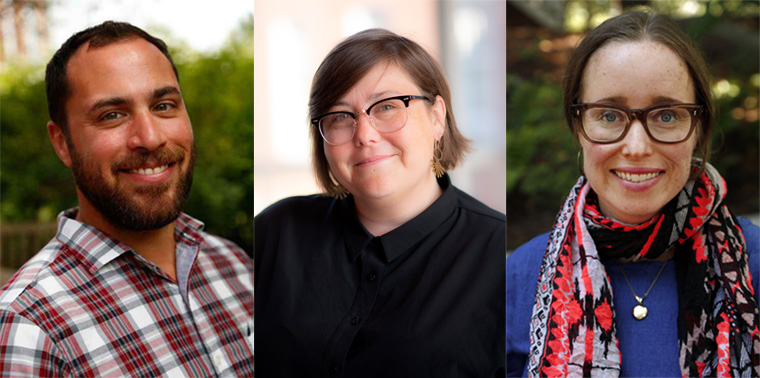 Left to Right: Newly promoted associate Professors Gabe Feinberg, Sara Clarke-De Reza, and Katherine Charles.The Washington College Board of Visitors and Governors approved the tenure and promotion of Gabe Feinberg (Mathematics and Computer Science) at its recent meeting. He joins Katherine Charles (English) and Sara Clarke-De Reza (Education) in earning promotion to associate professor and achieving tenure effective as of July 1.
"The Board, especially the chair of the Board of Visitors and Governors Academic Affairs Committee, Kirk Johnson, plus other members of the committee such as Don Tomasso, expressed great admiration and appreciation for the remarkable quality of our faculty members," Provost and Dean Michael Harvey said when announcing the promotions.
Alongside the faculty members moving from assistant to associate rank and gaining tenure, five more were promoted from associate to full professor in recognition of their achievements at Washington College: Elena Deanda-Camacho (World Cultures and Languages), Aaron Lampman (Anthropology and Archaeology), Adalbert Mayer (Economics), and two faculty members with dual appointments, Brian Scott (Economics and Environmental Science & Studies), and Leslie Sherman (Chemistry and Environmental Science & Studies). Professor of Theatre Dale Daigle was named the C.A. Hutton '72 Professor of Drama during the May Board meeting as well.
The Board also approved emeritus status for three faculty members at the May meeting: Melissa Deckman of the Department of Political Science, Robert Lynch from the Department of Economics, and Susan Vowels of the Department of Business Management. Former Center for the Environment and Society Director John Seidel was named an associate professor emeritus in February.