Everyone, Start Your Cardboard!
The annual Cardboard Boat Race and Get to Know CES Waterfront Festival is on Sept. 22; boat registration deadline is Sept. 20.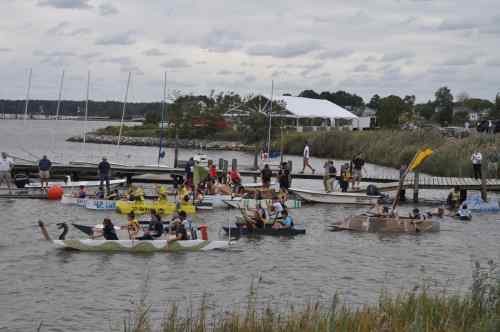 It wouldn't be Fall Family Weekend at Washington College without the annual Cardboard Boat Race, which is set to take place September 22 during the Center for Environment & Society's "Get to Know CES Waterfront Festival." As always, the public is invited to Wilmer Park from 1-4 p.m. to enjoy food, beer, live music, and the always entertaining Cardboard Boat Race. This year the event will take place immediately following the dedication of the new Hodson Boathouse, at 11:30, also open to the public.
CES staff will be on hand discussing, and sometimes demonstrating, their innovative and educational programs. Visit each booth for a chance to win a 90-minute cruise on the Chester River for up to ten people on the research vessel Callinectes, or a guided tour of beautiful River and Field Campus at Chino Farm, including Foreman's Branch Bird Observatory and the native Grasslands Restoration Project. Stop by the trivia table to test your CES knowledge and win a T-shirt. Other activities include river cruises aboard the 46-foot Callinectes ($5 per person), kayaking, and paddle boarding on the Chester River.
The Cardboard Boat Race is open to individuals, businesses, schools, civic groups, and non-profit entities in Kent or Queen Anne's counties. Over $650 in prizes will be awarded for the winners of categories including First Around the Course, Best Construction, Most Team Spirit, and the ever-popular People's Choice. College President Kurt Landgraf and his wife, Rita, will be on hand to help with the judging.
The deadline for registration is September 20, and participants must be at least 12 years old. All boats go on display at 12:30 p.m. on race day. Captains and crew meet at 2:45 p.m., the popular boat parade begins at 2:50, and the race starts at 3:00 sharp along the Pavilion in Chestertown's Wilmer Park.
Registration is at https://12annualcardboardboatrace.eventbrite.com and costs $15 per team. For boatbuilding tips, go to https://www.washcoll.edu/centers/ces/chestertown-riverfest/cardboard-boat-building-tips.php.
In case of foul weather, activities may be cancelled. For information contact Jamie Frees at 410-810-7162, jfrees2@washcoll.edu or visit https://www.washcoll.edu/centers/ces/chestertown-riverfest/cardboard-boat-regatta.php. Events are organized by the Center for Environment & Society at Washington College for Fall Family Weekend.