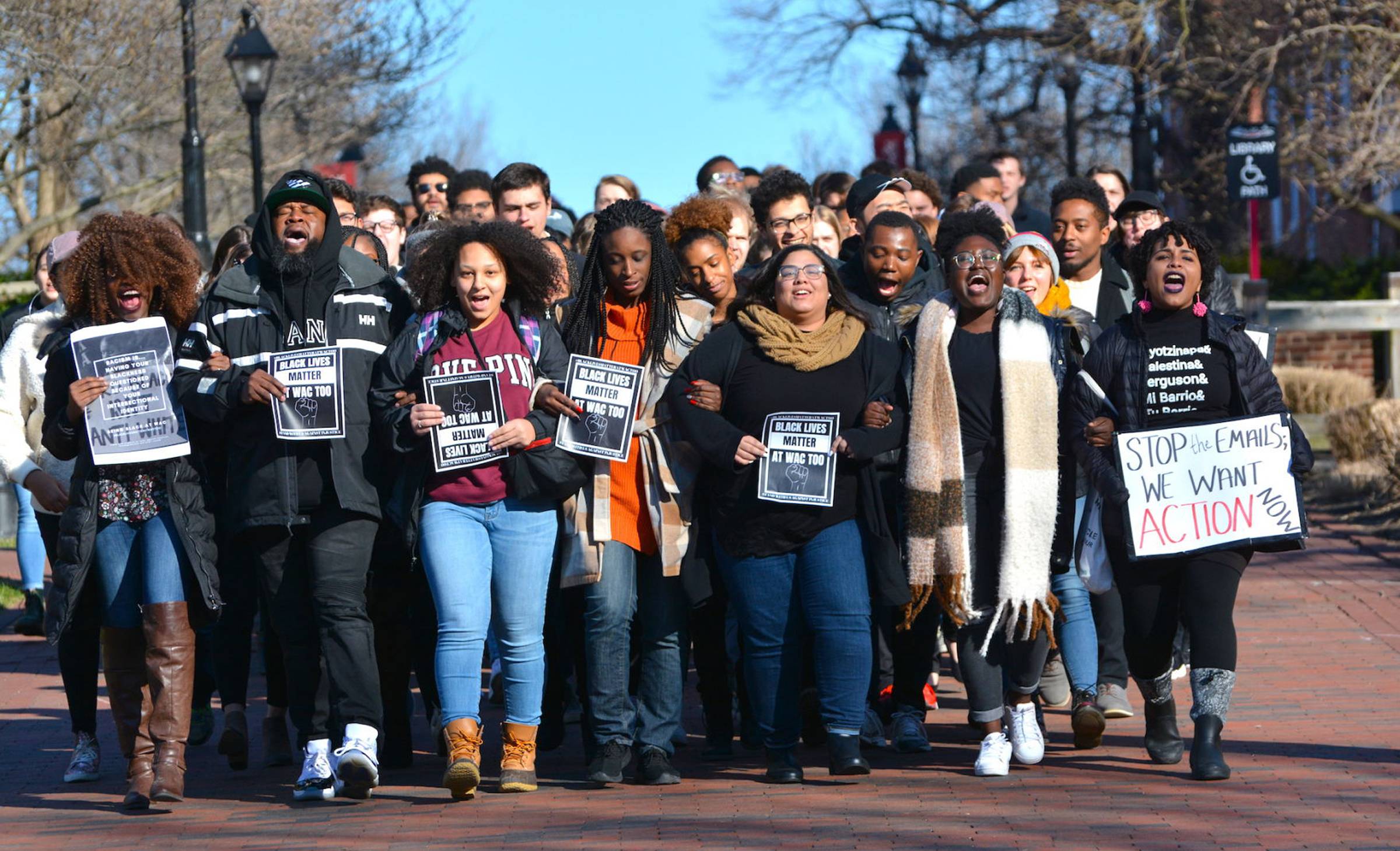 Campus CommunityAsterisk Initiative

Black Student Organizations
Black Student Organizations
Since the 1960s, Black students of Washington College have framed and led many of the College's equity and inclusion initiatives. From pressuring the administration to hire more diverse staff and faculty, to the formation of student-led activist groups, to the forging of spaces that celebrate and protect cultural diversity, Black students have been critical trailblazers at our institution. Today, Cleopatra's Sisters and the Black Student Union remain active, and more organizations like the African Student Union and the Student Government Association's Diversity Committee continue the legacy and the work of these first Black student organizations. 
The first Black student organization, the Afro-American Student Association, was founded in 1968, followed by the Minority Student Association in 1973, the Dale Adams Heritage Exchange in 1992, and Cleopatra's Daughters in 1993 (later Cleopatra's Sisters). Throughout the rich history of these organizations, Black students consistently worked to rectify racial injustice and discrimination both on and off campus. In doing so, they compelled senior administration to create safe spaces for student conversations and organizing, while also voicing critical demands of the institution to improve on its diversity and equity initiatives.
In 1968, for example, the Afro-American Student Association (AASA) met in a building called the Spanish House, just north of today's Hodson Hall where an asterisk marker can be found in honor of the organization. The AASA authored a letter of grievances, envisioning key improvements in housing, staffing, curriculum, and athletics that would improve campus life.
In 1993, after her efforts to establish a Black sorority on campus were discouraged, Yvette Hynson '93, Dawn Israel '93, and Zylia Knowlin created "Cleopatra's Daughters." Yvette Hynson explained that her and the founders were intent on "creating our own club specifically for African American women." This same cohort of student leaders formed the Dale Adams Heritage Exchange, named in honor of the third Black graduate of Washington College, Shirley Dale Patterson '65, which would later evolve into the Black Student Association and today's Black Student Union (BSU).
In 1997, Colleena Wiseman '99, Eric Johnson '99, Bennie Adams '99, Ricky Morgan '00, Brock Hayslett'00, and Christine Lincoln '00 wrote a comprehensive plan to address campus racism, titled "The Campus Racial Climate Report." The Campus Racial Climate Report documented discriminatory practices across campus and requested an amendment to the Honor Code to define racist language and behavior as antithetical to the College's insistence on "moral courage." Among other reforms, their report's recommendations led to greater institutional efforts to diversify faculty, the hiring of the first Multicultural Affairs Director, and the establishment of the Center for the Study of Black Culture "to be operated and planned by students and staff." Curated by students of color across the past two decades, the space consistently has served as a source of conversation and camaraderie. First located in a building on Washington Avenue just beyond the present-day Larrabee Arts Center, the Center for the Study of Black Culture was later moved to the Custom House in the early 2000s, then to the Casey Academic Center and Caroline House, and is now located in Minta Martin Hall situated within a newly renovated Intercultural Center.
Most recently in 2020, the Black Student Union orchestrated a protest in which students marched down the Cater Walk to stage a sit-in at the opening of Spring Convection in Decker Theatre. A few days later, student leaders of the BSU, Cleopatra's Sisters, African Student Union, Honor Board, and Student Government Association issued "A Letter of Grievances and Demands" calling for the creation of a centralized safe space, diversity mandated trainings, and the hiring of a Chief Diversity and Inclusion Officer. "With this letter of demands," the campus leaders concluded, "we hope that "future generations of students will not have to choose between advocacy for inclusion and their academics."
Despite their lack of a permanent headquarters, Black student leaders such as Paris Mercier '20, Christine Lincoln '00, Colleena Wiseman Calhoun '99, Penny Tilghman '02, Angela Crenshaw '04, Joyell Arvella '10, and many others chose to prioritize inclusivity and equity while balancing the academic and social demands of college life. As Colleena Calhoun put it: "There was work to do, there were things that had to be done." Along with many other Black student leaders, these students pioneered organizations, task forces, and protests to advocate for lasting institutional change. Their legacy lives on in the many organizations, spaces, and programs through which today's student body gathers, organizes, deliberates, debates, and drives change. Today, Cleopatra's Sisters, the Black Student Union, the African Student Union, and the Student Government Association's Diversity Committee continue the legacy of these trailblazers, while also welcoming and calling upon their mentorship and wisdom. 
This admittedly all too brief history has been written by the Ebony and Ivory Towers Oral History Initiative, a team of students who have interviewed nine Black alumni on their experience at Washington College. Our diverse team, consisting of students of color and their allies, understands itself as walking in the footsteps of Black alumni and students who championed a legacy of equity and diversity and we want to thank the alumni of color of this institution for their passion, commitment, leadership, and willingness to share. To hear much more about Black student organizing, please listen to the oral history interviews archived here.
The Ebony & Ivory Team includes Ama Amponsah '22, Jada Aristilde '21, Jannice Hall 22, Katy Shenk '21, Dylan Snow '23, Mayowa Taiwo '24, Valery Tabraj '22, Tamia Williams '21, and Maegan White '22.